School of excellence
14/02/2017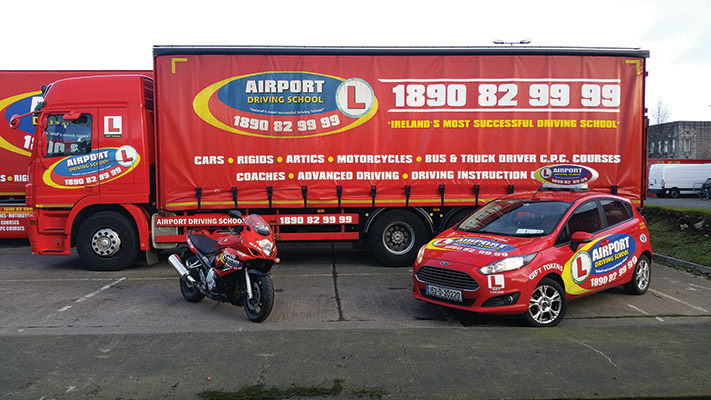 Proud to be one of Ireland's most successful driving school, Airport Driving School has been teaching people to drive cars, trucks, buses, motorcycles and forklifts with its personalised driving lessons for nearly 50 years.
Airport Driving School's fully qualified team of driving instructors provide lessons throughout Dublin and surrounding counties with a free collection service offered to all clients, while a similar service can be arranged for students nationwide. With a 98 per cent pass rate and the only driving school in Ireland
to offer its students a test pass guarantee, Airport Driving School enjoys an enviable reputation for the training services it provides.

Established 49 years ago by company Chairman Kieran Hynes, and excellently managed for 25 years by CEO Tom Murphy, the company continues to go from strength to strength and now under the guidance of managing director Alan Early, continues by offering a variety of lesson and services between the hours of 7am and 10pm seven days a week. Each lesson is tailor-made to your own particular needs and carried out with professional driving instructors in new, fully insured dual controlled vehicles. The driving school's impressive range of vehicles include cars, rigid trucks, articulated trucks, coaches, motorcycles and a jeep and horsebox. Offering a wide range of courses for different vehicle types, Airport Driving School is a one-stop shop for all your training needs.
"Our outstanding pass rate makes us Ireland's most successful driving school," Airport Driving School general manager Damian Conroy proudly states.
"Our qualified ADI driving instructors are the best in the business and give you the best possible chance of passing your driving test first time. From the moment you contact us, we put our experience to work and take control of your driving lesson requirements along with submitting your theory and driving test applications, and arranging the best schedule of driving lessons to meet your needs.
"We offer a free collection and return service with all driving lessons. We can collect you from your home or any suitable location. We also have an exclusive partnership with Ford whereby you receive a €500 voucher to put towards the cost of a new car when you pass your driving test."
For those in the transport industry, Airport Driving School offers courses which include Driver CPC, LGV (Large Goods Vehicle), HGV (Heavy Goods Vehicle) and forklift training. Airport Driving School is the only driving school in the country with its own off road training centre for truck, bus and jeep and trailer students in Finglas. Its other Dublin offices are located in Churchtown and The Ward, while it has a fourth outlet in Navan, Co. Meath.
"People from all over the country come to our off road training centre for HGV lessons because it helps them to get their confidence up and improve their technique, especially in the area of reversing" Damian explains. "Our Finglas head office is an RSA approved Centre of Excellence, while our office in The Ward is an IBT Centre of Excellence for motorbike training.
For pupils outside the greater Dublin area, our instructors will happily travel to other test centres to facilitate them. "In addition, our forklift instructor courses are RTITB accredited. We have classrooms in Finglas, Churchtown and The Ward as well as a warehouse in Finglas for forklift training, which is very popular among truck drivers who are looking to enhance their CV." Airport Driving School has placed many students on the successful road to a career as HGV driver. The knowledge and skills imparted by experienced driving instructors provide a solid foundation for gaining employment. Airport Driving School's modern fleet of rigid and articulated trucks provide the ideal surrounding to learn to drive. They are equipped with the latest camera systems, digital tachographs, stability controlled programmes and retarders. The driving instructors deliver a comprehensive and professional solution to each student.
Airport Driving School's forklift training centre teaches counter balance, reach and power pallet truck (PPT). All successful pupils receive RTITB certification which is recognised by the HSA and insurance companies. New certification and refresher training courses are also offered, and can even be run on an employer's premises.
Airport Driving School takes particular pride in its Grade A-rated vehicles and the calibre of its instructors, who ensure every student is well prepared for their theory and driving tests. Airport Driving School will help you pass your test with a fleet of 18 brand new Ford Fiesta cars, three new Suzuki GSXF 650 Category A motorcycles, two BMW G650 GS Category A2 motorcycles, a Kawasaki ER6 motorcycle, a Suzuki GN125 motorcycle (both Category A1), a Category AM Moped, two new Mercedes Benz Grand Turismo coaches, a Scania rigid truck (with split gearbox), a pair of Mercedes Benz Actros articulated trucks, two Mercedes Benz Actros rigids, a Ford Transit minibus and a Toyota Land Cruiser with a horsebox trailer. "The standard of our vehicles is very important to us because they enable our students to achieve test standards quicker and to enjoy their training. They also need to train on a standard of vehicle that will match what they will eventually end up working on," the affable general manager adds. The driving school employs 20 car instructors, eight HGV instructors (who also cover bus, jeep and trailer), two forklift instructors and three motorbike instructors.
"Our instructors are full-time which means they are accountable for the results of their students. This isn't the case with many of the franchises that are operating on the market. Our training manager Matt Connor makes sure our instructors are on top of their game at all times. Our instructors and customer care staff are here to ensure candidates have the best chance of passing their test and are getting value for their money." Damian concludes by saying: "We are always on the lookout for instructors, especially truck and bus, who we train up ourselves to ADI standards. Without high quality instructors, we would not be in a position to maintain and expand our fleet and service."

Airport Driving School
Unit 1A Jamestown Business Park,
Jamestown Road, Dublin 11.
Telephone: 01 806 8000 / 1890 527 527
Web: www.airportdrivingschool.com
Taken from Irish Trucker & Light Commercials magazine, Vol 19 No 6, July 2016