Dealer-level service for HAJ
10/02/2017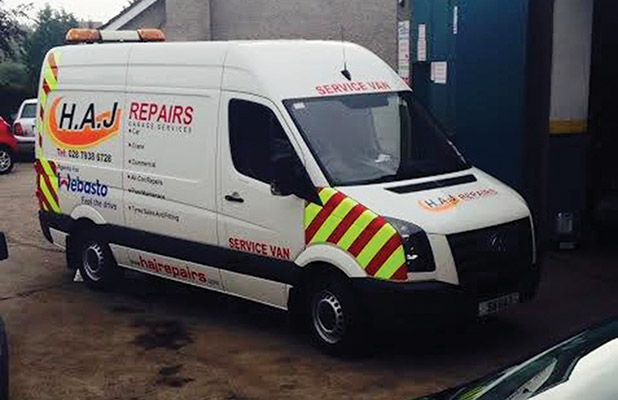 Offering dealer-level service and repairs of commercial vehicles, cranes and plant, County Derry based HAJ Repairs continue to go from strength to strength. We popped into their Bellaghy HQ and touched base with Andrew Dempsey to get an update on the progress of this exceptional family-owned and –operated business.

More than 20 years on from its inception, HAJ Repairs is experiencing steady growth, so much so that an expansion of this outstanding operation is very much on the cards. Strong demand for HAJ's services arises from the Dempsey family's dedication to providing 100% customer-focussed solutions in the form of optimum, high-quality, cost-effective commercial vehicle, crane and plant servicing and repairs.
By providing unrivalled levels of vehicle care, their popularity has soared, ensuring high volumes of repeat business as well as generating an exponential growth in new business. HAJ Repairs have never been in bigger demand and an expansion of the business is imminent:
"We'll keep providing the high levels of service for which we are renowned and hopefully we'll be able to take the jump and get bigger," confirms director Andrew Dempsey. "We certainly hope to expand. Everybody is happy here with how things are but there is demand for more work so we will endeavour to grow the business and satisfy that demand."
Of course, one of the reasons why HAJ have become so popular is that they are offering excellent solutions at reasonable rates. How difficult is it to keep costs down, though? "Obviously, it's a major challenge because you are doing a good job every time. When you are doing the work properly, without cutting any corners, you will incur costs.
"What we are offering here is dealership-quality, dealership-level service in a modern, fully-equipped, professional workshop that is fully insured and permitted. 'Fred in the Shed' is a problem because he can undercut your prices but we have found that more and more people want the job done right.
"The level of workmanship we provide and the complete lack of hassle for our customers is getting us a lot of work. I'm very particular about every job we do and we definitely give that bit extra. Customers appreciate that."
In general, Andrew is delighted to point out that the business, which he runs alongside his father Harry, is "going fantastic". Established in 1994, HAJ Repairs specialise in scheduled and unscheduled maintenance and repairs of commercial vehicles and plant, including a lot of specialist work on cranes.
Boasting dealership-level computers and equipment for Mercedes-Benz and Iveco, they are in a strong position to offer a standard of workmanship that cannot be bettered. Meanwhile, HAJ Repairs have also recently installed a state-of-the-art computerised system which handles everything from email reminders informing vehicle owners that their vehicles are due for inspection or servicing to job card, stock, parts and invoicing. The new system has been up and running since January and has further enhanced the already-outstanding level of customer care afforded by the thoroughly professional team at HAJ.
The workshop is open six days per week, with a crew of six highly-quality and –experienced technicians on hand, and a 24-hour breakdown / emergency call-out service is also offered.
HAJ Repairs have secured a number of prestigious fleet contracts down through the years, currently providing fleet maintenance and repair work to the likes of Health and Social Care in Northern Ireland (HSCNI), Enterprise Rentals and Sainsbury's as well as numerous manufacturing and engineering companies, hauliers and crane hire businesses (including Glovers Crane Hire, Beattie Crane Hire etc.). In June of this year, they started working on a new contract comprising a fleet of 28 vans for a water services company located in Mallusk, County Antrim.
Regarding the key to the business' continued success and growth, Andrew notes: "We have a very close relationship with all of our customers and we change with the times in response to their demands. We listen very carefully to our customers' demands and to what they want us to do. If they want us to open late on a particular night to get a job done, then that's what we will do. You have to be flexible and look after them because the bottom line is that without customers there wouldn't be a business here. They are the ones who are helping us to expand and move forward. We have to work together with our customers.
"You also have to think ahead and try to move forward. We have invested a lot of money back into the business, including the new computer system and the latest diagnostics equipment, which enables us to provide dealer-level service at a fraction of the price. We can also source and fit Iveco parts cheaper than the main dealers."
To guarantee absolute convenience for vehicle, plant and crane owners, HAJ Repairs can work either in their own state-of-the-art facility on on-site at their customers' premises. To this end, they have four mobile units on the road around the clock. These vans are maintained in immaculate condition and the fleet is updated on a regular basis.
"We also have a testing bench for Webasto and Eberspacher heaters, with a very fast turnaround and we keep a large number of spare parts in stock for those," Andrew adds.
Looking to the future, Andrew pledges that HAJ Repairs will continue to provide excellent maintenance and electrical and mechanical repair services (including everything from bodywork, safety checks, and welding to breakdown, parts and fleet management) to a growing list of satisfied car, coach, lorry, crane, van, minibus forklift, tractor and agricultural machinery operators on both sides of the border:
"We're here to provide a good service and that's' what we are going to keep doing," he concludes.

HAJ Repairs,
3 Ballyscullion Road, Bellaghy,
Magherafelt, County Londonderry. BT45 8LD
Email: [email protected]
Tel: 02879386728
Web: www.hajrepairs.com
Taken from Irish Trucker & Light Commercials magazine, Vol 19 No 6, July 2016