The scrap metal specialists
09/02/2017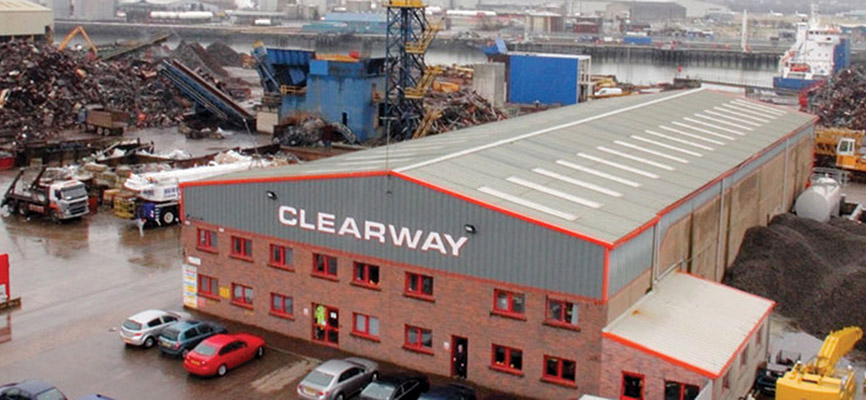 The Clearway-Hammond Group is Ireland's largest processor of scrap metal with their recycling facilities conveniently located nationwide for the delivery and collection of scrap metal. Irish Trucker caught up with Darren Kearns who oversees the smooth running of the company's Sligo depot.
Clearway was established in the mid 1960's when John Murphy started in the waste management and scrap recycling business.
Today the Clearway-Hammond Group offers a wide spectrum of waste management services encompassing the sale and processing of ferrous and non-ferrous scrap metals and the company supplies both export and domestic markets.
The Group offer its services throughout the island of Ireland with the most modern and up to date licensed processing facilities at Portadown, Belfast, Londonderry, Dublin, Athlone, Cork and Sligo.
Each depot is an Approved Treatment Facility (ATF) for End of Life Vehicles (ELV's), Approved Authorised Treatment Facility (AATF) for Waste Electronic Electrical Equipment (WEEE), Approved Exporter (AE), and licensed transport services.
They can offer a bespoke service that is efficient, competitive and tailored to meet scrap metal recycling needs nationwide.
The Sligo depot was acquired by Clearway-Hammond in 2014 and under the management of Darren Kearns it has proven to be a welcome addition to company's stable.
Open Monday to Friday (8am to 5pm) and Saturday (8am to 12.30pm), the facility is conveniently located at Deep Water Quay for the delivery and collection of scrap metals.
The Clearway-Hammond Group has a well established reputation within the industry and has a wide network of suppliers being the first for the general public, private, commercial, construction, demolition and trade sectors.
They offer a quality and professional service and are at the forefront for current market prices.
You can deliver directly to their Sligo site or arrange collection. They buy the following ferrous scrap metals: cars, mild steel scrap, new plate cuttings, cast iron, light iron, heavy scrap (farm/lorry/engineering) and steel turnings.
Non-ferrous scrap metals, including the likes of aluminium, batteries, bronze, copper pipe, covered cable, stainless steel etc, are also gratefully accepted.
"Clearway took over the Sligo depot in 2014, after purchasing if off Erin Recyclers, and it is another yard helping to bridge the company's depots in the south with their depots in the north," explained Sligo yard manager Darren Kearns who has been employed by The Clearway-Hammond Group since it arrived in the Yeats County. "We pride ourselves on our customer service and total transparency," he added.
As demand for recycled ferrous metals increased so did the requirement for an accurately processed and graded product.
The Clearway-Hammond Group continue to invest in the most advanced and efficient processing technology available to achieve the high specifications required and recognised internationally for their ferrous metal products.
The company's tailored investments in the most advanced and efficient processing technology has achieved the high quality materials precise to customer specification while complying with ever increasing legislative demands.
With a quality product and professional shipment service the Clearway-Hammond Group are leading suppliers and exporters of high quality processed ferrous and non-ferrous scrap metals to steel refineries and manufacturers worldwide.
These are challenging times, however, as scrap metal prices have dipped from record highs in 2014 and the primary determining factor in that price fall is an oversupply of steel in the global market.
"Business is quiet enough at the moment," revealed Darren, "the low price of scrap metal over the last year or so due to a lack of demand on foreign markets, such as China, is challenging. Hopefully we will see that turn around in the future but there is an air of uncertainty out there at the moment."
Clearway-Hammond's seven depots provide for fast and efficient import and export of materials throughout the world.
Their fleet are fully licensed and each vehicle is radio controlled which enables them to offer an integrated pick-up and delivery service accurately with customer's schedule.
The company's fleet of vehicles consists of articulated bulkers and articulated bulkers with crane-age offering flexibility to provide a dedicated service.
Alternatively, their skilled and experienced staff can advise or propose a programme to suit their customers' specific needs and requirements.
Recycling your unused scrap metals in their yard is a great way not only to protect the environment but to get paid a fair price for your scrap.
Give Darren and his team of four employees a call at the number below to find out more and ensure you gain maximum value from your materials.

Clearway (Export Division)
Deep Water Quay
Sligo
Tel: 00353 (71)9153360
Fax: 00353 (71)9153366
Taken from Irish Trucker & Light Commercials magazine, Vol 19 No 6, July 2016