Forging ahead
08/02/2017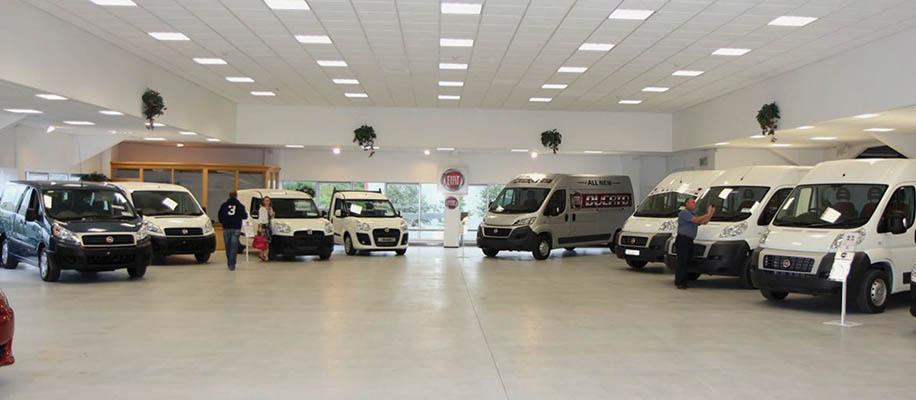 Dan Seaman Motors in Forge Hill is the sole Fiat dealer for Cork city and county. We caught up with their Commercial Sales & Mobility Vehicle Sales Specialist, Liam Leahy, to discuss the comprehensive Fiat Professional range of commercial vehicles as well as the business' other franchises – Mitsubishi, Alfa Romeo, Chrysler and Jeep.

Synonymous with offering motorists high-quality vehicles and a level of service that's second to none - with a strong emphasis on customer care and value for money - Dan Seaman Motors has gone from strength to strength since opening for business in Forge Hill some 14 years ago. As main dealer for both Fiat and Mitsubishi, Dan and his team offer a superb selection of commercial vehicles and passenger cars to discerning customers across the Rebel County and beyond.
"Dan opened for business in Forge Hill in 2002, having traded in various other locations prior to that," reveals Liam Leahy, who joined Dan Seaman Motors as Commercial Sales & Mobility Vehicle Specialist in 2015. "He found a nice base, ten minutes from Cork Airport, and has been here since.
"It's very much a family business. Dan is the MD and he also has two sons – Rohnan (General Manager) and Gavin (Sales Manager) – and a daughter – Ann Marie (Service Manager) – working alongside him full time."
Dan Seaman has been in the trade of selling and servicing family and commercial vehicles for four decades and still has customers with him today going back to when he opened his first dealership in Clonakilty in the 1980s. The striking Dan Seaman Motors complex – a two–storey, purpose–built showroom and workshop - is a one–stop shop for Mitsubishi and Fiat as well as housing a state–of–the–art service and repair workshop catering for all makes and models.
While the Fiat dealership is a relatively new one, the acquisition of Liam Leahy has ensured a seamless integration of the Fiat, Fiat Professional, Jeep, Alfa Romeo and Crysler marques. Liam has worked with Fiat for 40 years. Formerly of Lee Garage in Cork, he joined Dan in March, 2015. "Dan took over the Fiat dealership when Lee Garage ceased trading," he reflects.
As main Fiat dealer for Cork city and county, Dan Seaman Motors ensures that motorists in the area can continue to avail of one of the finest ranges of commercial vehicles and passenger cars available in Ireland. Fiat Professional offers the widest range of vans on the market, each available with a wide variety of options.
From the Punto van to the Ducato (van, crew van, dropside truck, three-way tipper, conversion); Scudo; best-in-class load capacity Doblò Cargo (standard van, maxi van, high roof van, XL van, WorkUp or chassis cab with load platform - an ideal base for conversion); Doblò Combi and Florino Cargo, Fiat offers unrivalled comfort, space, strength, flexibility, accessibility and value for money.
"We carry the complete range of Fiat cars and commercials here," Liam confirms. "Commercial sales are going really well. The Ducato has always been a really good seller and there's a great selection of other models, large and small – something to suit every need, from the plumber or owner-driver right up to a sizeable fleet. Fiat cars are very popular, too – the Fiat 500, Panda, Punto, 500L and 500X are all excellent vehicles and they are growing in popularity."
With the capacity to provide a full fleet of vehicles, each to exact customer specifications, Dan Seaman Motors benefits from a large volume of repeat business, attracting both people who have been dealing with Dan for decades as well as those who previously bought Fiat models from Lee Garage.
"Dan's brother, John Seaman, runs Cork Rent-A-Van and he stocks a good few of our vehicles, while there are a lot of other businesses in the area who would buy multiple vehicles, usually between two and five. We are building the Fiat business up steadily and we are happy with how the new dealership has gone.
"We were selling over one hundred new vans a year at Lee Garage but the bottom fell out of the market from 2008 onwards, so we are building it up by letting customers know that Fiat is still in Cork and that we have a better range than ever before."
The aftersales, servicing and repairs service provided from a state-of-the-art workshop is second to none, with experienced and qualified staff on hand around the clock to look after customer needs. With five-year warranties offered on all new Fiat cars and three years on commercial vehicles, as well as replacement vans and courtesy vehicles while customers are off the road, no stone is left unturned in ensuring absolute customer satisfaction.
"The mobility programme is also an important aspect of the business," Liam adds. "We carry a large stock of vehicles suited to disabled people, covering most makes. I do home visits to see what their needs are and we can then modify a vehicle accordingly.
"The Doblò is an ideal vehicle to modify but customers have a wide range of options to choose from. Once we have determined what is required, we work in conjunction with Southern Mobility in Little Island on the conversions."
Fourteen years after opening their doors in Forge Hill, Dan Seaman Motors are in a very strong position going forward: "It's flat-out, mostly," Liam confirms. "We also stock a full range of Fiat and Mitsubishi parts and sell all makes of second-hand vehicles as well as doing NCT and DOE preparations.
"We have a team of fully-trained Fiat and Mitsubishi approved technicians manning the fully-equipped workshop and we go out of our way to provide an exceptional back-up service, including implementing a menu pricing programme for servicing which guarantees a fixed price with no hidden extras."
As for the goals of the business in the future, Liam concludes: "We'll just keep it going and keep selling vehicles. We have massive premises here, with an enclosed handover facility and it's a very pleasant place for customers to do business. There's a fantastic range of vehicles on display and we are here to help with any queries that people might have and to find a vehicle that will suit their needs.
"Everything is in place to secure the long-term future of the business, so we'll keep developing and hopefully keep selling more and more cars and vans."
Dan Seaman Motors,
Forge Hill, Kinsale Road, Cork,
County Cork.
Tel: 021 4320266
Email: [email protected]
Web: www. danseamanmotors.ie
Taken from Irish Trucker & Light Commercials magazine, Vol 19 No 6, July 2016