Topaz takes to the podium again
03/02/2017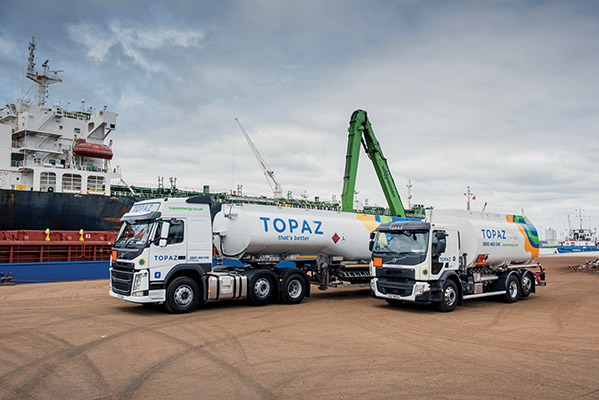 It was no surprise when Topaz Energy's name was announced as a major winner at the 2016 Irish Logistics & Transport Awards. After the dust had settled on a memorable celebration at the DoubleTree Hilton Hotel, we met up with Operations Team Leader Mark Koller to find out more about the pioneering company's latest award-winning exploits as well as assessing the current well-being of Ireland's premier fuel brand.
On Thursday, April 7th, 2016, the outstanding achievements of the logistics and transport industry were celebrated as 21 trophies were presented to the latest winners of the Irish Logistics & Transport Awards. Topaz Energy in conjunction with Reynolds Logitics received the Technology Award, which was presented to Mark Koller of Topaz Energy and Bart Bulawa of Reynolds Logistics.
While Ireland's largest fuel and convenience brand is certainly no stranger to receiving major awards, it's always nice to get them!
"To get an award in any category is recognition of the hard work you do and the innovations brought to life within whatever field of expertise you are involved in," notes Mark. Winner of the coveted International Convenience Retailer of the Year Award in 2015, Topaz also scored on the double at the 2015 Irish Sales Champions Awards. However, the Irish Logistics & Transport Award was particularly well-received:
"This was a special one because it was a joint effort alongside Reynolds. It was a team effort and we worked very closely together, so it was very satisfying," says Mark. "We also won at the Irish Logistics & Transport Awards in 2012 in another category, as well as receiving the overall award, so it was nice to get some recognition from them again.
"This particular project was something that we implemented not just to get an award or to show off, but it is actually something extremely beneficial, which we use on a day-to-day basis. It's a very good development and from a HSE point of view it has resulted in huge improvements.
"We basically developed a system for our field deliveries whereby if a driver arrives on site and spots a problem that needs attention, he can record it using the Yammer app and take pictures etc. and circulate the information through the whole Topaz driver network so that every driver can see and is aware of the incident or defect.
"The report goes into our system and our team goes out to fix it. It's a live system, which is hands-on and the problem will be fixed very quickly. As a result of this innovation, we've seen a huge reduction in the time delay in having defects fixed. We've reduced that time by somewhere between 60 and 70 per cent."
Having recently acquired Esso Ireland's fuels and convenience business in Ireland, Topaz Energy now boasts 434 service stations across the Republic of Ireland and Northern Ireland, over 160 of which are wholly company-owned. With an estimated turnover of €3.5b and over 2,000 employees, Topaz is far and away the largest retail fuel supplier in Ireland, having experienced 33% growth since the purchase of Esso.
In March of this year, Topaz launched its 100th Re.Store retail offering in Ballincollig, County Cork, while in April, Topaz announced a €6.5 million investment in new stations and HR programmes. Ireland's largest fuel and convenience retailer has transformed the landscape of Citywest, County Dublin with the launch of a brand new City Avenue station in the Citywest Business Campus, creating 18 new jobs.
The new City Avenue site reflects an extensive investment program by the company in the development of not only world class service stations but also unparalleled service. The overall investment in the new City Avenue outlet totals €3 million and this comes at a time when the company have also invested heavily in their staff. In the last 18 months alone, Topaz have invested half a million in team training and development. The retailer has significantly enhanced their Talent Acquisition, Learning and Development and Communications and Engagement programmes, winning a number of industry leading awards in the process.
A similar investment of €3 million and the creation of ten new jobs is also planned for a state-of-the-art forecourt that will service the residents of Ballysimon, County Limerick and the surrounding locality. Officially launched on Wednesday 20th April, the redeveloped site at Ballysimon will - like City Avenue - feature free Wi-Fi access, comfortable café seating, a healthy food offering, Ad Blue pumps and hand-crafted barista coffee.
Clearly, these are times of tremendous progress and change for Topaz. In December, Topaz Energy Group Ltd. was acquired by the publicly-quoted Canadian company Alimentation Couche-Tard (known as Couche-Tard). Couche-Tard is one of the world's leading convenience and fuel retail businesses. The company has approximately 15,000 sites across its network in North America (U.S. and Canada), Europe (Norway, Sweden, Denmark, Poland, the Baltics and Russia), Asia and the Middle East, with approximately 100,000 people employed in its network across the world.
Since its inception in 2008, Topaz – alongside distribution partner Reynolds Logistics - has grown from strength to strength, The Technology Award at this year's Irish Logistics & Transport Awards is but a small recognition of that!
Topaz Energy Group Limited,
Topaz House, Beech Hill,
Clonskeagh, Dublin 4.
Head Office Tel: 01 202 8888
Home Heat: Tel: 1850 250 650
Fax: 01 282 8320
Web: www.topaz.ie
Taken from Irish Trucker & Light Commercials magazine, Vol 19 No 6, July 2016