Timber haulage specialists
02/02/2017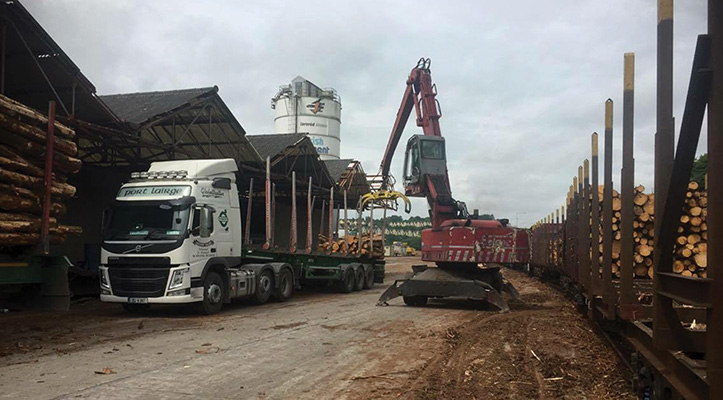 Kilcooney Haulage Ltd in Co Waterford has been specialising in the haulage of timber and machinery for almost a decade now. Irish Trucker caught up with Transport Manager Pauline Cliffe to learn more about the company.
Founded by Patrick Cliffe in 2007, Kilcooney Haulage Ltd started from humble beginnings and has since developed into a leader in the haulage of timber logs throughout the entire Munster region.
Patrick has been working in the haulage industry for over 20 years now and discovered a gap in the market during that time before starting up his now well-known business, one which specialises in haulage of timber logs and machinery, as well as the sale of firewood.
Pauline Cliffe is Patrick's daughter and also the Transport Manager of the family business, which has grown from strength to strength in the space of nine short years since its foundation.
Reflecting on the origins of the company, Pauline explained: "My father started this company up in March 2007 and previous to that he would have been a sole trader for about 15 years, operating with just one truck."
Pauline revealed that when he took the decision to go out on his own he started off with 10 trucks before opting to downsize.
Today, Kilcooney Haulage Ltd operates with five trucks, all of which are Volvos: two are rigids with trailers and arms plus three artics with skeletal trailers. The skeletal trailers are used for hauling long timber lengths and they've recently added a new load-loader to the fleet which is used for moving forestry machinery.
Firewood can be delivered by the lorry load consisting of four bays of timber, by the bay, split car trailer loads or, alternatively, the customer can collect it themselves at the company's haulage depot in Kilcooney, Ballinamult, Co Waterford.
Through every facet of the operation, a customer-focused service is provided and the management at Kilcooney Haulage Ltd that the customers' needs are paramount. The company employs six staff in total, and each one of them go out of their way to ensure that a solution is provided to exact customer satisfaction and that the team is committed to meeting these targets.
Such attention to detail with the customers explains why Kilcooney Haulage Ltd has a high percentage of its business generated through repeat custom and referrals.
Patrick has always taken a hands-on approach when it comes to being the company's Managing Director and often gets behind the wheel to drive the trucks himself. With more than two decades of experience, the Waterford man provides his customers with an unrivalled service and the list of clients is continually growing both locally and beyond the Deise County's borders.
"I think our customers tend to choose us first because we're reliable and we get the done efficiently," said Pauline.
"We've always had good relations with our customers and business is picking up now again, so we can't complain at all."
In terms of catchment area, most of Kilcooney Haulage Ltd's business would be conducted in and around Co Waterford and in Clonmel, but the entire Munster region is covered if and when requested.
On the haulage end, the greater part of their work is conducted for Coillte and Southern Forestry Enterprises Ltd, delivering timber into factories and sawmills on behalf of those two nationally-known companies.
Kilcooney Haulage Ltd employs their own in-house mechanic, who looks after all the company's maintenance and servicing needs for their fleet. If it's something major, then McCarthy Commercials in Watergrasshill in Co Cork are called upon to fix the problem.
During the recent downturn years, Pauline was glad to report that the company were "keeping our heads above the water" and that they've been experiencing a steady flow of business in recent times.
As for their hopes for the future, Pauline says she'll be hoping that things continue to remain steady with no real plans on the table for expansion as of yet, as insurance prices continue to rise for hauliers with an increase of 30-40 per cent already in 2016.
"We have a nice tidy operation at the minute and I think we will be staying small enough," said the company's Transport Manager.
"We're happy enough with the five trucks and we'd be happy enough to maintain things as they are. Fuel costs have risen so much in the last couple of years that it simply wouldn't be viable to run a bigger fleet.
"We're going to concentrate on preserving what we have. As well as the timber, we also move harvesting machines from forest to forest within Munster and our low-loader trailer is capable of carrying any kind of machinery.
"Going forward, our goal is to maintain our ties with Coillte and Southern Forestry Enterprises and to keep the show on the road."
As well as specialising in the transportation of timber logs, Kilcooney Haulage Ltd have branched out into the selling of timber itself, predominately as firewood.
Pauline explained that this part of the business has taken off well for them and is something which they will continue to provide their customers into the future.
"In the last couple of years, we have started purchasing timber and selling it on to small commercial businesses and residential customers as firewood," she outlined.
"We would have a lot of residential customers who buy firewood from us by trailer loads and this side of the business has almost taken on a life of its own, complementing our main line of work perfectly."
Kilcooney Haulage Ltd also boasts an excellent record in Health & Safety and has all the legislation and regulations complied to the letter of the law. The company is also proven in providing a dependable, efficient and affordable service to a growing brand of satisfied customers.
All at Kilcooney Haulage Ltd would welcome the opportunity to earn your trust and deliver you the best service in the industry, so don't hesitate to contact them today.

Kilcooney Haulage Ltd
Address: Kilcooney, Ballinamult, Co Waterford
Tel: 058 47362/058 47354
Mob: 087 9014612/087 2503782
Fax: 058 47354
Web: kilcooneyhaulageltd.com
Taken from Irish Trucker & Light Commercials magazine, Vol 19 No 6, July 2016