Bus Éireann excellence recognised
31/01/2017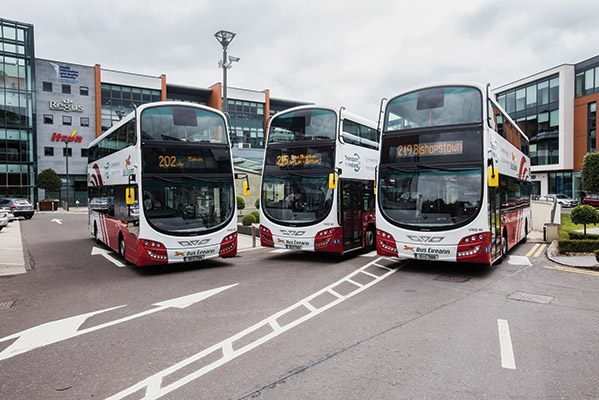 At the Irish Logistics and Transport Awards, Bus Éireann were the winners of the prestigious Passenger Transport Company of the Year accolade.
The 2016 Irish Logistics and Transport Awards took place at the Double Tree Hilton Hotel in Dublin on Thursday, April 7th, where transport companies from across Ireland gathered to celebrate the best in the industry. The ILTA awards celebrate excellence in logistics and transport and recognise companies who constantly raise the bar, to innovate and maintain their commitment to the industry in their day-to-day endeavours.
The Bus Éireann team took home one of the top prizes that night, with chief executive officer Martin Nolan collecting the award on behalf of the company. Talking about the awards night, he said the company was "honoured and delighted that the hard work we have put into new initiatives to improve the customer experience was recognised by the judging panel and our industry peers".
Bus Éireann is an iconic Irish brand and has been a service provider to the State since 1987. The company comprises of three separate businesses– Public Service Obligation (PSO) routes, commercial services and School Transport– and is the largest integrated bus and coach network nationwide.
When announcing the award, the judges praised the company strongly, saying they were selected for their "commitment to quality service, and initiatives that reflected an improvement in customer satisfaction in 2015." Several initiatives introduced by Bus Éireann over the past year were a large factor in their win and really struck a chord with the judging panel who wanted to "reward the company for its efforts."
There were four big projects that contributed to Bus Éireann beating the competition in this category. They appointed a new Customer Care Team to track and respond to customer queries within targeted timeframes, and to alert them to real time information in relation to services. An educational campaign called 'Buster and the Belt-ups' was launched to highlight the importance of travel safety for school children, focusing on wearing your seatbelt while travelling on school buses.
The company made an additional investment in their new modern fleet including 40 luxury Expressway coaches that included extra features like WiFi, power sockets and child seat attachment points, with National Transport Authority (NTA funding) for 57 new single and double deck coaches and buses for their city and town services. Expressway investment in new Seat Sales and Student drives were undertaken, while for PSO, the focus was on regional cities and a new 'Benefits' campaign to drive awareness and consideration of services in Waterford, Limerick, Galway and Cork.
All of these projects were part of a strong revenue generation plan for 2015. "We were very focused on measureable differences in service. New higher capacity fleet, the rollout of LEAP aligned with better connectivity and responsiveness to our customer care issues have helped us improve our position,"
Chief Commercial Officer Stephen Kent explained. "New fleet, new network reviews and new customer service standards have strengthened the Bus Éireann brand promise," he said.
But the improvements and innovations did not stop there. Over 100 network changes and improvements were implemented on services across Ireland in conjunction with the NTA and 2015 saw the start of the implementation of a new five year Direct Award contract on PSO services. Enhancements to the Bus Éireann Real Time Information system with the upgrade of the Automatic Vehicle Location (AVL) Control Centre systems, allowed more customers to stay informed about service times and delays.
A focus on the customer has been key to many improvements. In 2015, a new mobile optimized Bus Éireann website was launched. The website was designed for better accessibility and customer navigation with features including enhanced mobile optimized Journey Planning and Real Time information. The new website also features a stronger e-commerce engine to facilitate and enhance the online purchasing experience. A seat reservation system has been incorporated that is now online for selected routes. This allows customers to book in advance to ensure that they have a seat.
Stephen Kent explained the rationale behind these changes. "We want a seamless, high quality customer experience for everyone who travels with us. It is heartening that nine out of ten people regularly report that they are satisfied with our performance but I'm in no doubt that service quality is still the biggest differentiating factor in this business. When we get it right, customers rarely shower us with praise, but they continue to support us with their patronage and sometimes even, their recommendation.
"When we get it wrong however, I find it can create deep-seated intractable views of the company which are difficult to change."
The Expressway and Irish Design 2015 Collaboration was something that definitely had a positive impact on their reputation with customers. 2015 was the Year of Irish Design and to celebrate this Expressway and Irish Design (ID2015) collaborated with celebrated Irish designers to create five unique coach wraps. These striking wraps were designed by top Irish talents - including fashion designer Orla Kiely and graffiti artist Maser – and garnered a lot of positive attention over the year.
The partnership marked Expressway's support as official transport partner for ID2015, the year-long Government-backed initiative promoting and celebrating Irish design in Ireland and internationally. CSR is something that Bus Éireann takes seriously, contributing to over 50 initiatives last year alone.
These initiatives form part of the new five-year strategy, which is already delivering improved customer standards and innovation. This can be seen in the fact that Bus Éireann were the second highest climbers in the 2015 Reptrak survey of Ireland's top 100 brands. Additional aims of the new strategy are to drive modal shift, and to grow passenger numbers by +5% each year up to 2025.
Kent is optimistic that Bus Éireann can continue to improve and stave off increasing competition in the future: "I believe the combination of better network routes, state-of-the-art new fleet and creative advertising positions the brand to compete with any competitor successfully."
Bus Éireann,
Broadstone, Dublin 7
Tel: 01 830 2222
www.buseireann.ie
Taken from Irish Trucker & Light Commercials magazine, Vol 19 No 6, July 2016