Meylers Tyres are true professionals
26/01/2017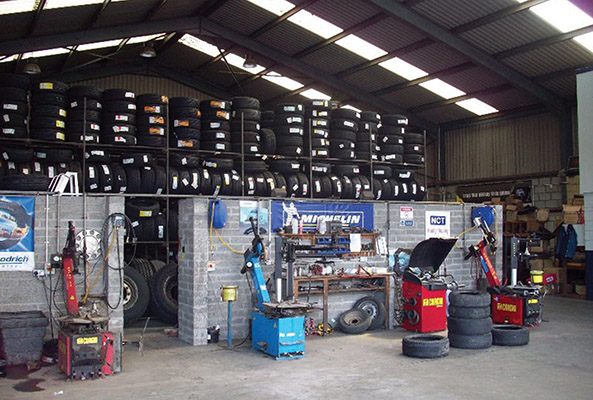 Meylers Tyres, which is located in Wexford town and has been supplying a large customer base with a number of services for 22 years now.
Established by Paddy Meyler in the early 1990s, the company has grown considerably over the years with its service and customer base expanding all the time.
Paddy had a massive knowledge in the tyre industry before setting up his own business as he was a manger for Advance Tyres for many years previous to that.
These days, Paddy is joined in the business by his son Patsy and they are seven employed in total. Aside from being a dealer for the leading brands of tyres including Michelin and Dunlop, and covering all vehicles from cars, vans and trucks to tractors, they provide other services including a 24hr breakdown service, dealers for Fiamm batteries, wheel balancing, headlight alignment, alloy wheel straightening and call and collect are all on offer, while they are also mail agents for Aeolus tyres.
"We have built up the services over the years as we saw a need to provide each of these to our customers. The tyres are the core of the business but the other areas are very important too," said Paddy.
"We have two mobile units on the road all the time, and they operate 24/7 all year round. Our customer base is expanding all the time, but we would have a lot of repeat custom as well. We would be working throughout Wexford and some of the surrounding counties as well."
Paddy revealed that they were not afraid to invest in the business in order to have the most state of the art equipment available to them.
"If we need something we will get it. At the moment, we have the workshop well equipped and a few years back we placed a major investment into the business.
"It is important to move with the times. The legislation is changing all the time and although creates an awful lot more paperwork, it is for the benefit of the industry.
"People's attitudes towards tyres is slowly changing and they are more conscious of how worn their tyres are. They can stop into us at any time and we will advise them whether they need to change the tyres or not. If your tyres need replacing we will supply and fit tyres from leading brands at very competitive prices. We stock and fit all leading brands including Dunlop, Goodyear, Michelin, Pirelli, BF Goodrich, Hankook and many more."
Paddy's son Patsy is the manager of the business these days, while Paddy himself is a director and the success of the business was recognised when they were awarded the renowned Michelin Certified Centre for their own business.
"It was great to get the certification from Michelin. We are only one of eleven companies in Ireland to get such recognition."
A common occurrence in the breakdown of vehicles is a flat battery and at Meylers Tyres, they offer to take away the hassle and strain of suffering such an inconvenience.
"We can test the condition of your battery and detect any signs of weakness. We carry a full range of batteries in stock which come with a two-year guarantee. Call in for a free battery test."
The latest service added to this family run business' portfolio is the 10k pick up service which sees Meylers go to a customers' home or business and pick up their vehicle, bring it back to their premises and carry out the necessary work before leaving it back to the customer free of charge.
"We carry this out within a ten kilometre radius of the depot here and it has proven very popular amongst our customers. We are always looking at ways to help make things easier for our customers and this is just one of them."
So what does the future hold for Meylers Tyres? "We want to ensure that our customers are happy with the services that we provide. Fortunately, we are kept quite busy all year round, but we are always looking at ways of improving our services and making sure that we maintain the standards that our customers have become used to over the years."

Meylers Tyres,
Trinity Street,
Wexford Town.
Phone No: 053 9145678
Emergency: 086 2526886
Email: [email protected]
Taken from Irish Trucker & Light Commercials magazine, Vol 19 No 6, July 2016