Over 400 exhibitors signed up for 2017 Commercial Vehicle Show
24/01/2017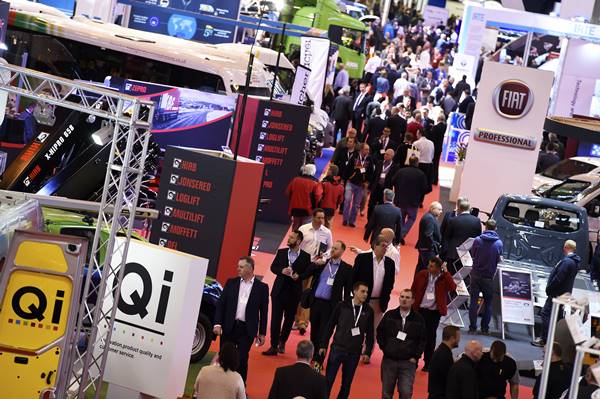 With over 400 exhibitors signed up for the 2017 Commercial Vehicle Show, the halls are full to the brim at the UK's premier road transport and logistics event, to be held at the NEC Birmingham from 25-27 April 2017 resulting in additional 5000 square metres of space being made available in Hall 3 to meet the increased demand.
The Commercial Vehicle Show is the leading meeting place for suppliers and operators and many new products will be launched over the three days of the Show. Unrivalled in size, product range and visitor attendance, the Commercial Vehicle Show attracted around 21,000 high quality visitors in 2016, many with serious buying power.
Every aspect of the UK road transport sector will be covered at the Commercial Vehicle Show, offering business visitors the opportunity to see a wide variety of possible options to help them operate and maintain a safe, efficient and effective fleet. As well as vehicles, ancillary suppliers will offer products such as handling equipment, insurance, logistics, tyres, telematics, training providers, fuels and lubricants … and a whole lot more.
Vehicle manufacturers exhibiting at the 2017 Show include DAF, MAN, Citroën UK, Fiat Professional, Ford, Isuzu UK, Iveco, LDV, Mitsubishi, Peugeot, Renault UK, SsangYong, Toyota, and Volkswagen. Many are planning new range additions and the Commercial Vehicle Show will be a chance for visitors to see them for the first time.
In addition to vehicle manufacturers, bodywork, trailer and tanker builders will use the Commercial Vehicle Show as their shop window. Among the exhibitors in this sector are Cartwright Group, Don-Bur, Feldbinder UK, Kögel, Lawrence David, Maisonneuve, Magyar, Montracon, RTN Group, SDC Trailers, Tiger Trailers and Whale Tankers a number taking increased space over 2016.
The Cool Pavilion in Hall 3a offers visitors a wide variety of temperature controlled products and services. Specialist trailer and bodybuilders including Chereau, Coolertech, Coolkit, Gray and Adams, Paneltex and Solomon Commercials have booked stands, and so have refrigeration equipment suppliers Carrier Transicold, Thermo King and Frigoblock.
Hall 3 has been opened for the 2017 show and will this year have the CV show Innovation Lab for the first time. Daily seminars will be held in this area covering a range of topics and latest developments in the commercial vehicle sector. Please go to the CV show website for more details and reservation arrangements.
The specialist Workshop area in Hall 4 is aimed at the commercial vehicle and passenger car maintenance and repair sector, and attracts decision makers from franchised dealers, independent garages, fleet workshops, body repair shops and wholesalers. Leading exhibitors in this area are Eclipse Diagnostics, Gemco, Maha, Tecalemit Garage Equipment, Totalkare Heavy Workshop Solutions, and V-Tech.
Racking and storage solutions for LCVs will be available from Bott, Bri-Stor Systems, Rhino Products, Sortimo International, System Edstrom and Tevo,
Operating costs are key for the commercial vehicle industry; fuel, maintenance, driver safety and communications all mean money and telematics can go a long way towards making every penny count for fleet operators. These systems can be tailored to companies of any size with vehicle tracking, tachograph analysis, fuel economy or a fully integrated package covering every area of operation.
Tyres play a critical role in the success of any transport operation, with their importance to fleet safety and performance. Operators have the perfect opportunity to compare suppliers including Apollo, Bandvulc, Bridgestone, Michelin, RH Claydon, Continental, Double Coin, GITI Tire, Goodyear, Hankook, KwikFit, ,Sailun, TD Tyres and TIA Wheels.
The Commercial Vehicle Show is owned by The CV Show LLP comprising the Road Haulage Association, the Society of Motor Manufacturers and Traders and IRTE Services, the trading company of the Society of Operations Engineers.
The 2017 Commercial Vehicle Show will run from 25-27 April 2017 in Halls 3/ 3a, 4 and 5 of the NEC in Birmingham. Opening hours are 08:30 to 17:30 each day.
All the latest information is available at www.cvshow.com, as well as a registration form for visitors to apply for their free tickets.