A perfect fit from Kieran Ahern
23/01/2017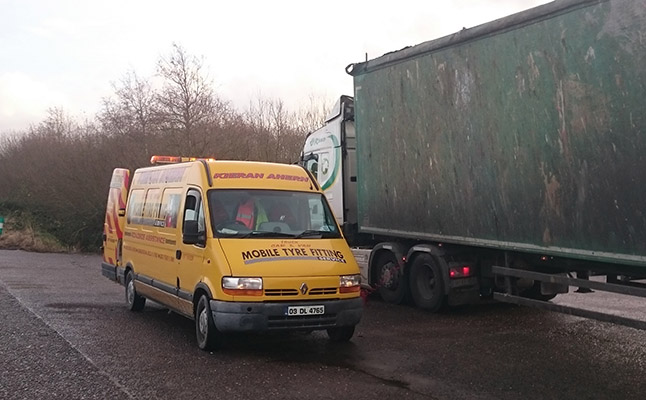 Celebrating five years since first starting up his own mobile tyre fitting service, Tralee native Kieran Ahern experienced his busiest year to date over the past 12 months. Irish Trucker & Light Commercials managed to catch up with the man himself and have a discussion about his unique business venture.
Since starting up his operation in 2011, Kieran Ahern has learned that reliability - above everything else - is the crucial element in making his kind of business work.
This past summer saw him called out as many times as 10 per day around the Tralee area (and beyond) when times were at their busiest, repairing everything from damaged tractor tyres to a mere puncture for a car.
Kieran's customers are assured of his dependability and it's the main reason that he gains repeats business from them, along with the quality of the service in which he provides.
Indeed Kieran Ahern Mobile Tyre Fitting Services has earned a glowing reputation all around Kerry, and across its borders, for the quality of work it provides in roadside assistance, whether it be for truck, car, van or agri machinery.
"We're based in Scart, Gortlea, Tralee in Co Kerry," explained Kieran.
"We're established since 2011 and I'm the only full-time employee here at the minute."
That staff count may well change if Kieran continues to experience the busy periods which he did during 2015, but for now his company is very much a one-man operation.
When you consider the range of services that he provides, that is plenty to keep one man busy all year round. Having been involved in mechanical work for most of his working life, Kieran is quite content with the work he is doing at the minute and is happy to work 12 to 14-hours days when the time comes for it.
The alternative, as explained, when he first decided to start the company back in 2011 certainly didn't appeal to him as much.
"I change tyres, I do a call out service, a bit of agri machinery, trucks and fix punctures," he said.
"I've always been stuck in the mechanical trade and at the time I started this company up there wasn't much work about. So instead of going on the dole I started my own company.
"I had been driving trucks for 10 years and I was into the mechanical end of it as well – it's something that I enjoy doing."
Getting satisfaction from your work is always a major plus, often translating into good production, which explains the success of Kieran's venture to some degree.
While this time of year brings about the less busy times for those in Kieran's line of work, he's still satisfied with the year (along with the previous four) that he has had, and is as optimistic as ever over what the future might hold.
"Things are kind of quiet right now alright and when I started out with this idea it was certainly tough," he said, when asked about the timing of his start-up in the midst of an economic downturn.
"But things have turned around since then and you can see it beginning to pick up now. From what I've seen and experienced, your price has a lot to do with this kind of work and I try to keep as fair as possible for customers."
He continued: "During the summer time I would be flat out with tractors and all that. On a very busy day I could be called out 10 times and some of those could be at any time of day with the silage and bailing going on."
Kieran keeps his work almost exclusively within Kerry too, with one Tralee-based customer helping to keep him on his toes and ensure him busy times almost 12 months a year.
"Most of the work I do would be around Kerry and there is one company in particular that I'd do a lot of work for – that's Dillon's Waste in Tralee," said Kieran.
"When I first started out with them I was on call 24 hours a day with them but things have got a little less crazy now."
The fleet Kieran operates with currently stands at one van, which makes sense when he's the only staff member, but he hasn't ruled out expansion for his company some time down the line.
"I've one van, which is a Master 2003 and I can tyre change for any tyre with up to 24-inch rims," he explained.
So with other roadside assistance outfits operating within, or at least servicing, the Tralee are, why do Kieran's customers tend to choose him first?
We let the man himself explain:
"I think customers choose us first because of our service," he stated. "Because I do a good job and they can call me at 2 or 3am in the morning and they know that I'll be there for them. That's what the customer wants.
"I also think that we are very fair price-wise. Like anything, I'm not going to become a millionaire doing this kind of work, but once I can keep the food on the table I won't have any complaints."
One can only assume that the realistic approach Kieran has taken is part of the reason why his company turned five years old in 2016.
So what do the next 12 months hold for Kieran Ahern?
"My hopes will be to try and keep the whole show on the road," Kieran laughed. "To keep getting the customers in – that would be great.
"With regards to taking on a member of staff, I've taken on no one yet but I probably would have to if it got any busier than it did this past summer, having been out 10 times a day sometimes.
"Hopefully, that will be the case."
Given the glowing reputation Kieran's earned already, not many would bet against it.
Kieran Ahern Mobile Tyres Fitting

Address: Scart, Gortlea, Tralee in Co Kerry
Taken from Irish Trucker & Light Commercials magazine, Vol 19 No 5, June 2016