The Inaugural Waste Management Showcase for Northern Ireland & Ireland
23/01/2017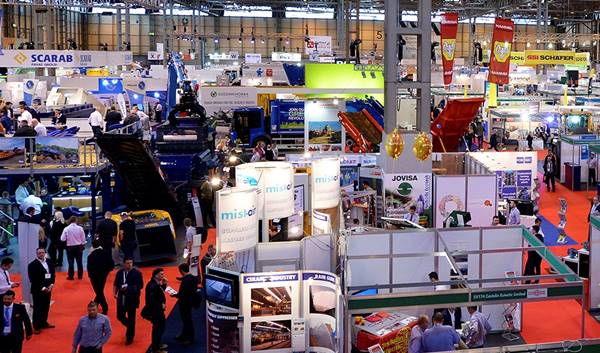 Excitement is building as The Chartered Institution of Wastes Management (NI) brings its 2017 Conference and Exhibition to the Eikon Exhibition Centre, Balmoral Park, Sprucefield...
This event is unique as for the first time, CIWM's Northern Ireland Centre, is combining its annual conference with a 5,000m2 Exhibition, bringing together technologies, machinery, experts, decision makers from across Europe.
This event will be the primary place on the island of Ireland for resource management, energy and waste sector professionals.
The one day, FREE event, will take place on Wednesday, March 29 in Lisburn's Eikon Exhibition Centre and will be a must visit for anyone involved with resources and waste. It will showcase the latest equipment and vehicles from the industry and bring you up to dateon everything from recycling and re-use, winter maintenance, street sweeping, waste collection and treatment, as well as important insider information about the newest industry regulations.
Both the conference and the exhibition will be under the same roof and many of the exhibitor stands are already booked. Anyone interested in taking a stand in the 5,000m2 space needs to act fast to avoid disappointment.
Over 100 exhibitors will be on hand to tell you all about the industry's latest products, news and vehicles. In the adjoining conference theatres, delegates will be able to enjoy a range of lectures on topical and current issues affecting both the public and private sectors.
Taking a stroll down memory lane, delegates will have the opportunity to see a unique display of vintage waste management vehicles from 1922 until 1980 providing a focal point for visitors.
Industry experts will be delivering keynote addresses covering topics such as the impact of Brexit; the hazardous and food waste regulations; the environmental costs of waste crime; the circular economy in operation and the associated development and advancements in technology around fleet management.
Mr Tony Law, Chair of CIWM NI, encouraged both the public and private sector to attend this prestigious event as a platform for networking and engagement with policy makers, service providers and industry experts. Delegates will have the opportunity to hear about and comment on changes in the waste industry, learn and apply best practice to gain economic and competitive advantage and to ensure compliance with new waste laws in their respective sectors.
Tony added: "This unique event will provide the forum for delegates to gain valuable knowledge and insight into the latest plant and innovative technologies available on the market. Delegates will be informed on the legislative impacts of the food waste regulations and other pertinent regulations affecting our waste, manufacturing and hospitality sectors."
Mr Raymond Martin, Regional Development Officer for CIWM commenting on the event referred to the benefits and uniqueness of having the conference and exhibition all under one roof. Bringing delegates and exhibitors together on one site, Raymond said: "We have been waiting for an opportune time to host an event on this scale and people will be coming from all over UK and Ireland so we will provide hospitality on arrival before they make their way around the exhibition. It is anticipated that the event will have the endorsement of Ministerial colleagues from both north and south to open the Conference and Exhibition."
Raymond adds: "Our organisation was founded in 1898 and since the turn of the last century, the CIWM has been advocating professional standards in a growing industry and through our conference and exhibition activities we seek to showcase the best practice and professional standards for the removal of waste and the re-use of materials that will enhance life and address environmental issues affecting everyone living and working here."
To register your interest in attending or exhibiting, or to find out about the early bird exhibition opportunities (which is offering exhibitors 33.3 % off if you pay before February 28),
contact Raymond Martin directly on: (028) 9147 7397, or: 07739 950 784;
email: [email protected]