Duggans Garage offer a stellar service
11/01/2017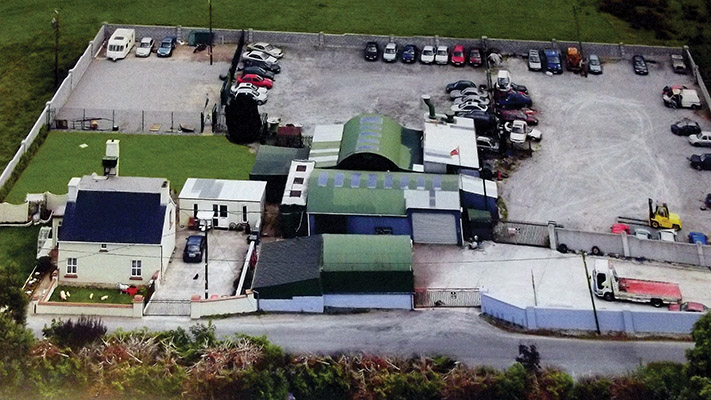 Offering a reliable and efficient service is the focal point for any business to be successful and to continue that trend throughout their careers is an important factor.
This applies to every business in every industry as customers demand a good service which in return sees them being loyal to the businesses that they are dealing with.
The recovery industry is there to offer customers a stress free way of dealing with breakdowns or accidents, both of which can cause untold hassle for the driver. However, such strain can be eased by the dedicated few who concentrate on the recovery of cars and light commercials.
There are many recovery services throughout the country, but few have the experience of Cork based Duggan's Garage and it's proprietor Michael Duggan, who has garnered over 45 years knowledge of the industry. For the past 23 years, Michael has concentrated solely on recovery work, having operated as a mechanic for many years previously.
Since dedicating his work to the recovery industry, Michael, his wife Mary who looks after the administration side of the business and son John who is involved in the day to day running of the company, have built up a large customer base that includes many of the major insurance companies, Gardaí and other public work.
Unfortunately, breakdowns are inevitable, but whether it be a motorbike, car, van or light commercial, Duggan's Garage are on hand 24/7 to look after their customers' needs.
Located in Mallow, this family run business could be described as a nationwide company although the majority of their work is in Cork and the surrounding counties. Nonetheless, it is not unusual for Michael or John to make trips to Dublin on a job.
Michael has recently added a new truck to the fleet which is an Isuzu recovery vehicle capable of transporting anything up to 5 tonne.
"The new truck brings the fleet up to four recovery vehicles now. We cater for anything from a motorbike to a light commercial. I use to have the garage and found that I would be called out to jobs a lot, so I decided too concentrate on the recovery side of things and thankfully, we have been kept fairly busy over the years," said Michael.
"We would do a lot of work for all the big insurance companies, as well as other state bodies, while we would have a lot of call outs to people that would be stranded on the side of the road. We would also attend a lot of crashes and health and safety is paramount, regardless of what the situation might be."
Michael admitted that business was good at the moment, but he added that there are no guarantees in this industry and that you have to keep working hard.
"We're fortunate that we are involved with so many insurance companies, while the Gardaí give us a lot of work too. The industry seems to be going well at the moment, but like everything else that can change very quickly.
"Our customers know us well and they know the sort of service that they will get from us. That is something that we have always tried to do; make sure that the customer is happy with the service that we provide."
A full 24-hour service is provided, seven days of the week, 365 days per year. A professional, prompt and affordable service is provided at all times and Duggan's Garage is renowned for getting the job done on time every time. As the company's stellar reputation spreads, Michael is benefiting from more and more business through word of mouth.
Simply put, this business is long established as one of the premier recovery / breakdown operators in Munster. A comprehensive service is provided under one roof and using the latest state-of-the-art equipment means customers can be back on the road in double-quick time.
"We're available 24 hours a day to recover anything from a motorbike to a light commercial. We can recover a vehicle from literally anywhere - the roadside, out of a bog or wherever it might be stranded. The equipment is very versatile and for that reason the work can be quite varied."
Michael may think that it is a 'small operation' but his large customer base suggests otherwise, the majority of which come from the public sector and the MD admits that there location is key to the success they have sustained over the years.
"From Mallow here, I can be on most of the primary roads in minutes and through the road network travelling times have been greatly reduced, so I can be anywhere in the country in a matter of hours."
Customers may worry about where their vehicles are stored when towed away, but they can rest assured that when Michael and John remove a vehicle, it is going to a very safe location indeed.
"We bring the vehicles to the Garda compound in Mallow, which is a very secure location with 24hr CCTV. Customers can rest assured that their vehicle will be looked after properly."
Michael is pleased to report that he is reasonably busy at the moment. "We're tipping away. Things have picked up in the last couple of years or so, which is encouraging. From '06 up to '09, it was booming. Things have been a lot quieter since, but we kept going through the recession and you can see an upturn in the last couple of years. This work can be seasonable, but in all honesty even though many might think that the winter is busier, I think the summer can be busier at times as people are driving a lot faster."
In this line of business, no corners can be cut and no chances can be taken. To this end, Duggan's Garage is fully certified and does everything in compliance with existing legislation and recommendations. "Health & Safety are of paramount importance," he confirms. "You have to be clearly visible when you're out on the road and you have to keep all the equipment fresh, clean and in prime working order. Image is everything so I look after the vehicle as best I can. It is checked on a daily basis and maintenance is key. A CPC course must be done to get the proper licence to operate."
As for the future, Michael concludes: "I'll try to keep the overheads down, keep the money coming in and offer as much help as possible to the people who need the service. Aside from buying the new recovery vehicle, I've no further plans to expand, I feel by keeping the business 'small' we can keep on top things better.
Duggan's Garage
Lombardstown,
Mallow, Co. Cork
Tel: (022)47186
Mobile: 087-2434403/086-4068382
Taken from Irish Trucker & Light Commercials magazine, Vol 19 No 5, June 2016