Kieran McMahon Tyres leave nothing to chance
10/01/2017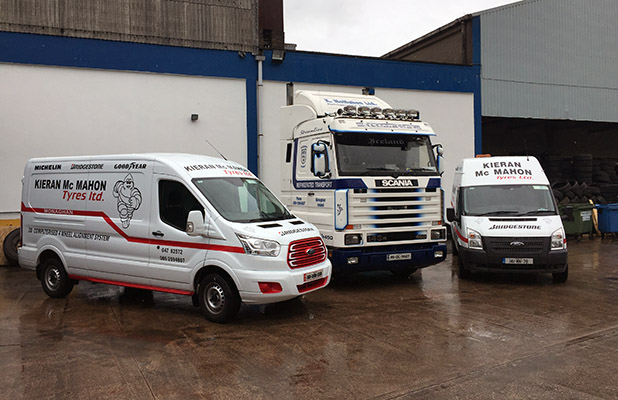 From car to tractor to truck tyres, Kieran McMahon Tyres Ltd has the perfect tyres to suit the budget and requirements of your business. They stock a wide range of tyres at affordable prices.
Kieran McMahon Tyres Ltd is a family-run business with over 30 years of experience in the domestic and commercial tyre industry in Monaghan town and its surrounding environs.
Whether your fleet features trucks, trailers or other commercial transportation, you can trust Kieran McMahon Tyres Ltd to deliver quality tyres. They stock a wide and varied range of new tyres and offer a professional tyre fitting service at affordable prices.
Kieran McMahon established the business in 1982 and his nephew Gerard has been by his side for 20-years. Under their watch, Kieran McMahon Tyres quickly earned a reputation for honesty, friendly advice and professional service.
They pride themselves on customer service and the value of word of mouth advertising is never underestimated. If your family or friends have used their services, it's likely that you will have heard of them.
"Customer service is key and our customers come first all the time," Gerard said in conversation with Irish Trucker. "We're a tyre retailer, covering cars, lorries and tractors, and we also specialise in exhausts, wheel alignment and call outs."
Kieran McMahon Tyres has come a long way from its humble beginnings. Today, they currently have 11 employees on the payroll and work out of a state-of-the-art premises which incorporates two car bays, two truck bays and a wheel alignment bay.
Their Monaghan town base also features a customer waiting area and a car/truck wash facility.
Kieran McMahon Tyres are a main dealer for the renowned Bridgestone and Michelin tyres while they also stock other leading brands, such as Goodyear and Continental to name but a few, and have built up a strong client base.
From choosing the right tyre for you to ensuring the correct wheel alignment after fitting, with two and a half decades of experience in fitting tyres, you are in safe hands with Kieran McMahon Tyres.
Incorrect wheel alignment, also known as tracking, can lead to premature and irregular wear of your tyres, and can affect your vehicle's overall performance.
The team at Kieran McMahon Tyres have dealt with a range of commercial vehicles such as vans, trucks and lorries so they understand the stresses that a commercial vehicle can endure.
If you notice any irregular wear on your tyres such as premature wear on the inner or outer rim, contact Kieran McMahon Tyres because their wheel alignment services will ensure that you have a smooth and safe journey whilst preventing irregular tyre wear.
Like practically every business in the country, Kieran McMahon Tyres were forced to endure difficult times during the economic downturn but Gerard is pleased to report that they have detected some green shoots of recovery in recent times.
"Business has been good, there has a been a slight pick up," he said. "Like everything else there was a bit of a lull but, thank God, we're seeing a bit of a pick up. The rise in the economy is helping the whole thing and we'd be confident about the future.
"We're in the fortunate position of having a large number of loyal customers and we'd like to thank them for their custom."
When it comes to the transport industry, there is not much that proprietor Kieran doesn't know about. He divides his time between the tyre business and Kieran McMahon Haulage Ltd which he established 20 years ago.
Based in Tyholland, the haulage company runs a fleet of 12 trucks and with the assistance of Kieran's son, James, its 10-strong workforce provides a general haulage service to its customers.
Therefore, at Kieran McMahon Tyres they understand that time is a very important factor in today's busy schedules so they always strive to get vehicles back on the road as quickly as possible.
Tyres are the only part of your car/lorry that are in contact with the road. Ensuring your tyres are in good condition will make sure that you are driving safely and under control.
However, picking the right tyre for your car/lorry is not always easy. Not only do you need to take into account the tyre sizes, there are better tyres depending on your driving style and how much motorway driving you do.
Gerard and his colleagues at Kieran McMahon Tyres will make sure that you always pick the right tyre for your car or lorry according to your budget.
The premium tyre brands will always have superior quality and performance, vital if you are driving any type of performance car.
However, the mid range and budget tyre providers have improved a lot and offer a great tyre for a more competitive price.
For further information or advice, give Gerard a call at the numbers below.
Kieran McMahon Tyres Ltd
Swan Park,
Monaghan,
County Monaghan

Tel: 047 82572
Fax: 047 84482
Email: [email protected]
Taken from Irish Trucker & Light Commercials magazine, Vol 19 No 5, June 2016