ADTA - a lesson in quality training
05/01/2017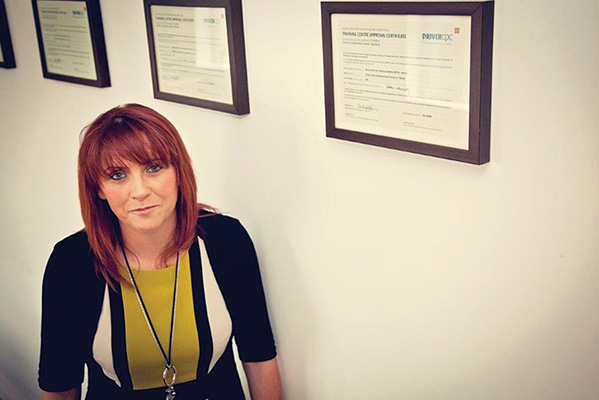 So far as driver training academies in this country go, not many have earned such a glowing reputation in the way that ADTA in Mullingar have eight short years after its inception.
An independent driver training academy, ADTA specialises in providing driver training in the Passenger and Haulage sectors of the Transport Industry, ADR Hazchem Training, CPC Transport Management in both haulage and passenger, Driver CPC, Advanced Driving Courses, Digital Tachograph and ADI Driving Instructor Training throughout the Midlands area.
Yvonne Kinnarney is the founder and Managing Director of ADTA and has endeavoured over the past 20 years to build-up her own driver training academy and ensure that it has grown into a success.
Since setting up in 2008, ADTA has helped thousands of drivers from all over Ireland pass their tests and the trend looks set to continue for some time, with Yvonne reporting busy times for her company at present.
"I've been in the transport industry since 1997 and would have started up my own School of Motoring in 2003," explained Yvonne, whose company is based on the second floor of Cusack House, Castle Street in Mullingar, Co Westmeath.
"Over the years, I up skilled into truck and bus training and was building up to setting up ADTA, which started in 2008. We have two staff members employed here full-time and then we'd have 17 lecturers working here part-time.
"My position is Managing Director, but I'm also a lecturer here as well."
Yvonne's School of Motoring was first set-up in March of 2003, before starting ADTA five years later to specifically cater for professional drivers.
Later in 2008, both companies were joined together as one, essentially making ADTA a one-stop shop for all the needs of the transport industry.
"We provide CPC Transport Management in both Bus and Haulage and we also provide ADR Driver Training Certificate (Hazchem) Training," Yvonne outlined.
"We have six different training centres between Cavan and Carlow where we provide training. We also do onsite audits for tachograph digital and analogue and vehicle maintenance procedures and planning."
She continued: "A lot of the driving lessons that we do would see us going into secondary schools and working with transition year students. We also do a lot of maintenance, maintenance procedures and Tachograph training for the management and drivers of haulage & bus companies around the area."
Yvonne's early days in the transport sector saw her starting out at Glenview School of Motoring and Hynes Driving School. At the former, Yvonne trained under James Leogue, whom she credits for guiding her and giving her great advice before starting up her own school of motoring with a single car.

"I started off at Glenview School of Motoring, which services the Midlands area and I was trained by a man named James Leogue," said ADTA's MD.

"After I qualified to get my bus licence, I was employed by Michael Hynes "Hynes Driving School Tullamore" for 6 years and then took the decision to go out on my own and haven't looked back since. James was a huge help to me and gave me great advice before and after I went out on my own."

Since then, Yvonne has gone on to start two separate businesses of her own and merge them together – a brave move when you consider the timing.

However, she admits that her business wasn't majorly affected by the economic downturn that shook the country in and around the time ADTA was first born.

"If you look at it, we started in 2008, which was a very difficult time to start a company in this country, but we've come through it," said Yvonne.

"While we weren't all that badly affected by it, it was still difficult to start a company given the economic climate at that time."

ADTA has basically grown by the year since that time, to the point where it now employs 20 staff between full-time and part-time so as to keep up with the business demand.

Yvonne explained that busy periods can be quite hectic at ADTA, where the staff are renowned for their friendly, relaxed approach and their reliability.

"We have two part-time driving instructors here as well and in a busy week we could be doing anything between 30 to 40 lessons," she revealed.

"Most of our training is classroom based. We're not a driving school per say, as we only have one car here, the rest is classroom based."

So why do learner drivers tend to choose ADTA first? For the woman behind the company, it comes down to the high standard of customer care.

"Our customer service is the main selling point of the business and we've two great women working here for us in our customer service department. We tend to get a great response from them," said Yvonne.

This past March saw ADTA become the first driver training provider to be re approved under the new criteria from the Department of Transport ATP (Approved Providers for Transport Management).

ADTA is also well-known for its promotion of road safety to young people in its local area.

Last year saw Yvonne and members of the An Garda Siochana and the Fire Service visit a series of different schools around the region, with Yvonne explaining to local media that they "wanted to make the students aware of the dangers when they go driving and what the risks are".

She also added: "You are preparing them for a new skill and that knowledge won't come overnight. That's what I wanted to say to them, 'you have to learn it the right way and you will need to learn it over time'."

Among the schools ADTA visited around the local region were; Columba College, Killucan, St Joseph's Rochfortbridge and Loreto College, Mullingar.

ADTA are Driver CPC approved and are ADI Approved Driving Instructor by RSA. They are also approved by The Chartered Institute of Logistics and Transport and the Health and Safety Authority.

ADTA
2nd Floor Cusack House,
Castle Street,
Mullingar,
Co Westmeath

Tel: 04493 45740 | 04493 10207
Web: www.adta.ie E-mail: [email protected]

Taken from Irish Trucker & Light Commercials magazine, Vol 19 No 5, June 2016