Customer service is paramount
14/12/2016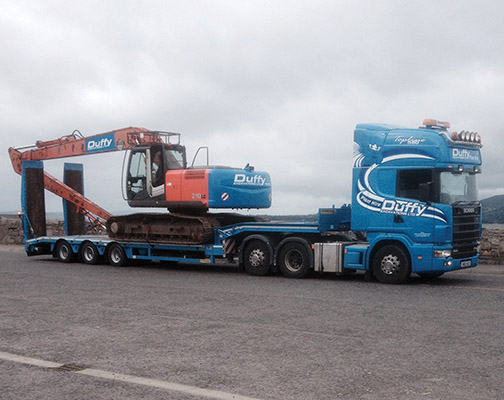 It's hard to beat a reliable service. Donegal-based Duffy Excavations & Civils/Duffy Plant Hire only make promises that they can keep when it comes to meeting their customers demands. A name you can trust, Irish Trucker sat down with directors Paul Duffy and Dean Duffy who reflected on their first 18 years in business.
Client satisfaction is the prime objective of Duffy Excavations & Civils.
A leading Plant Hire and Civil Engineering company, based in Lisfannon Fahan County Donegal, their reputation has been built on a pro-active approach with positive attitudes, close communication and collaborative working.
Duffy Excavations & Civils provide a haulage, site clearance, excavation, demolition and low loader service for contract or hire.
They operate an extensive range of equipment including lorries, excavators, track excavators, dump trucks and bulldozers and specialise in pile cropping, bulk excavation and plant hire as well as waste management, land drainage, site clearance and site development.
Operating nationwide, a reliable and competitive service in a professional and safe manner is guaranteed.
"We have an excellent reputation for completing jobs to the highest standards for several years," Managing Director Paul Duffy, who established the business in 1998, outlined.
"Customer service is paramount and the customer is generally happy once you get the job finished on budget and inside the agreed time frame. A lot of costings go into the negotiations to agree the budget on any contract but once the customer is happy, we're happy."
Are you a builder? Building a new home? Adding onto an existing one? Duffy Excavations & Civil can help you with a wide variety of excavation needs such as demolition, site clearance and many more.
As part of their demolition and groundwork operation, they can offer clients site clearance services, either as a stand-alone project or part of a package.
Before any building or landscaping work, it is important the area is cleared correctly and left tidy. Site clearance would include the removal of waste, old foundations, tree stumps, root balls and hardcore etc.
They hold a waste carriers license and have completed site clearance projects form small gardens to major developers and high profile clients.
They carry out civil engineering and have completed work for reputed companies in Ireland and Northern Ireland. Recent projects include work on the M4, M50 and M3 motorways and they count high profile clients such as BAM Ireland ,John Sisk & Son, Wills Bros, Mast Construction, amongst their long list of satisfied customers.
In addition, they do all types of demolition from large industrial and commercial buildings to smaller jobs such as "tear-down" houses, garages, patios and decks.
They are committed to excellence beginning with means and methods analysis, preliminary budgeting, estimating, abatement of hazardous materials, including asbestos and lead, through completion of demolition, either selective or total.
Their mission is to deliver to their customers a cleared site or clean building ready for the next phase of development or construction.
They have a large selection of excavators from 3T to 40T to suit their customers requirements in every aspect of plant hire, groundwork and civils. In addition, they operate and maintain their own selection of low-loaders which have a 7 to 100 ton capacity and can therefore transport machinery to site as required.
"At the moment we're working on Letterkenny Court House, which is a new BAM project, a housing scheme in Strabane and a cricket pitch in Derry as well as an upgrade of N56 in Gweebara hired to Wills Bros and the extension to Dubh Lough wind farm which involves rock breaking and making new roads in the scheme which is very local to ourselves just outside of Buncrana.
"Thankfully, we're busy," revealed Paul who has his son Dean by his side in the day-to-day running of the business as a co-director.
"There has obviously been a pick-up throughout the construction industry and while we have completed work as far away as Galway, Cavan and Monaghan and Dublin in the past, we're keeping it local these days."
He added: "We've come through a difficult time and it was a difficult time for everybody. It was a recession on a global scale, not just in Ireland, and the spend just wasn't there on national or local levels and indeed every household was affected.
"We were lucky in that there was very little down sizing in our business. At the point the recession hit we had just secured a massive €1.2m job with BAM in Sligo as well as NUI hospital in Galway. It wasn't on our doorstep, we had to travel but we had to look further afield because the work wasn't here in Donegal."
Looking to the future, Paul and Dean are optimistic that they are heading in the right direction as they look to enhance their enviable reputation for the delivery of quality projects.
All projects are handled by their experienced foremen on site and they are are totally committed to compliance with and maintenance of their own high safety standards in conjunction with the Health and Safety Authority.
They carry out regular safety checks on all plant and equipment and have special regular audits in place.
Want to find out more? Give Paul or Dean a call at the numbers below because, along with his team at Duffy Excavations & Civils/Duffy Plant Hire they have the knowledge and the know how to get things completed.
Duffy Excavations & Civils
Lisfannon, Fahan, Co.Donegal
Tel: +074 9360777
Mobile: 086 2256584 / 086 3795968
Email: [email protected]
Website: www.duffyexcavations.com
Taken from Irish Trucker & Light Commercials magazine, Vol 19 No 4, May 2016