Quality tyre and service solutions
08/12/2016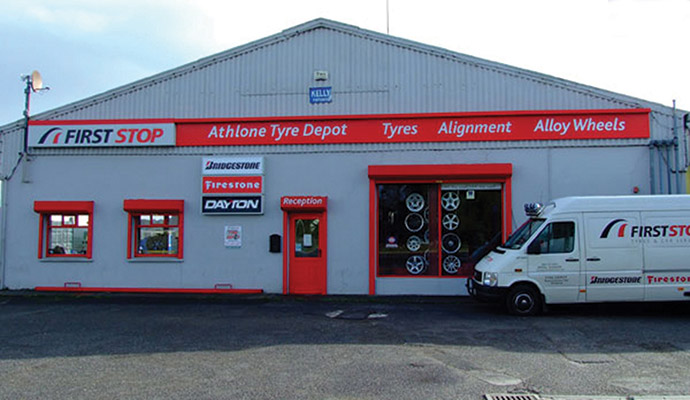 Over the past decade and more, Athlone Tyre Depot has established a stellar reputation for providing customers with high-quality, dependable tyres – and associated products and services – across the midlands and beyond. We travelled to their HQ on the Roscommon Road and touched base with depot manager Michael Reilly to find out more about this exceptional operation, which is part of the FirstStop network.
At Athlone Tyre Depot – the premier tyre supplier in the midlands - safety comes first. It is a prerequisite of everything they do and all members of staff are trained accordingly. The safety of motorists and their vehicles is paramount and all advice / assistance offered to customers is based around this abiding principle. At the end of the day, the best way to make sure that customers come back and do business with you again is to maximise their safety out on the road…
To this end, free, honest and impartial advice is offered and only new tyres are stocked and fitted, with a keen emphasis on leading brands, which of course are more expensive for a reason! Knowledgeable, experienced, motivated and friendly staff are on hand six days a week to ensure total satisfaction to car and commercial vehicle owners from a well-appointed, strategic location.
Members of the FirstStop tyre and car services network as well as the Irish Tyre Industry Association, Athlone Tyre Depot supply and fit a full range of car, van, 4x4 and truck tyres (Pirelli, Bridgestone, Firestone, Vredestein, Michelin, Goodyear, Dunlop, Kumho, Hankook, Federal etc.) alongside a host of associated services including puncture repairs, four-wheel alignment, balancing, tracking, tyre rotation, vehicle servicing, brakes, mobile call-outs and 24/7 breakdown service, alloys, exhausts, batteries, wipers and other parts.
Owned by Cavan man John Joe Plunkett, Athlone Tyre Depot commenced trading in 2003. Michael Reilly has been managing the popular Roscommon Road facility since '05. "We specialise in all types of tyres for cars, trucks, vans, jeeps, tractors and agricultural machinery, with all the leading brands in stock," he confirms. "I would have something for everybody here and we carry all the premium brands as well as a good mid range. I don't really go near the bottom end of it too much at all because we are quality-focussed. Any budget brands that I do sell, we'd be eleven years selling them and they are reasonably good tyres. But obviously we encourage motorists to invest in a high-quality tyre.
"We also do a full range of mechanical work on cars, vans and 4x4s – servicing, repairs, brakes, shocks, exhausts, bulbs, batteries, wipers and also alloy wheel welding and straightening."
As a veritable one-stop shop for tyre and servicing needs for all vehicle types, it's hardly surprising to learn that the services offered are in big demand: "We're busy here and we're in a very good location so we get a fair bit of passing trade. We never say no to anybody and we pride ourselves on giving our customers an excellent service, be that a puncture repair on one tyre or replacing tyres on a whole fleet. Every customer is important and we look after them because we want them to come back."
With three bays and five lifts, the modern, fully kitted out workshop facility ensures optimal levels of vehicle (and customer) care, while the mobile service van is on call 24 hours a day. "Paul drives the call-out van and he is available 24/7. He mostly provides a tyre service but as he's a mechanic by trade himself he can handle some smaller jobs as well and could get a lad out of trouble if he was broken down for some other reason.
"The mobile service is used a lot for tractor and agricultural machinery tyres. We can call out to the farm and fit the tyres there and that obviously saves a lot of hassle and time for the farmer. We're really busy with that at the moment. There's a lot of agri work at this time of year."
Athlone Tyre Depot also carry out a lot of fleet and contract work for the likes of DPD in Athlone, An Post, eircom and some small- to medium-sized local hauliers. Having worked as a truck driver himself for 15 years, it's an area that Michael Reilly knows inside-out. "Despite its central location, Athlone doesn't really have that many bigger hauliers," he notes. "We do a lot of smaller fleets and a good bit of contract work as well. We're happy with that but of course you'd always like more!"
Looking to the future, Ahtlone Tyre Depot will continue to look after customers by providing only proven, high-quality tyres and services: "Obviously, being part of the motor industry, things are a bit up and down at the minute but generally speaking it's going quite well. There was a bit of a lull but we can see a lift in the market again," Michael concludes.
"It's a very competitive market. There are a lot of people in Athlone doing tyres and – worryingly – a lot of them selling second-hand tyres. People need to be educated. There is no sense in purchasing a second-hand tyre. As service providers, there is an onus on us to educate the customer and we have to explain to them the difference between a good tyre and a bad tyre.
"There's no extra profit for me between selling a Bridgestone or a cheap Chinese alternative but there's peace of mind knowing the customer will be safe. There's a reason why they are spending €20 more on proper tyres and it's a small price to pay compared to risking your life with cheaper stuff. You get what you pay for.
"We have a huge stock of tyres here. There's a lot of money tied up in that and every year there is a new tyre and a new size and you have to stock them all to make sure the tyre is here if and when the customer needs it."
The customer is certainly king at Athlone Tyre Depot – which explains why there are so many of them!
Athlone Tyre Depot,
Roscommon Road,
Athlone, County Roscommon.
Tel: 090 6444690 Fax: 090 6490721
Mobile: 086 8501647
Email: [email protected]
Taken from Irish Trucker & Light Commercials magazine, Vol 19 No 4, May 2016