A lasting legacy for Vincent Dempsey
02/12/2016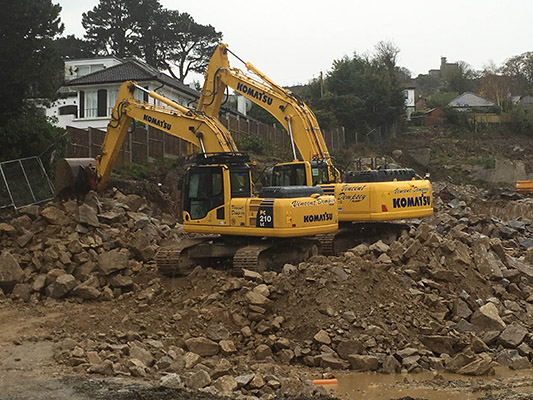 With a broad range of fresh and immaculately-maintained machinery at their disposal – from 13 tonne up to 60 tonne – Vincent Dempsey Plant Hire has the capacity to offer exceptional solutions to customers in the construction, roadworks and mining sectors nationwide. To mark the award-winning company's 30th anniversary, we travelled to their base in Redcross, County Wicklow and met director Kevin Dempsey to find out more about this outstanding family-run operation.

Vincent Dempsey Plant Hire has the machinery and the personnel to provide unrivalled services to customers in the construction sector. All their machines boast exceptional durability, high productivity and excellent fuel efficiency, operating smoothly, efficiently and quietly with low emissions.
Combining engineering excellence and dedication to quality workmanship, the County Wicklow headquartered company supplies bulldozers and excavators to major infrastructure and building projects as well as providing solutions to smaller-scale jobs, developing an excellent reputation island-wide and a large degree of customer confidence which culminates in a high volume of repeat business.
The late Vincent Dempsey set the business up in 1986 to provide machinery to the expanding number of contractors in the construction industry in the locality, who had a shortage of plant. Solutions provided include muck shifting, quarrying, rock breaking, demolition, landfill sites, wind farms and coastal erosion.
"My father came from a machinery background. He got an old Hymac digger as a gift from his own father, Johnny Dempsey, who had a plant hire business in Wexford," reveals Kevin, reflecting on the genesis of the family business. "Dad was doing work for the County Council and he eventually traded the Hymac in for a Caterpillar 215 and the business developed from there."
Working hard, day and night, Vincent grew his self-made operation organically off the very sweat of his brow. Modest profits were ploughed back into the business and slowly but surely he went from strength to strength.
"He nurtured it and put his heart and soul into it. Within a couple of years, he had a second machine and then a third. There was a need for bigger and better machinery and he responded to that demand. He built up such a good fleet that before long he was working on bypasses, wind farms and building sites around the country.
"He took great pride in keeping them clean and looked after them extremely well. Customers really appreciated this and they also realised that they were expected to look after them as well."
It really was hard work in the early days and Vincent met the challenge with tremendous energy, determination and enthusiasm. "It was seven days a week," Kevin reflects. "Initially, he was working for the County Council Monday – Friday and then digging out sheds etc. for local farmers at weekends. He then went to sites in Dublin and, with the roads, the work was nationwide so he had to travel a great deal to keep things going."
All of Vincent's hard work reaped dividends and he has left behind a family business to be proud of. Kevin and his mother Ann are now equally determined to do everything in their power to honour his legacy by continuing to meet the same high standards for which Vincent became synonymous nationwide.
"We take great pride in putting his name on the back of any machinery we buy," Kevin confirms. "If it wasn't for him and all his hard work over the years, there wouldn't be a company here; we are going to maintain the levels of excellence he reached, in his honour.
"Despite Dad's passing in 2013, we have been able to keep all the machinery running and they are all out on hire. When the downturn came and work was scarce, we worked on roads and wind farms in Edinburgh and Aberdeen for Roadbridge and Lagan, which kept us ticking over."
Things have since started to pick up again on the domestic front and Kevin estimates that before the end of the calendar year, Vincent Dempsey Plant Hire will have worked in every county in Ireland, from Cork to Donegal and Galway to Wexford as well as Northern Ireland.
Kevin, who represents the third generation, was brought up in the family business and learned the ropes from his father, getting involved on a part time basis during his Junior Cert year. He still had a year of college left when his father died, but nevertheless managed to secure his Degree in Construction Management from DIT in 2014 – a useful asset in the day-to-day running of the business.
Operating a superb fleet of Caterpillar and Hitachi bulldozers and excavators, Vincent Dempsey Plant Hire – voted Plant Hire Company of the Year at the machinery movers industry awards - is currently engaged on a range of prestigious projects around the country. "We keep the fleet fresh and we supply main contractors with fresh, quality gear along with highly-skilled operators."
Staff numbers vary, with gainful employment generated for up to 30 persons during peak times. At the time of writing, the Wicklow company was busy working on the M17/M18 Gort to Tuam Scheme with Roadbridge, Sisk, Lagan and Wills Bros as well as a Facebook construction project in Dublin with Roadbridge and work in Lisheen Mine, County Tipperary.
Looking to the future, Kevin Dempsey is determined to further enhance his father's outstanding legacy. "My biggest objective is to gather as much experience as I can and to put that to good use in the business by looking after customers and keeping things going. I want Vincent Dempsey Plant Hire to live up to my father's reputation. We have a great reputation and I want to preserve that and maintain his good name," he concludes.
"Encouragingly, there has been a slight increase in activity in the industry over the past twelve months and there is talk of more work coming down the line, so it's looking good."
As is Vincent Dempsey Plant Hire – a worthy tribute to its founder!

Vincent Dempsey Plant Hire,
Kilmurry North, Redcross,
County Wicklow.
Tel: 0404 41902 Mobile: 087 2555349
Email: [email protected]
Taken from Irish Trucker & Light Commercials magazine, Vol 19 No 4, May 2016