Ballyjohnboy Transport are going places
25/11/2016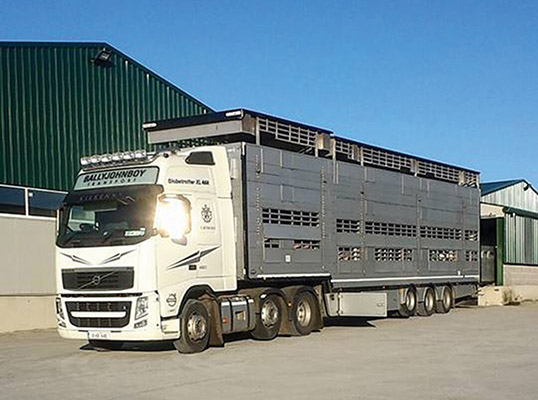 Ballyjohnboy Transport Ltd in Co Kilkenny has made major inroads in the livestock haulage game since its establishment in 2008. Managing Director Michael Ryan spoke to Irish Tractor & Agri about the company and its origins.
Specialising in livestock haulage is no easy feat these days, but at Ballyjohnboy Transport Ltd they continue to make it work day in and day out.
Based in Graiguenamanagh in Co Kilkenny, the company has grown from strength to strength since being established eight years ago to the point where its owner and founder Michael Ryan is travelling to different parts of the country five days a week.
Michael bought his first truck back in 1993 which was a 9 year old Volvo F7 rigid and has stuck with Volvo trucks since then. Having gained years of experience in the haulage game under his dad, Michael eventually took the decision to change from a sole trader to a company, setting up Ballyjohnboy Transport in 2008 and he hasn't looked back since.
"We're in Ballyjohnboy, Graiguenamanagh, Co Kilkenny and we're established since 2008," Michael explained.
"My father was a calf dealer before that, he used to do small amounts of livestock haulage and I suppose you could say that's what brought me into this line of work.
"After getting my green cert in 1992, I went and got my drivers licence in 1993 at 19 years old I was working as a sole trader before starting this company up. Right now, myself and my wife Lisa are running the company, and with some help from our two sons Nicky (10), and Tomas (8) so we are the two full-time staff here.
While it seems somewhat of a small operation from the outside looking in, Ballyjohnboy Transport certainly covers the major distances and that has seen it develop into a success story over the past eight years.
For Michael, the work that he carries out is something he very much specialises in and the relationship he has developed with his customers is also a testament to the professional service provided by the company.
"We haul pigs to Rosderra Meats twice a week and bring sheep down to Irish Country Meats, Camolin three times a week," he explained.
"We bring cattle to Kilkenny mart, Slaney Meats, Dawn Meats, Abp, and do work for Kepak in Cork occasionally. We are also working for Ned Nolan (Hermitage Pedigree Pigs) since 2003, he is the largest pedigree pig farmer in the country."
Irish Country Meats (ICM) in Camolin, Co Wexford is Ireland's largest sheep meat processor and boasts a philosophy of specialisation that delivers unrivalled expertise in quality lamb production, cold chain management, processing efficiency and after-sales service.
Michael explained that his working relationship with ICM dates back to the days when he started working for a local Livestock agent Bill Hutchinson.
"We've been working with Irish Country Meats in Camolin since the early 1990s through my father selling his own lambs also," stated Ballyjohnboy Transport's MD.
Indeed Michael's weekly schedule is quite hectic and one that keeps him on the road at least five days of the week. From Athlone to Cork, he puts in the miles to make sure that all of his clientele is satisfied week in, week out.
"On Mondays would be working around Kilkenny and on a Tuesday we'd travel to Edenderry," he explained. "Wednesday could see us going down to Cork marts in Cahir or over to Wexford and then on Thursdays we're usually up in the likes of Athlone and Roscommon. On Fridays we're back in Edenderry or Roscrea then and maybe somewhere else after that, depending on how busy it is."
Right now, it's just smooth sailing, so to speak, for Michael but he is anticipating that things will "pick up again" very soon.
"Things are steady at the moment," he said. "Sheep numbers are slower right now alright, but give it another month or so and they'll pick up again."
The reputation that the Ryans have obtained for their work down through the years is second to none, so it's little wonder why their customers continually come back to them.
Michael feels that there are three key reasons as to why clients tend to choose Ballyjohnboy Transport first ahead of other competitors.
"I think they come to us first because we have gained a good, solid reputation down through the years with the work that we carry out here," he outlined.
"We've a good reputation through word of mouth, competitive rates and we're very reliable with up to date equipment as well, which I've always felt is very important in this line of work."
He continued: "I have to say a big thanks to all of our customers, who have been dealing with us for the last 23 years when it comes to Livestock Haulage."
As for his own farming interests, Michael is currently farming 120 acres of land and has 70 suckler cows with the help of his father. His company's fleet is relatively small in comparison to some competitors, but it gets the job done and should things pick up to a point where he may have to re-jig things, more expansion could well be in the pipeline.
"I've a Volvo FH 460 XL globetrotter truck and two trailers, a Pezzaioli 3 decker and a Murphy 2 decker 40 foot at the minute," Michael confirmed.
"When Ned (Nolan) expanded his business in 2013 we needed to meet the demand so we bought a larger trailer, which was sold to us by John Fenton Truck and Trailer in Fermoy in Cork. Should we get busier, we could have to add to the fleet again but for now we're fine with what we have."
Something else that could be in the pipeline for Michael is more visits to the UK, after last year saw him making numerous trips across the Channel for a local dealer.
Overall though, he is content with the workload he has on at the moment.
"If the farmer is making money than the haulier is making money and you'd be hoping that the prices will be stronger in the future.
"The UK market depends on various factors such as prices and exchange rates. Last year I did five runs to Birmingham and before that I was in Lancashire, so hopefully that will continue to keep happening, and we stay busy on all fronts," concluded Michael.
Ballyjohnboy Transport Ltd
Address:
Ballyjohnboy, Graiguenamanagh,
Co Kilkenny
Mob: 087-2404013

Taken from Irish Tractor & Agri magazine Vol 4 No 6, July/August 2016