Experience to the fore
24/11/2016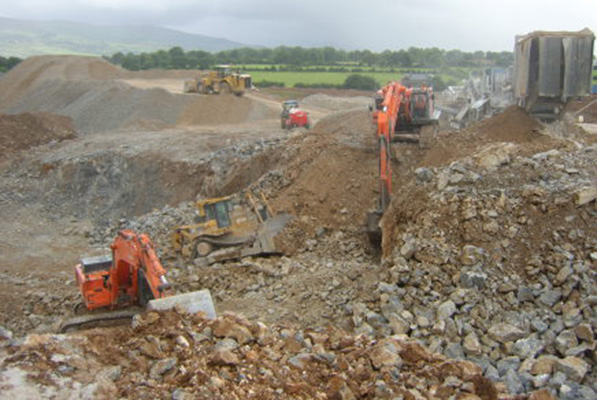 They say a business is stronger having come through a recession, but for many companies in Ireland, they have seen more than one dark period on the economic front in this country.
There is a lot to be learned in business and it takes years to fully understand how it all works. In the last recession, it was no surprise that many of the companies that were forced to close down were ones that had only started in the previous few years and had little experience in dealing with the hardship that ensued.
The construction industry was hit harder than any other sector in the Irish economy and a lot of 'belt tightening' was needed for many to get through.
One such company that has seen numerous recessions in Ireland is Tony Kirwan Plant Hire & Civil Engineering, a family run business based in Kilmacthomas, Co Waterford.
Established by Tony Kirwan in 1960, the company has grown into a well-respected, experienced and provider of an excellent service to a large customer base.
From humble beginnings, Tony who still runs the business to this day, along with his nephew David who is Plant Manager, worked hard to develop the business into what it is today.
"I started out with a bulldozer doing some land excavation work and the business grew from there. I would have been doing a lot of local work that time," said Tony.
There have been many changes to the construction industry over the years and Tony has seen them all.
"The changes have been huge alright, from the machinery to every aspect of a job, everything has changed, the majority of which has been for the better."
From the days of just having a bulldozer, the company can now call on a wide range of machinery to carry out their many projects.
"We have an extensive fleet that comprises of excavators ranging from 3-tonne to 65-tonne, dump trucks, JCBs, bulldozers, eight-wheel tipper truck and articulated tipper truck. We also have loading shovels, a mobile crusher and mobile screens. We have a range of small plant and equipment available including rock breakers, 6–9 tonne dumpers, survey equipment etc."
Having such an extensive fleet of machinery means that there is plenty of maintenance work to be done, or more to the preventive maintenance.
"All the plant is maintained regularly by our full time in house trained fitters. The equipment is certified annually by a trained assessor in accordance with the regulations. We would do a lot of preventive maintenance so that we avoid breakdowns as much as possible as these are the last thing you want while on a job."
As part of their total plant hire and contracting service they can supply and manage operators and equipment for projects including:
Plant Hire, Bulk Earthworks, Site Clearance and Preparation Groundworks, Services Installation, Land Restoration and Remediation, Quarrying, Crushing and Screening Road, Roundabout Construction, Coastal Protection, Gabion Wall Construction, Heavy Haulage, Waste Disposal, Demolition, Asbestos Removal and Traffic Management.

Through the company's many years' experience, they have been involved in many prestigious contracts working for some of the top building firms in the country as well as Government and council bodies.
"Our aim is to deliver the highest quality of work to all our customers and I'd like to think that we have earned a reputation of delivering that in a timely and cost effective manner.
"Quality is everything in this business and our customers know that they will get that every time that we are involved in one of their projects.
"We would have a lot of repeat custom, some of who have been with us many, many years and this is down to the relationship that we have with them as they know and trust us to do the work to the highest standard possible."
The company has been involved in many notable projects in recent times including the Airfield Point Housing Remediation Dunmore East; Vincent White Road Improvement Waterford City; Castlehyde Housing Remediation New Ross; West Pharma Soil Stabilisation Knockhouse Waterford; Sunlife Factory Extension Waterford and the National Children Detention Facility Lusk to just name a few.
Tony Kirwan Plant Hire work for the likes of Waterford City & County Council, Wexford Town Council, Kilkenny County Council and South Tipperary County Council as well as the Office of Public Works, Port Of Waterford Company, Waterford Airport, ESB Networks, Malone O Reagan Consultancy, Department of Food, Agriculture & Marine, Roadstone Quarries, Lagan Quarries, Power Aggregates, Tom O Brien Construction, BAM Civil, BAM Building, Nevin Construction Deloitte & Touche and Mazars.
However, their biggest contract at the moment is the redevelopment of Cork GAA's main grounds Pairc Ui Chaoimh where they are doing all the groundwork.
"We are doing all the groundworks for the redevelopment of Pairc Ui Chaoimh. John Sisk & Sons are the main contractors and this is a big project to be involved in."
Tony employs 60 people direct, while they also use sub-contractors on occasion, using all their experience they get the right fit for each job.
"We have gained over 50 years of experience working with clients ranging from small construction companies to the larger engineering organisations together with all of the local authority bodies."
The company holds waste collection permits for Waterford, Tipperary, Wexford, Kilkenny and Carlow.
"We own, operate and have access to various registered waste disposal sites and recycling facilities. We have in house capabilities to provide the necessary traffic management plans, safety statements and method statement documents required under current legislation."
Tony admits that he is happy with the workload that the company have on at the moment, while adding that they are always actively seeking new work.
"We are busy enough at the moment. The Pairc Ui Chaoimh development is keeping us going, while we are also doing a car park in Waterford IT and we have machines on the Deise Greenway which runs from Waterford city to Dungarvan.
"This is the old railway line which runs for 29 mile and it is being redevelopment into a greenway for cyclists, runners and walkers."
Tony Kirwan Plant Hire
Ballybrack,
Kilmacthomas,
Co Waterford
Phone: 051-294238
Email: [email protected]
Taken from Irish Trucker & Light Commercials magazine, Vol 19 No 3, April 2016