LDV returns to Healys
22/11/2016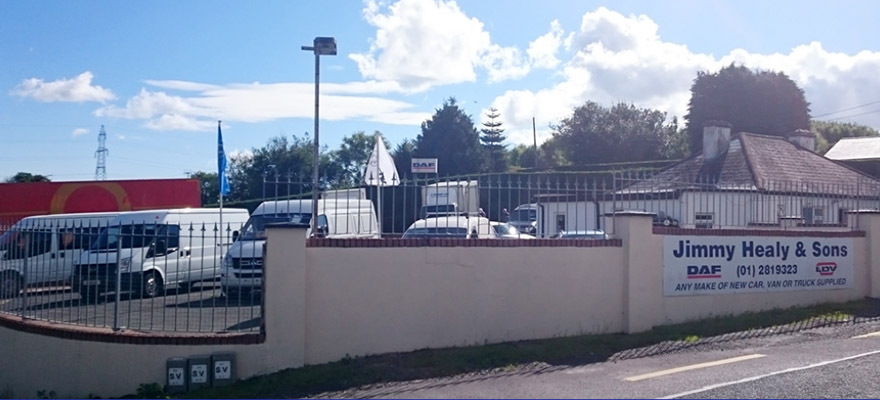 The new LDV range of V80 vans have arrived on the Irish market and are available from Jimmy Healy & Sons Commercials Ltd in Ashford, Co. Wicklow.
Healy's had previously held the LDV dealership for a number of years before the much-loved British manufacture disbanded in 2009. But now, following its acquisition by Chinese industrial giant SAIC Motor (Shanghai Automotive Industrial Corporation), the iconic brand has been revived and is set to once again become a familiar sight on the roads of Ireland and around the world.
Jimmy Healy is delighted to be able to fly the flag for LDV in Wicklow and surrounding counties once more, and is expecting the new range of V80 vans to be a big hit with Irish van users.
"It's great to see the LDV brand back. The V80 is a restyled version of the old Maxus and has been getting very good reviews. There is a great range of vans and bodies to choose from which will be extended in the near future. LDV was a good seller for me before and I can see the V80 range appealing strongly to rental companies," says Jimmy, who has been running Jimmy Healy & Sons Commercials Ltd along with his wife Ina in Ashford since 1990.
The V80 is available in three different sizes – the 3.2 tonne Low Roof Short Wheel Base, the 3.5 tonne Medium Roof Long Wheel Base, 3.5 tonne chasis cabs with a variation of box bodies, tipper and drop-side bodies and the 3.5 tonne High Roof Long Wheel Base. The VM Eco-D 2.5 engine powers the LDV V80. It's highly regarded reputation has made this engine standard equipment in many international vehicle brands around the world, making it a solid choice for the LDV V80. VM Motori is based in Cento, Italy and brings Italian flair and innovation to the V80 project.
Competitively priced and fuel efficient, the V80 comes with a five-year / 200,000km warranty and five years Roadside Assist. Features as standard include: six-speed manual transmission, blue tooth, air conditioning, stereo/CD player, electric windows, cruise control, wing mirror indicators, LED daytime driving lights, keyless entry, eight-way adjustable driver's seat and heated wing mirrors.
The Long Wheel Base versions have a 1389kg capacity. The 136hp vans have forklift and pallet access to the rear as well as a sliding side-door and cargo tie-down points.
One of the safest vans around, the V80 is constructed of a strong energy-absorbing unibody made of a high tensile, yet lightweight material, to provide added safety without compromising fuel efficiency. Standard safety equipment includes: dual airbags, rear parking sensors and four-wheel disc brakes with ABS (Anti-lock Braking System) and EBD (Electronic Brakeforce Distribution). Safety hasn't been forgotten when loading, with the benefit of a single sliding door ensuring loading and unloading can occur on the safest side of the vehicle.
Jimmy Healy & Sons Commercials Ltd is also a main DAF truck dealer, stocking the new CF Euro 6 and LF Euro 6 range. The CF Euro 6 is an ideal truck for a multitude of applications, from construction to distribution. With three cab variants, three engines and numerous axle and chassis configurations, it provides a tailored solution for every transport need.
The new LF, meanwhile, offers everything you would expect from a modern distribution truck. It's agile, provides excellent accessibility and is distinguished by first-class driving characteristics. There are a wide choice of engines, transmissions and rear axle ratios to choose from, and a completely new interior with all conceivable comfort for the driver.
In addition to the LDV and DAF dealerships, Jimmy Healy & Sons Commercials Ltd stocks a huge range of quality used trucks, vans and cars. The garage's location at Junction 14 on the N11 makes it easy to access from all parts of the country.
"We are always on the lookout for good quality second-hand vans, 4x4s and trucks between three-and-a-half and 18 tonnes. We only source from reputable dealers and leasing companies. We give a warranty with every vehicle we sell. There is various finance options available out there, adds the veteran dealer, who welcomes the recent upturn in the motor trade.
"Any make of new or used car, van, 4x4 or truck, we can supply it."
Jimmy works in conjunction with John Donohue of Grove Motors in nearby Newtownmountkennedy, who handles servicing and parts of LDV and DAF vehicles.
"We concentrate purely on sales and leave the repair and service side of things to Grove Motors," he explains.
Grove Motors offers customers a full service and parts package for all LDV and DAF vehicles as well as panel beating, spray painting and vehicle recovery. The company was established in Glen of the Downs in 1978, but has operated out of its current base since 1982.
Jimmy Healy & Sons Commercials Ltd is open from 9am to 5pm Monday to Friday and from 9am to 1pm on Saturdays. Jimmy can be contacted at any time on his mobile to deal with any queries you may have.

Jimmy Healy & Sons Commercials Ltd
Coyne's Cross, Kilmartin,
Ashford, Co. Wicklow.
Telephone: 01 2819323 / 087 2556249
Email: [email protected]
Web: www.jimmyhealyandsons.ie
Taken from Irish Trucker & Light Commercials magazine, Vol 19 No 3, April 2016