Luxurious coach hire
18/11/2016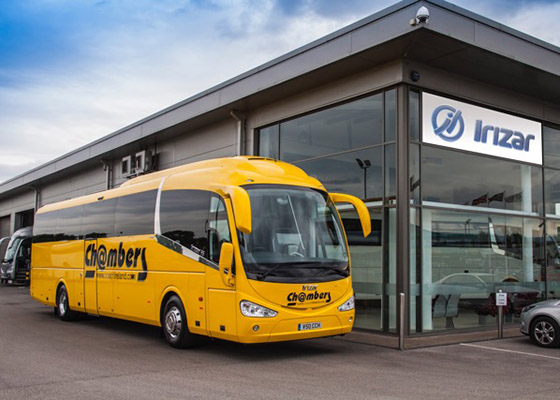 Synonymous with luxury coach hire, Chambers Coaches has been given a new lease of life since Glenshane Coaches took over the operation little over two years ago. We travelled to their base in Maghera, County Derry to get an insight into the activities of both enterprises from office manager Francis Traynor.
Over the decades, Chambers Coaches built up an unrivalled reputation across Northern Ireland and beyond for providing top-quality private coach hire solutions to a wide range of customers. The company had lapsed in recent times, however, Glenshane Coaches who already had a presence in the coach hire sector, took over operations and set about the task of breathing new life into this sleeping giant.
The results have been extraordinary and in double-quick time Chambers Coaches has reclaimed its rightful place at the very forefront of the industry, offering superb levels of service through a stunning and flexible fleet of premium, executive coaches.
"Glenshane Coaches took over Chambers in November 2013" reflects office manager Francis Traynor. "Slowly but surely, Chambers are becoming noticed on the roads again. The combination of the strong brand and the striking colour ensure Chambers stand out from the crowd."
Between Chambers Coaches and Glenshane Coaches, they oversee a fleet of 20, from 16-seater up to 57-seater. Considering that it is less than a decade since the owner first dipped his toe into the coach-hire sector, he has certainly made quite an impact.
While the Chambers name is associated with luxury coach hire and executive travel, Glenshane Coaches [winner of Most Improved Operator at the Federation of Passenger Transport Northern Ireland awards 2015] are also of a very high standard.
Chambers Coaches provide private coach hire solutions, covering a wide-ranging customer base, including sport, tours, day trips, airport transfers etc. The high esteem in which they are held can be gauged with a quick glance at some of the prestigious clients served in the sporting world – Ulster rugby, the Ireland rugby team, and Antrim and Derry GAA – alongside a number of local University, GAA, Rugby, Soccer and other sports teams / clubs and supporters.
"We also cover a lot of tour work providing coaches for other large tour operators throughout Europe, the UK Mainland, Northern Ireland and the Republic of Ireland as well as a lot of local private hire, including weddings, day trips, church groups etc."
Resurrecting this renowned business has required substantial investment, including the brand-new acquisition last summer of the first Scania Irizar i6, Euro 6, 53-seater in Northern Ireland, which took its place in a fleet that also includes four Irizar PB Scania's. The eye-catching i6, which affords the driver ample space and passengers a smooth and quiet journey as it glides across the terrain, boast 53 half-leather PB seats with foot rests, full carpet, a twin monitor / DVD system, toilet and reversing camera and is powered by DAF's MX11 271 Euro 6 engine with fully-automatic Ecolife transmission.
"It's been a huge financial commitment since '13," Francis confirms. "Chambers had to invest in the best coaches to back up the name and instil confidence. Chambers initially bought four PB Scania's and soon added a 29-seater Riada. We are always renewing and updating our fleet. The new i6 is our flagship model at the minute. It's a real luxury touring coach, although I need to stress that all the other vehicles are luxurious as well".
"You have to have great coaches and you have to keep the tour operators impressed. You need to keep renewing and refreshing the fleet, especially with some tour operators insisting on three-year-old coaches or younger."
Rodney Gallagher is a hands-on owner-driver, who is also a qualified mechanic and carries out a lot of in-house fleet maintenance alongside his father, John (who also drives), and one other specialist mechanic (Joe). It's very much a family affair, with Rodney's wife, Anne, working as transport manager.
Two large garage facilities are located on-site, stocked with all the latest tools and diagnostic equipment as well as pits, lifts etc. Bodywork is also carried out in-house.
"We hire anything up to 20 or 30 drivers at any given time, including ten full-time," Francis continues. "Good drivers can be hard to find so we are fortunate to have a good nucleus of people there to call upon. They are local and flexible and they complement the experienced core of full-time drivers perfectly."
All in all, the signs are very encouraging for Chambers Coaches going forward. "We're back on the map and slowly but surely getting the name back out there again," Francis concludes. "The Chambers name is synonymous with luxury coach hire and that's what we are providing. We are getting the customers back but it's a tough, competitive industry so there's no room for complacency, so we'll keep investing and striving to provide the best possible service."
Chambers Coaches Ltd.,
11A Glenshane Road, Maghera,
County Derry. BT46 5JZ
Tel: 028 79549932
Email: [email protected]
Taken from Irish Trucker & Light Commercials magazine, Vol 19 No 3, April 2016