Gordon Bell & Son has many strings to its bow
17/11/2016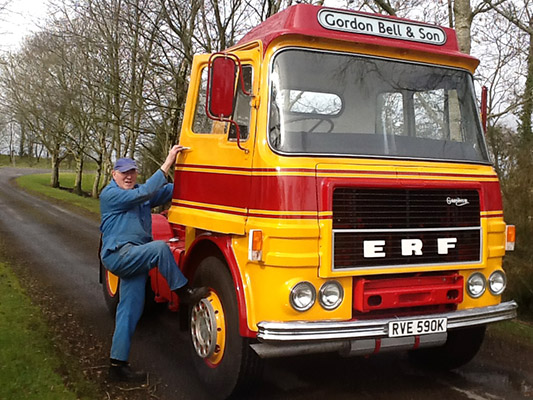 Gordon Bell & Son is a long-established and highly-regarded company specialising in truck, trailer, van and crane service and repair, truck and trailer sales, haulage contracting, trailer hire, roller brake testing and spare parts. Strategically located in the heart of mid-Ulster, the family-run concern continues to go from strength to strength after nearly 60 years in business.
A man of many talents, Gordon had begun his working life in the family farm contracting business.
In 1958, Gordon decided to go out on his own and purchased his first truck, a V8 Ford petrol engine, initially supplying sand, gravel and agricultural lime to local farmers. A few years later, he started making concrete blocks. Then in 1967, Gordon and his family moved to Melbourne, Australia before returning to Magherafelt three years later.
"My father gained a wealth of experience in coach building, quarry plant building and maintenance of ready use concrete trucks in Australia, which has helped to make the business what it is today," explains Arnold, who has been a partner with his father in Gordon Bell & Son since the mid-1980s.
On returning to Ireland, Gordon resumed supplying agricultural lime and designed a conveyor belt to speed up the process of loading the lime onto trailers. He also got into the business of buying and selling trucks, something which continues to be a key part of Gordon Bell & Son. In the mid-1980s, Gordon secured a contract with local company Carmean Limeworks to transport their limestone products all over Ireland. Around the same time, Arnold started carrying out truck and trailer maintenance for both Gordon Bell & Son and other hauliers in the area.
An increase in Northern Ireland's gross vehicle weight rating saw the family branch into fitting axles onto lorries and trailers, and carrying out chassis extensions. When they began hauling logs from forests in Co. Donegal in the late 1980s, it led to the Bell's offering a new crane maintenance and fitting service. Among the companies they fitted cranes for were BA Engineering in Cookstown, Co. Tyrone and MV Commercials in Edinburgh.
During the same period, truck and trailer sales became a major part of the business, while the haulage side continued to expand also thanks to regular work for the likes of Acheson & Glover, Lissan Coal Company and Balcas. In the mid-1990s, the family sold their six-strong haulage fleet in order to concentrate on growing the maintenance and repair side of the business. Gordon Bell & Son still runs a single MAN articulated truck and Kelberg tipper trailer which are dedicated to working for Creagh Concrete in Toomebridge, Co. Antrim. Creagh Concrete is recognised as one of the largest and most innovative producers of concrete products for a diverse range of market sectors throughout Ireland and the UK.
In more recent times, Gordon Bell & Son has begun specialising in aluminium welding and the repair of tipper bodies. It was also one of the first companies in the area to install roller brake testing equipment for the annual road worthiness test at its busy three-bay workshop in Moneymore, Magherafelt. There are four staff employed in the business, including a full-time driver. While Arnold now directs operations, he continues to receive tremendous support and advice from his parents.
"We've always enjoyed new challenges and have never been afraid to try different things," Arnold proudly states.
"The latest thing we've got into is coach and bus maintenance. We have a large and loyal customer-base from as far away as Co. Laois. Customer service is key for us. As most of our customers have one vehicle and are relying on it to making a living, the onus is on us to ensure downtime is kept to a minimum. A coach operator will have school runs in the morning and afternoon, so we have a very small window in which to repair his vehicle.
"In terms of sales, we have many contacts in the UK from which we can source quality used trucks, trailers and cranes for our clients. The success of our company is also down to having good suppliers. Our association with JM Autoparts and South Derry Coachworks means we're able to get next-day delivery on any truck, trailer and coach parts we need.
"Our location on the A29 means we are no more than an hour away from any part of Ulster."
As the countdown to the 60th anniversary of Gordon Bell & Son continues, the company's founder has taken on the task of restoring a 1971 ERF (Ernest Robert Foden)articulated truck. Gordon has previously restored many vintage vehicles and his latest project should be completed in plenty of time for the celebrations in 2018.
"I would like to take this opportunity to thank our customers for their support. We look forward to working for and with them for many more years to come," Arnold concludes.
Gordon Bell & Son
80 Cookstown Road, Moneymore,
Magherafelt, Co. Londonderry BT45 7YL
Telephone: 028 86762523
Mobile: 07739 945735 / 07739 945736
Taken from Irish Trucker & Light Commercials magazine, Vol 19 No 3, April 2016