Top-quality smokeless fuel; made in Donegal, distributed nationwide
08/11/2016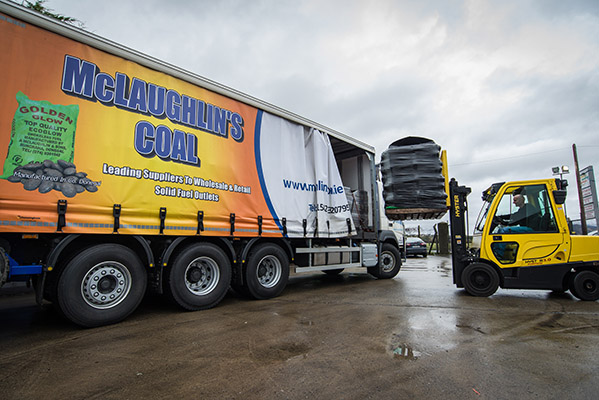 Synonymous with sourcing and delivering top-quality fuels throughout Donegal and beyond for more than half a century, Andrew McLaughlin & Sons opened their own smokeless fuel manufacturing facility in Buncrana two years ago. We travelled to the north west and caught up with Andrew McLaughlin Jnr. to find out more about this exciting new venture which has transformed the outstanding, progressive family business.
The roots of Andrew McLaughlin & Sons can be traced back beyond the 1950s when Andrew Snr. started delivering coal in the Buncrana area - as his father had done before him. Andrew is still very much involved today, in tip-top shape at the age of 77 and working six days a week. He's joined in the running of the family business by his sons, Andrew Jnr. and Noel.
Under the A&N Fuels banner, the McLaughlins established themselves as one of Donegal's leading fuel distribution companies, their reputation for providing top-quality home heating oil, diesel, agricultural diesel, lubricating oils and coal built up over four generations, with a service to match. Prompt delivery of the highest-quality fuels at competitive prices ensured that A&N Fuels lived up to its catchphrase – 'the company that always delivers'.
And recent developments at the company are sure to see them move even further ahead of the competition: We've always tried to keep ahead of the posse," says Andrew. "We've put in a new manufacturing plant here in Buncrana to manufacture smokeless fuels, because we see this as the way forward for the fuel industry.
"There is big demand for smokeless fuel in the larger towns, so we have now put in place the infrastructure to manufacture and supply a top-quality smokeless product."
Ecoglow and Ecostove smokeless fuels are manufactured by Andrew McLaughlin & Sons in Buncrana and distributed nationwide to be delivered through a network of retail outlets, coal merchants, service stations, builders' providers and co-operatives.
"We import the raw materials through Derry Port and manufacture and distribute the smokeless fuel ourselves. This has developed into our core business now. Bituminous coal is being phased out and the Government is determined to make every part of the country a smokeless zone, so this is our main area of business going forward."
With depots in Buncrana, Carndonagh and Ballyshannon as well as a network of authorised distributors, all types of coal and fuels are distributed across County Donegal.
Although still relatively new, the smokeless fuel manufacturing and distribution departure is proving to be an extremely successful one: "We started from zero two years ago and are up to 20,000 tonnes this year," says Andrew. "Demand is seasonal, mainly from October through to the end of March, and we are supplying nationwide through re-sellers, who distribute our fuels to the end user."
On the distribution end of things, regular investment ensures that a fresh, immaculately-maintained fleet provides an unrivalled service. Andrew McLaughlin & Sons / A&N Fuels operate a fleet of 20 trucks, ranging from 15-tonne up to 44-tonne, as well as availing of the services of some local haulage companies on a subcontract basis. "We have three artics, all Volvo, and these are fitted with Moffett Mounties so we can deliver anything from half a pallet to a full lorry-load. We've just recently bought a brand-new eight-wheel, tri-axle Volvo Tridem, which has been especially configured to work with Moffett Mounties.
"We [A&N Fuels] distribute home heating oil within a 40-mile radius of Buncrana and have five tankers on the road doing that."
Needless to say, Andrew is delighted with how the business has progressed since they opened up the smokeless fuel manufacturing plant two years ago: "It's growing all the time and we are hiring new staff," he states. "This business is changing, we're expanding rapidly. This is top-quality fuel and is recognised as such.
"As we had already been active in the solid fuel business for decades, we saw that things were moving this way and have put a modern production line in place. We're still doing traditional coals, doubles and slacks etc. as well as a full range of fuels, but things are moving more and more towards smokeless. We will give our customers whatever they want and all the indications now are that they are looking for high-quality smokeless fuel. The manufacturing plant has given us a new lease of life and we are now focussing on a whole new way of doing things. We are also going to be putting in a new bagging and processing facility in response to the increase in demand."
Between the manufacturing plant, processing, sales and distribution, employment generated directly by the company has risen by eleven in the past twelve months to an impressive team of 60 – not bad for a family business in Buncrana! "We are very proud of where we're from. There's a great work ethic in the community here and our staff are excellent."
Although Andrew McLaughlin & Sons never received any grants or Government assistance along the way, Andrew isn't one to moan: "We've had to do it on our own bat, but it has worked out well for us," he says. "Ultimately, we have the same goals as the Government – they want to sell smokeless fuel and so do we. We are all on the same side. The fuels we were replacing are all imports so we are reducing imports, reducing the carbon footprint and generating employment. It's win-win all around.
"We are also in the process of developing a lab, which will help us to create new and better products. There is a major shift in the fuel sector in Ireland taking place and it is exciting to be at the forefront of that. The Minister aims to make the entire country a smokeless zone within five years and we are hoping to fill that void. We have the manufacturing plant and the R&D in place and we will continue to push onwards.
"At the end of the day, you like to see your customers getting value for money and quality fuels. The price of home heating oil has come down and so have transport costs – diesel and tax – and this is all good news for the customer. Everything we do is tailored towards our customers and we are now in a better position than ever before to provide the best range of products and services."

Andrew McLaughlin & Sons,
Aghilly,
Buncrana,
County Donegal.

Phone: 074 9361542 / 9320795
Mobile: 087 2217300 Email: [email protected]
www.mclaughlinscoal.ie
www.a-nfuels.ie
Taken from Irish Trucker & Light Commercials magazine, Vol 19 No 2, March 2016