Fiat on the ground
26/10/2016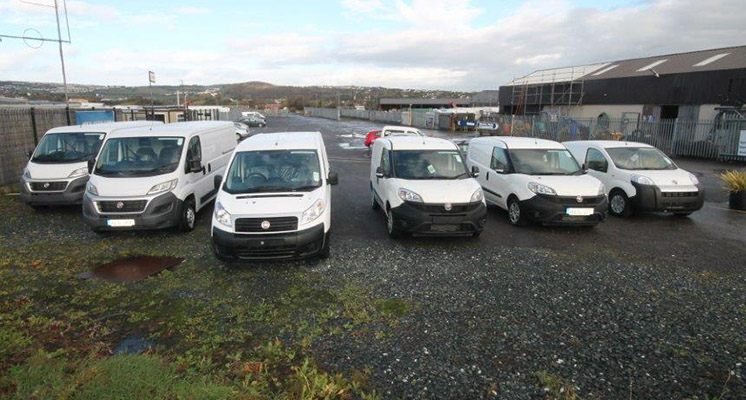 As Ireland's premier supplier of motorhomes, Donegal-based Donaghey Motorhomes has been established as a Fiat Professional Service Centre for the past five years. So taking on the Fiat light commercial vehicle franchise hardly constitutes a venture into the unknown! We travelled to their well-appointed Letterkenny base and caught up with salesperson Gerry Doherty to find out more.
Having serviced and worked closely with the Fiat marque for a decade and a half, attaining Professional Service Centre status, it would be fair to assert that the team at Donaghey Motorhomes have more than served their Fiat apprenticeships. Being appointed main Fiat light commercial vehicle dealer has been a seamless transition and the country's No.1 motorhomes supplier has hit the ground running as an official outlet for Fiat vans across Donegal.
Commenting on the new franchise, salesperson Gerry Doherty confirms that these are exciting times for the business: "We're over the moon. Having been a Fiat Professional Service Centre for many years through the motorhomes side of things, we decided to give this a go. 99% of motorhomes are built on Fiat Ducatos, so we are more than familiar with that set-up.
"We were already servicing Fiat vans, including fleet work for the likes of eir etc., so it's definitely an area we're very familiar with and very comfortable with. We've been servicing Fiat vans since we started up 15 years ago so I suppose becoming a main dealer was a logical progression."
At the time of writing, the dealership was only in its infancy. But, already the signs were very encouraging. "The vans started arriving in the showroom in November, 2015 and we've had a good response so far," notes Gerry. "We're only really putting our toes in the water at the minute. Fiat vans have never been up in this part of the country before, so it's something new for the public to consider. It's mainly Citroen and Peugeot vans, and some Volkswagens, that have been available in Donegal in the past, so we're now giving people an excellent alternative to those."
As well as getting a high-quality vehicle, customers can also rest assured that they will receive an outstanding service from a company that has built its reputation on remarkably high service levels: "Michael Donaghey [company founder and proprietor] has earned a great reputation nationwide for service and aftersales and that's certainly an area we'll be focussing on. This has always been a very service-orientated business and we'll be bringing that to the Fiat van franchise.
"If we could manage to get 60-70 new vans sold this year, we'd be very happy with that. We could then go from strength to strength. Once people start to realise how good the Fiat vans are and how strong our service levels are, then things should take off. We're confident this dealership will be a success, it's really just a question of how long it takes to get it off the ground."
With the Ducato, Scudo, Doblò and Fiorino – each available in a number of variations - the flexible and highly-specced Fiat commercial range has something to suit every need. "Everything is covered, from small vans to large ones. For example, the Ducato XLWB (extra-long wheelbase) with H3 roof has an exceptional payload and is so spacious it can carry an American style fridge freezer standing up."
As a Fiat driver himself, Gerry is in a good position to outline the manufacturer's commercial vehicles strengths: "First of all, they are very car-like to drive, with very light steering and clutching in the 130, 150 or 180 brake horsepower engines. So they're powerful and a pleasure to drive, while fuel consumption is amazing, with massive savings to be made on diesel bills.
"They're very reliable, very comfortable and very modern – they were the first to put the gear stick on the dashboard and the handbrake on the right hand side of the driver's seat. You get a powerful, smooth and economical drive with a limitless amount of options available.
"As safety is very important to us and one of our primary concerns is the safety of our customers on the road, we will have steering-wheel controls and Bluetooth on every model we sell.
"In short, it's a very, very good product. I've been all over Europe in an automatic Ducato camper van and I have to say it's truly something to behold."
Likewise, the service offered by Donaghey Motorhomes: "Aftersales are second to none here and that's our big selling point," Gerry reiterates. "If we can get the same thing going with the vans as we have done with the motorhomes over the past 15 years, that would be a big success. But our expectations are modest. We're going to just be patient and see what people's needs are. We're bringing potential customers in and asking them what their needs are and then finding them the right product. Nobody will be rushed or pressurised. We're happy to sit down with customers for as long as necessary or as often as necessary to see what their exact requirements are in order to find them the best van to suit their needs. We'll see what the van man wants and take it from there.
"It's all about customer care and looking after people."
Donaghey Motorhomes is the largest motorhome dealer in Ireland, supplying new and used Dethleffs, Knaus, Swift, Hymer and Carado models. Many years have been spent building this specialist business into what it is today. All motorhomes are thoroughly inspected prior to delivery and all carry a comprehensive warranty.
Fully trained and experienced motorhome technicians are on hand, operating from a modern, purpose-built workshop to meet all servicing and repair requirements.
The success of the business is all down to the enthusiasm and hard work of founder Michael Donaghey, who built it up from scratch. "He started from his home and moved into these premises on the Main Road in Letterkenny twelve years ago. He came through the recession and things are now on the up again – the van dealership is another string to the bow.
"There has been a big upturn in the motorhomes side of things since September 2014, with people starting to gain confidence in the economy again. We are the largest stockist of motorhomes in Ireland, with over 100 in stock at any given time between new and pre-loved.
"We concentrate on German-type motorhomes, which are sold with the guarantee of a superb back-up service. We sold 270 last year, with customers coming from every part of Ireland – Cork, Kerry, Dublin etc. – as well as from England and Scotland. It's going well and – with the Fiat van franchise up and running – we're confident that there are even better times ahead."
Donaghey Motorhomes,
Drumnahoe, Letterkenny,
County.Donegal.
Tel: 074 9129235 Fax: 074 9168298
Email: [email protected]
Web: www.donagheymotorhomes.ie
Taken from Irish Trucker & Light Commercials magazine, Vol 19 No 2, March 2016