Clarke Auto Wash are truck wash specialists
21/10/2016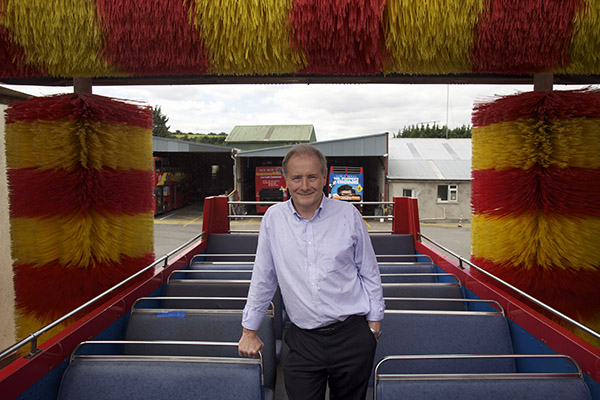 Operating out of Dublin 12 and providing nationwide coverage, Clarke Auto Wash Ltd. is Ireland's premier supplier of truck and bus washing systems. We visited their well-appointed base on the Nangor Road and caught up with founding director Vincent Clarke to find out more about the excellent range of
products and services provided.
Founded in 1992 by Vincent and Mary Clarke and centrally located in the Park West Business Park, Nangor Road, just off the M50, Clarke Auto Wash Ltd. has established itself as Ireland's No.1 supplier of high-quality, cost-effective automated washing systems and associated products and services.
Sales, installation and aftersales support (including maintenance and repairs services) are provided to a host of customers: oil companies and filling stations; car rental companies and car dealerships; and truck and bus operators.
Synonymous with industry-leading brand names such as Christ Wash Systems, Iteco Mono Brush Wash, Kiehl Chemicals and Airtec Tyre Inflation , Clarke Auto Wash offers a complete range of solutions, from delivering a complete truck wash and water recycle system to a small pressure wash to routine servicing, spare parts or the supply of washing chemicals.
Professional, knowledgeable, experienced staff members are fully-certified to engage in installation and maintenance of high-tech wash products and complementary equipment. Vincent and his team are on hand to advise and consult with prospective customers prior to purchase, while the aftersales team is available to ensure absolute satisfaction with the performance of every wash unit.
Clarke Auto Wash provides the best truck wash systems on the market to some of the largest fleets in the country. As an agent for globally-renowned Christ Wash Systems, they offer a range of different packages which can be tailored to suit individual needs.
We can offer a two or three brush rollover over truck wash machine. Also a five brush rollover for fast throughput but still offering best wash quality. In addition we offer a range of high pressure pre wash units to wash tankers, ejector trailers and municipal waste collector trucks.
Christ Wash Systems also manufacture a range of static drive through machines for the bus & coach industry for high wash throughput. All systems can be operated on mains or recycled water.
All systems are user-friendly and boast the latest innovative technologies to reduce water, electricity and chemical consumption, while water recycling treatment systems are also provided. Brush washes are designed for maximum longevity, with robust galvanised steel portals minimising operational costs.
Customers have the option of taking out a maintenance contract to ensure that they get the best from their washing equipment.
Iteco offers a unique, wholly-automatic mobile, single-brush washing system which quickly and economically cleans commercial vehicles and buses. It can be used to wash lorries with tarpaulin covers, trailers and tankers. This mobile wash consists of an 8HP diesel engine, a 500 litre water tank and a high-pressure water lance with hose reel and can wash a truck and trailer in under ten minutes. There are no trailing cables and no pushing required as the machine is driven by hydraulic power. The are easy to maintain and there are examples of this machine in use in Ireland for over 10 years. The Iteco brush is a real labour-saving device, conceived to save businesses time and money.
Meanwhile, at entry level, the Nilfisk Alto Truck Booster jet wash is a simple, robust and corrosion-proof hot water stationary unit designed for outdoor use, enabling constant cleaning of trucks, buses, vans, commercial and construction vehicles and equipment.
Reflecting on the inception of Clarke Auto Wash Ltd., Vincent Clarke reveals: "I was involved with another company that was active in the filling station / petrol pump / garage equipment environment and a recession hit in the 1980s and jobs were shed. Clarke Auto Wash was the offspring of that.
"We specialise primarily in vehicle washing equipment, especially automated vehicle washing equipment – generally the type of brush washes you see in filling stations for washing cars or trucks. We introduced the Christ brand in 1996 in to Ireland and have a close relationship ever since. The company is based in southern Germany and have been in existence for over a century manufacturing machines. The Christ family who own the business are now in their fourth generation and still growing. They are market leaders in vehicle wash equipment and pride themselves in their strong engineering tradition. This is shown to the extent of the in house manufacture of components including motors, gearboxes and electronic components. The Christ Group employ over 1400 people around Europe and have a turnover of approx 150 million Euro annually, they produce a full range of vehicle washing equipment.
"They also supply water recycling systems, which are becoming increasingly popular. It takes up to 500 litres of water to wash a truck and the recycling system can recover 95% of that. This whole area is environmentally sensitive, so it's worth doing from both an environmental and economic point of view."
"With County Councils about to increase commercial water rates, water recycling is becoming more important, we also install rain water harvesting systems, where rain water – and there's no shortage of that in Ireland – can be collected and stored in underground tanks for use in the washing units."
Regarding the other agencies, Vincent continues: "While Christ does a three-brush rollover, Iteco manufactures a single-brush truck wash – an engine-driven, diesel-powered, self-contained monobrush rollover system, with a 500-litre water tank.
"The Nilfisk high-pressure cleaners are ideal for one vehicle or small fleets and we also stock a full range of German made Kiehl detergents and vehicle-cleaning chemicals. To support all of our units, we also supply Kaeser air compressors and Airtec digital tyre inflation equipment we have also high flow models for fast truck tyre inflation accurate to +/- 0.3 psi."
The dedicated back-up service is extremely important and Clarke Auto Wash leaves nothing to chance when it comes to customer support. "Not only do we sell and install the equipment but we also have our own directly-employed service engineers maintaining the equipment on a 32-county basis," Vincent confirms.
"We carry about €120,000 worth of spare parts in stock and our service vans are professionally racked-out to ensure that everything we need to repair or service a washing unit is on hand." We have experienced service engineer conveniently located in Dublin, the Midlands and Northern Ireland for a fast response to any service issues that may arise.
Clarke Auto Wash has a market share of 30% in Ireland. This has been achieved on the back of hard work and graft, providing excellent products and unrivalled levels of service. As Vincent relates, it hasn't all been plain sailing. "It has been difficult at times over the last couple of years with the economic downturn. When operators haven't got money to spend, then the vehicle wash will be one of the first things to get chalked off.
"This is all capital equipment which requires an initial outlay before there can be any payback. An average truck wash will cost between €50,000 and €60,000 and there are civil works to consider as well. The economic environment simply wasn't there for that kind of expenditure a few years ago.
"However, 2015 was very positive and we can see the truck and bus sector as one of our biggest growth areas , businesses are starting to invest again in the logistics side of things and they are planning vehicle washes as part of that package. Haulage seems to be bouncing back and tourist numbers are also increasing, which results in greater confidence amongst coach operators."
By providing an exceptional level of service, Clarke Auto Wash benefits from a high volume of repeat business. "We still have some of the customers we had when we started in '92," Vincent reveals. "When we install a washing unit, we view it as a long-term relationship and we are prepared to service that equipment throughout its lifetime. We look after each customer and we look forward to getting a repeat order from that customer. Fortunately, we have had many incidences of repeat business.
"We have a number of different service packages to offer, including a preventative maintenance programme which guarantees fixed costs. However we are happy enough just to service and repair the units on a on call basis if that's what the customer prefers."
Clarke Auto Wash works hand in hand with some of the largest fleet operators in the country, including Aldi Supermarkets."We have a truck wash in their Distribution Centre in Naas in '04, and another one in their regional centre in Mitchelstown since 2011."
"While there is an initial capital outlay, it becomes apparent very soon of the cost effectiveness of any automated vehicle wash. Manual washing either done in house or by outside contractor is a fixed cost per vehicle. Growth of the vehicle fleet just increases these cleaning costs. Once the breakeven costs have been achieved, the wash costs will reduce, allowing for growth without additional costs. We are happy to discuss with potential customers the cost benefit analysis of any such project. We also have access to financial packages from leading lending agencies for finance on much of our equipment.
"I know truck guys are very proud of their trucks but they can't control the washing aspect of it when it's being done on an ad hoc basis. That's why they opt for the automated system. While it is a substantial initial investment, the payoff is there for years being able to present clean trucks and buses to their customers in a fast and cost effective way. For guys who work in the food industry, for example, where clean trucks are essential, a truck wash is a godsend.
"Likewise, in the bus and coach industry, having a dirty vehicle is a real no-no. The wash is a key element of their business."
Looking to the future, Vincent is confident that Clarke Auto Wash can continue to go from strength to strength. "The software and IT side of it is increasing, as is accountability and management," he concludes. "Operators can now upgrade their systems with RFI tags etc. to monitor which trucks are being washed and to keep track of all that information electronically.
With so much to offer and a proven track record for cost-effectiveness and complete customer satisfaction, the future is bright for Clarke Auto Wash Ltd.!

Clarke Auto Wash Ltd.,
Unit 8, Park West Drive,
Nangor Road, Dublin 12
Tel: 01 6233631
Email: [email protected]
www.autowash.ie
Taken from Irish Trucker & Light Commercials magazine, Vol 19 No 2, March 2016