Safe driving
13/10/2016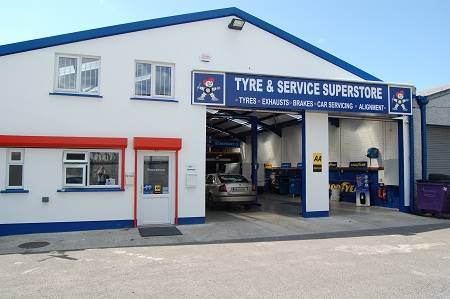 Your tyres, being the only part of your vehicle to touch the road, are critical to ensuring safe motoring.
Tyre maintenance and timely replacements will actually save you money.
There are many standards to be met with regards the quality of tyres used on vehicles these days and with new regulations that have been introduced, the tyre industry and indeed motorists are set to benefit hugely.
EC regulation requires tyres to have performance labels, with the aim of encouraging people to purchase tyres with superior environmental and safety performance, and also encourage tyre manufacturers to produce tyres whose performance exceeds the minimum requirements specified.
Tyre & Service Superstore have three branches with their headquarters in Tallaght and two depots in Finglas and Walkinstown.
The company first opened its doors in 1980 under the company name Manvik Tyres, but in 1990, they moved to the Square, Tallaght and rebranded under the name Square Fit.
A further rebranding took place in 2011 and Tyre & Service Superstore emerged, enhancing the company's reputation for supplying a top quality service to an ever-increasing customer base with the company's services listed on their new website www.tyresdublin.ie.
"The aim of this website is to offer to everyone the level of price transparency that our customers have always enjoyed. We have a mobile version of the vehicle maintenance pricing guide that can be accessed from any smart phone so that you can price a job when you are out and about. This useful and innovative app allows you to get a price for the work that needs to be done on your vehicle before you even enter a garage saving you time and money.
"We offer our customers a wealth of knowledge and know how, accumulated through 35 years' experience in the business. The motor industry is a fast-paced and competitive industry, which is why we are constantly striving to improve our level of service," added Kevin.
"This is done both through the advancement of technology and by keeping in touch with the changing needs of our loyal customer base. We adhere to the highest safety standards to ensue your vehicle is fully functional at all times."
Each branch is fully set up with high-tech computerised equipment needed for the tough demands of modern motoring. Each of the branches are AA approved and as well as tyres being supplied and fitted, the also offer pre-nct checks.
"We carry a wide range across all the premium tyre manufacturers. We also stock a wide range of mid-range and economy tyres to suit all lifestyles and budgets.
"As your tyres are the only part of your vehicle to have contact with the road it is important to ensure that they are of the desired level of quality. Take a browse through our recommended tyre brands which we hope will help you make an educated decision on the most suitable tyre to choose."
Kevin stressed that they were there to look after the customers' needs and the safety of the motorist always comes first.
"There are many areas of vehicle maintenance which are vital to ensure your safety and the well-being of all other motorists. These include headlight alignment, wheel balancing, puncture repairs and many more. We are experts in a wide range of these areas so customers shouldn't hesitate to contact us and we will do our best to advise you as to what your vehicle needs."
Tyre & Service Superstore
Old Blessington Road, Tallaght, Dublin 24
01 4511739 / 01 45118244
[email protected]
Web: www.tyresdublin.ie
Taken from Irish Trucker & Light Commercials magazine, Vol 19 No 1, February 2016