McGlynn Commercial Repairs - at the cutting edge
10/10/2016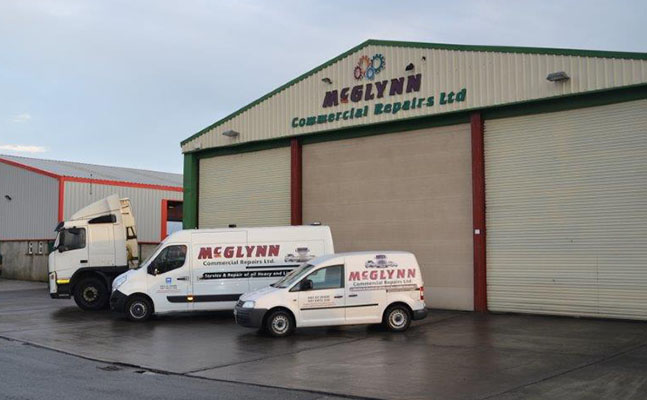 Since its inception a decade ago, McGlynn Commercial Repairs Ltd. has developed an excellent reputation for commercial vehicle diagnostics, repairs, maintenance, servicing and recovery. We travelled to their newly-expanded, state-of-the-art Longford base to find out more about this multifaceted, family-run business from director Teresa McGlynn.
Based in Longford town, McGlynn Commercial Repairs offer exceptional repair and fleet maintenance solutions to truck-and-trailer, van, coach and bus operators throughout the midlands and beyond. Using the latest diagnostic equipment for every make and model of commercial vehicles, they can identify faults on all systems instantly and get their customers back on the road as quickly as possible, thereby keeping costs and downtime to an absolute minimum.
Fronted by husband-and-wife team Jimmy and Teresa McGlynn, the well-appointed, recently-extended commercial vehicle workshop – which is manned by skilled, experienced and fully-qualified personnel - provides a comprehensive range of services, including service and repair of all light and heavy commercials (as well as jeeps and cars); 24-hour roadside assistance (including mobile diagnostics, if required) and breakdown recovery; fleet maintenance and preventative maintenance; and DOE reparation and wheel alignment etc.
Specialists in tail-lift repair, McGlynn Commercial Repairs, who are members of SIMI, also carry a large stock of Dhollandia and Zepro parts, with hydraulic pipes made to measure in addition to a large stock of truck, trailer and car parts from all manufacturers. Bushings can be made on-site using specialist equipment and a welding repairs service is also available.
A wide-ranging service is offered covering every type of commercial vehicle on Irish roads and no job is ever considered too big, small; tedious or demanding. Reflecting on the genesis of what has become the premier, one-stop shop in the midlands for commercial vehicle repairs and maintenance, Teresa McGlynn notes: "We started up in 2005. Jimmy had trained with CIE and then worked for himself in Dublin for a number of years doing mobile repairs. But he wanted to move back this way and we also felt there was a niche for a commercial vehicle repair and service centre locally, so we built the unit here and it has gone very well."
Indeed, despite the economic downturn that swept through the economy not long after the business was formed, McGlynn Commercial Repairs has thrived since its inception, its popularity spearheaded by the provision of a high-quality, thoroughly-professional service.
"We've managed to maintain our staff levels and we're delighted about that," Teresa confirms. "Ironically, during the downturn, when money and finance were tight and not many new vehicles were being sold, a lot more people were getting repairs and maintenance done to existing vehicles, and that worked in our favour."
By keeping clients' fleets in top nick, McGlynn Commercial Repairs offered customers economies and efficiencies that boasted their competitiveness. That continues to be the case today as a well-tuned commercial vehicle remains vitally important in the transportation and service sectors.
McGlynns pride themselves on their ability to provide swift and accurate troubleshooting. "We specialise in diagnostics for the full range of HGVs and trailers, LCVs, coaches and buses," says Teresa. "We have the most up-to-date diagnostic equipment here as well as personnel who are fully trained in how to operate it. This equipment is fully mobile so we can take it out on-site and it's invaluable as it points you in the right direction every time – be it faults with ABS, engines, gearboxes, air conditioning etc. – and it also saves time and reduces labour costs.
"Tail-lift repairs is one of our many specialties. Nine out of every ten breakdown repairs that we do in the mornings are tail-lift related. We stock a lot of parts for these and make up our own hydraulic hoses and pipes on-site."
A 24/7 mobile call-out service is provided. "We have one large mobile service van plus two smaller ones and we will cover literally anywhere. Most of the call-outs are in the Longford, Mullingar, Athlone, Roscommon area but if we have a customer in trouble in Dublin or Donegal, we will sort them out. We have a lot of trusted contacts nationwide and we work hand in hand with them to ensure that nobody is stuck."
A business of this scope and professionalism requires continuous investment. "We've just purchased the building next door and have extended into that, adding two extra pits and bringing the total workshop up to four pits," Teresa relates. "When the opportunity came up to acquire that building, we took it and we've put in a lot of new equipment.
"But the equipment would be worthless without the right people to operate it. We have great technicians here. There are seven or eight lads there all the time, plus another three in the office."
Service is key. "Our goal is to keep downtime as low as possible and to provide a quick turnaround," says Teresa. "Unless the vehicle absolutely has to be off the road, then we will get it back as quickly as possible. We'll source the parts immediately and have the vehicle back running on the same day if that is humanly possible. That's the way we operate – quality workmanship and solutions provided with the fastest turnaround."
As a 100% independent garage, McGlynn Commercial Repairs are not restricted and can cater for literally any type of vehicle. They carry out fleet maintenance and repair work for the likes of Longford County Council, the ESB, Irish Prison Service, Pulse Logistics and Kane's Travel as well as number of local haulage and bus operators. Every customer – large or small – is treated as a priority:
"The everyday customer is very important to us. We really appreciate the custom of local haulier and owner-drivers and we are delighted to have them on our books. We work as hard to keep them going and we treat every single job as a priority."
Going forward, Teresa says McGlynn Commercial Repairs will continue to provide the comprehensive, high-quality services for which they have become renowned. "Preventative maintenance and mandatory 13-week checks have become very important. We do a lot of those inspections to keep things right for owners and to ensure that they have all the relevant documents to comply with RSA requirements. We also do DOE prepping and there is some spin-off repair work from that as well.
"We enjoy a lot of repeat work but there's not a week goes by that we don't get new customers as well. We're in an excellent location off the main Westport Road, with convenient access and a lot more parking space now that we have bought the adjacent building.
"There are also excellent local services close by, including windscreen and radiator services, a tyre centre and a CVRT centre (Nolan Motors), which all comes in handy.
"We've been lucky in that the business has gone well so far but we certainly won't be taking that for granted. We'll continue to work very hard to keep our customers happy and to keep their vehicles on the road."

McGlynn Commercial Repairs Ltd.,
Townspark Industrial Estate,
Longford, County Longford
Tel: 043 3350400 Fax: 043 3350999
Email: mcglynncommercialseircom.net
www.longfordcommercialrepairs.ie
Taken from Irish Trucker & Light Commercials magazine, Vol 19 No 1, February 2016