Doran Motors welcomes LDV and Isuzu brands
06/10/2016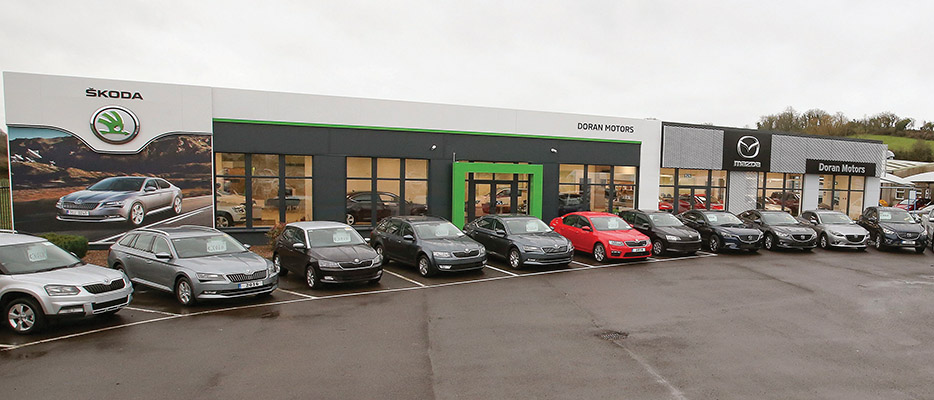 2015 marked the arrival of the LDV and Isuzu dealerships at Doran Motors Ltd in Magheracloone, Carrickmacross to complement its existing Mazda, Hyundai and SKODA franchises as well as its after sales service for Mitsubishi. Dealer principal Peter Doran expects the LDV and Isuzu brands to be a big hit with van and 4x4 drivers.
Appointed main LDV and Isuzu dealers for the north-east last autumn, Doran Motors is entering an exciting phase in its 40-year history. Located on the R179 between Carrickmacross and Kingscourt, and with a second Hyundai outlet in Drogheda (Drogheda Car Sales), the family-run business is looking forward to providing its many customers with an even better service than ever before.
Established by Peter Doran and his wife Angela, Doran Motors offers a comprehensive range of services, including new and used car sales, service repair, bodywork, valeting and spares parts, along with Pre NCT testing and a breakdown assist service. It is one of the leading ISO 9001 accredited car dealerships in Ireland and has won many prestigious awards for exceptional standards for Mazda, Hyundai and SKODA sales and service along with and customer satisfaction, including the coveted SKODA Dealer of the Year Award in 2007.
Customer care is always a priority for this highly-regarded dealership which employs 53 staff (including 12 in Drogheda) and has dedicated sales and after sales teams on hand to assist you. With its car and van finance partners, Doran Motors can provide you with competitive finance packages to meet your budget.
Doran's had previously held the LDV dealership before the much-loved British manufacture disbanded in 2009. But now, following its acquisition by Chinese industrial giant SAIC Motor (Shanghai Automotive Industrial Corporation), the iconic brand has been revived and is set to once again become a familiar sight on the roads of Ireland and around the world.
"We sold a lot of LDVs around 2006 and '07. The Maxus, which was popular at the time, has been replaced by a new range of V80 vans. There is a very strong company over LDV now and the vans are as reliable and economical as ever. They have a VM engine and we've been getting plenty of enquiries," Peter explains.
The V80 is available in three different sizes – the 3.2 tonne Low Roof Short Wheel Base, the 3.5 tonne Medium Roof Long Wheel Base and the 3.5 tonne High Roof Long Wheel Base. The VM Eco-D 2.5 engine powers the LDV V80. It's highly regarded reputation has made this engine standard equipment in many international vehicle brands around the world, making it a solid choice for the LDV V80. VM Motors is based in Cento, Italy and brings Italian flair and innovation to the V80 project.
Competitively priced and fuel efficient, the V80 comes with a five-year / 200,000km warranty and five years Roadside Assist. Features as standard include: six-speed manual transmission, blue tooth, air conditioning, stereo/CD player, electric windows, cruise control, wing mirror indicators, LED daytime driving lights, keyless entry, eight-way adjustable driver's seat and heated wing mirrors.
The Long Wheel Base versions have a 1389kg capacity. The 136hp vans have forklift and pallet access to the rear as well as a sliding side-door and cargo tie-down points.
One of the safest vans around, the V80 is constructed of a strong energy-absorbing unibody made of a high tensile, yet lightweight material, to provide added safety without compromising fuel efficiency. Standard safety equipment includes: dual airbags, rear parking sensors and four-wheel disc brakes with ABS (Anti-lock Braking System) and EBD (Electronic Brakeforce Distribution). Safety hasn't been forgotten when loading, with the benefit of a single sliding door ensuring loading and unloading can occur on the safest side of the vehicle.
Isuzu is another brand which has reinvented itself in recent years. A firm favourite with Irish farmers and builders over the years, the D-Max 4x4 Pick-up, 2.5-litre diesel twin turbo is available in standard and crew cab. It can be supplied open back, tipper or with various canopies, liners etc.
With a new styling and stunning performance, the new D-Max is a leader in its class. The extended cab model has got a side-access panel on both sides to make it easier to get at the extra space inside the cab, while the double cab has the normal four-door layout with a rear bench seat. Its impressive 2.5-litre twin-turbo diesel engine means it can tow up to 3,500kg and can carry a 1,058-1,136kg payload. Available with either a six-speed manual or a five-speed automatic gearbox, what makes the D-Max even more appealing is the fact that owners who are VAT-registered can claim back the VAT.
Peter is delighted with how all of his brands are performing, particularly the new Hyundai Tucson crossover, which comes with a five-year unlimited warranty and five-year free roadside assistance.
"After some very difficult years for the motor industry and the economy in general, things are finally starting to look up," he says.
"A lot of people are opting to buy new as they can see it's no longer feasible to keep older vehicles on the road due the high running and maintenance costs involved. If you've just got back into business or you're in a steady job, it makes more economical sense to buy new. With the excellent warranty and finance packages that are now available, you can't really go wrong."
Doran Motors is open from 9am to 6pm Monday-Friday and from 9am to 1pm on Saturdays. Why not drop in or give them a call to see what great offers they have for you?

Doran Motors Ltd
Clonseady, Magheracloone,
Carrickmacross, Co. Monaghan.
Telephone: 042 9662266
Email: [email protected]
Web: www.doranmotors.ie
Taken from Irish Trucker & Light Commercials magazine, Vol 19 No 1, February 2016