Superb recovery, servicing and repairs in Limerick
03/10/2016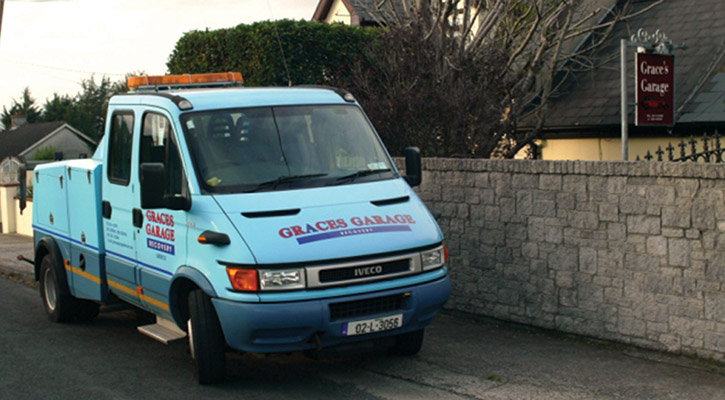 Counting the likes of the ESB and LeasePlan Ireland amongst their clients, Grace's Garage in Limerick city provide a comprehensive range of servicing / repair solutions as well as outstanding breakdown / recovery services, catering for cars and light commercials. We met up with founder / proprietor Gerry Grace to find out more about this renowned family business.
Grace's Garage is a family-owned operation that was established in Limerick city by Gerry Grace in 1983. Providing a full range of mechanical services including car, van, camper van and small truck servicing and repairs as well as exhausts, weld repairs, pre-NCT and -DOE tests and electronic diagnostics, Grace's also offer superb passenger car and light commercial vehicle recovery solutions.
Conveniently located in Limerick city, on the 512 (old Cork Road), just off the Kilmallock Roundabout, Grace's Garage specialises in everything from oil changes and tyre checks to light adjustment, wheel alignment and engine reconstructions. They use the latest diagnostic equipment to accurately troubleshoot problems and their modern, well-equipped workshop is manned by vastly-experienced and knowledgeable technicians.
Boasting over two decades of experience in vehicle recovery, Grace's operate two recovery vehicles - one tilt and slide which can carry two vehicles and one spectacle lift truck with the capacity to accommodate up to six passengers. They can safely and promptly recover cars, vans, small trucks and motorbikes and are contracted to provide breakdown assistance for the Aria Assistance and MIS as well as selected insurance companies.
The team at Grace's Garage have a particular interest in vintage and classic cars. They have restored many of their own and always welcome any work in this area.
Reflecting on the genesis of the business some 32 years ago, straight-talking founder Gerry Grace notes: "I started the garage in 1983. There was a very bad recession at the time and I had worked for a friend of mine for 18 years prior to that [Sweeney Concrete]. When he went out of business, I started up on my own.
"I've been doing recovery since '95 approximately. A Ford Cargo was my first recovery truck and I then bought an Iveco D Series. Today, I run an Iveco spec lift and a Mercedes tilt and slide with spec lift. We can recover anything up to four tonnes and carry six passengers in the crew cab of the Iveco, so we can bring a whole family to safety from the roadside or motorway, which can be quite a scary place. We also have a small Renault Kangoo van for jump starts etc."
Regarding the catchment area covered by Grace's unrivalled recover service, Gerry points out: "I will go anywhere for my own regular clients and for select insurance companies that we work for, be that Cork, Dublin … wherever they need me to go. Outside of that, generally speaking we cover everywhere within a 50-mile radius – including Limerick city and county and into counties Tipperary and Clare."
Even though he didn't come from a mechanical background, Gerry was never in any doubt about what he wanted to do for a living. "My dad was a carpenter but since I was around six years old I was messing around with cars. I always wanted to work on cars and I started serving my time in 1963."
More than half a century later, he is still providing a magnificent service. But he admits that this is one line of work where you will only get back what you are prepared to put in: "It's hard work and I've always had to work very hard, but I can have no complaints. I'm still working at 68 years of age and my dad worked up until he was 86. When you are self-employed and you're not getting anything for free, it's amazing what you can do."
In the garage, a full range of services is provided to owners of passenger cars and LCVs. "We do repairs, servicing, engine rebuilding, diagnostics, wheel alignment etc.," Gerry confirms. "We use Brain Bee diagnostics equipment and software and we can work on any vehicle from a car to a van or a minibus.
"We restore a lot of old classic cars. At the moment, we have a Citroen HY van – which is a bit like a shed! – and we are in the process of restoring it. I'm into the old cars myself and I collect them. I'd have an affinity to anyone else who collects them and will go out of my way to get whatever parts they might need to fix them up."
Very much a family business providing a keen personal touch (Gerry is joined in the running of the operation by his son, Michael) and a flexible service, Grace's Garage generates gainful employment to four people full-time as well as one part-time. A large percentage of the work involves commercial vehicles…
"Commercials would be a big part of it," Gerry attests. "We're happy to do a lot of work for LeasePlan and the ESB – providing both garage and recovery services – and I also service and repair the ESB's quads and trailers."
Since he started out in business, Gerry Grace has always been straight with people. "I tell people the truth and I hope they appreciate that," he states. "I'm straight with all my clients and I stand over all of my work. I'm here more or less seven days a week as I live on-site, which works out very well for my customers."
Having been in business for more than three decades, Gerry is obviously doing something right. "You do your best to address a problem when it arises," he concludes. "If you don't have the best equipment, then you are wasting your time. I have invested a huge amount of money in tools and equipment over the years. On top of that, we know what we are doing and we provide a good service.
"We've never had to advertise. We get most of our business through the website and through word of mouth. We treat every customer as a priority and, once you look after them, they tend to come back."
Providing an array of professional services, Grace's Garage has been going strong for over 30 years and all the signs are that they will continue to do so into the foreseeable future!

Grace's Garage
Crossagalla, Killmallock Road, Limerick.
Phone: 061 412993
Gerry: 087 2582946 Mike: 086 2582946
Email: [email protected]
www.gracesgarage.ie
Facebook: www.facebook.com/gracesgarage
Taken from Irish Trucker & Light Commercials magazine, Vol 18 No 10, December 2015/January 2016