Fleetwise: Smart Vehicle Hire
28/09/2016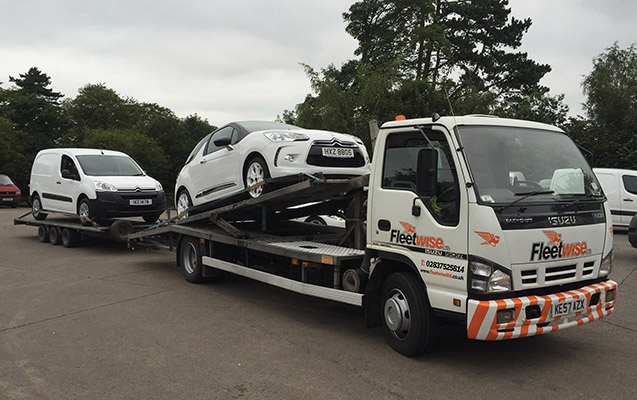 Any business that relies on vehicles to operate know that the financial outlay can be astronomical.

In order for them to fulfil their commitments to their customers, they need top quality vehicles whether it be a light commercial or car, ones that are not only reliable but presentable as well.
However, obtaining finance in the current economic climate can be a lot more difficult than is made out to be and businesses are seeking other options.
One of these is vehicle hire and one of the fastest growing companies in this industry is Armagh based Fleetwise Ltd. Established in June 2012, Fleetwise's customer base has grown substantially over the past three years and for this month's edition of Irish Trucker, we profile the company and speak to General Manager Kerrie Gass about the many services that they provide.
Chief Executive Officer Colum Mackle saw a niche in the market to take the financial burden of purchasing vehicles at a huge cost away and replace it with the option of contract hiring.
"We hire light commercials and cars, while we also sell vehicles as well," said Kerrie. "Three and a half tonne light commercials would be the biggest vehicle we hire. The customer wants fixed priced motoring and that is what we are here to provide.
"Our customer base has grown a lot over the last few years and in the likes of Homecare Independent Living alone, we have around 100 vehicles on hire. The first year of the company was just getting the business off the ground, but we have really grown and developed in the last two years."
Kerrie revealed that the first fleet of vehicles are due an upgrade next year so keep an eye out on the 'Vehicle Sales' section of our website in the upcoming months.
"Three years maximum will be the life span of the vehicles. We are buying in a variety of manufacturers including Citroen, Ford, Mercedes, Peugeot and Renault all of which are sourced locally. We believe in supporting local business."
There are two different types of hire Fleetwise provide which are Flexible and Contract.
Benefits of Flexible hire are - no long term commitment – minimum hire period only one month and only one month's notice required on termination of agreement as well as an affordable deposit with only one month's payment up front required.
Not only this, but customers have the peace of mind if in the unlikely event of a breakdown, Fleetwise offer roadside assistance and a replacement vehicle.
"Vehicles are fully maintained by us, servicing and tyres are also included. Work is carried out in Milford where our fully qualified mechanics will carry out work while you avail of our complimentary refreshments on site, or a replacement vehicle is available should you require one. Road fund licence for the duration of agreement is also included.
"We offer high spec models which include GPS, Bluetooth, air – con, parking sensors etc. We also permit company branding on the vehicles if the customer wishes."
There are many financial benefits to contract hire as there is no suffering the cost of depreciating assets for the business; no unexpected maintenance bills, enabling the customer to budget easily; can free up vital capital needed for other business essentials.
The location of Fleetwise Ltd has also aided their business as their headquarters in Milford, Co Armagh is located just one hour from Belfast and Dublin.
Fleetwise Ltd has a branch in London while their Dublin branch is set to open in the New Year and Kerrie added that the service that they provide has seen the company expand.
"Definitely the best form of advertising is through word of mouth and there is no better testimonial than from a satisfied customer and fortunately, we have managed to achieve that."

Some of the testimonials include:

"The service Fleetwise Ltd provide is priceless. We have three vans with them. It's no hassle, there's no strings attached, if you need a vehicle you get one and when you don't need it you hand it back. It couldn't be any easier. We would highly recommend them."
Oliver Wood, Director of Western Catering Supplies

"Homecare Independent Living have 170 cars on the road, 100 of which are hired from Fleetwise. Our fleet enhances the delivery of our services which support people living in rural and urban areas. Having a well-managed fleet means our staff are travelling in regularly maintained vehicles, they can travel reliably to our clients and we benefit from knowing our teams are safe and our clients are being looked after on time. Fleetwise provide a reliable, cost effective and speedy service."
Owen Carragher, Fleet Manager of Homecare Independent Living

"AmberGreen Energy is the most trusted green energy solutions company in Northern Ireland so it's vital our sales team can travel across the region to our customers in vans which look good and are well maintained. As our team has grown so too has our demand for fleet and Fleetwise have been able to cater for our every need."
Neil O'Brien, chairman of Amber Green Energy

Fleetwise Ltd
Head Office: 57 Hill Street, Milford, Armagh,, BT60 3NZ

London Office: 20-22 Wenlock Road,, London,, N1 7GU
Tel: +4428 3752 5814 Mob: +447468698327
Email: [email protected]
Website: www.fleetwiseltd.co.uk
Taken from Irish Trucker & Light Commercials magazine, Vol 18 No 10, December 2015/January 2016