Rees all about it
27/09/2016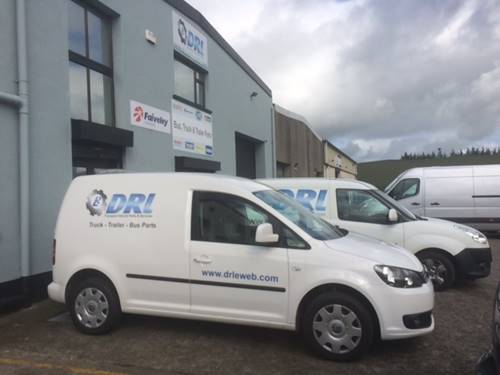 David Rees Ltd, or DRL as it is better known, was founded in 1982 as a wholesale and retail distributor of commercial vehicle parts. Operating from a modern warehouse in Ashbourne, Co. Meath, the family-run business provides an unrivalled parts service to the commercial garage and transport industry.
Originally based in Chapelizod near the Phoenix Park, DRL relocated to 103 Ashbourne Industrial Estate in 2008. Brothers Chris and Peter Rees have been running the company since their father and founder David retired five years ago.
The move to Ashbourne has proven to be a resounding success for DRL. By taking Exit 5 off the M50 and getting on the M2 motorway, you can literally be in the rapidly-expanding Co. Meath town in five minutes.
"Our business has grown significantly since we left the city. That might sound strange, but our current location is easier to access because of the M2 and our close proximity to the M50. Traffic congestion isn't an issue out here. We can be easily accessed from any part of the country," Chris explains.
A dynamic company, DRL is always seeking better ways of doing business. As technology continues to evolve, DRL – through its suppliers – is constantly distributing new products and services to the market. The company is a leading supplier of parts for trucks, buses, coaches, trailers, plant and light commercials, including air brake and braking equipment, exhaust components, interior and exterior lighting, LED strobes, lightbars, electrical components, alarms and CCTV cameras.
DRL are appointed agents for some of Europe's foremost parts manufacturers, including Haldex, Knorr-Bremse. The company also represents the following brands: Aspock, Britax, Brigade COBRA, Checkpoint, Cambist, Delta Design, Dinex, Durite, Ecco Group, Gentili, Haldex, Hella, Koni, Knorr Bremse, LABCRAFT, Lucas, Masterrack, Nova Electronics, Peterson Europe, Premier Hazard, Sterling Power Products, Teal, Textar, Thread Master, Tiflex, Vision Alert, Wabco, Waeco, Winnard and Walker.
DRL have been Irish agents and distributors for Haldex and Knorr-Bremse since the 1980s. Haldex has led the way with innovative designs and new technologies in brake components and systems for heavy trucks, trailers and buses for over 80 years. Knorr-Bremse has been around for even longer, being a worldwide producer of pneumatic, hydraulic and electronic braking systems as well as chassis management systems for commercial vehicles.
"We supply all ABS (Anti-lock Braking System) and EBS (Electronic Braking System) equipment, air valves, compressors, air dryers, callipers, disc pads etc. We are able to offer advice and technical support through our suppliers and their training courses on all equipment we stock."

Last year, DRL was appointed Britax and Checkpoint distributor. Britax is a world-class supplier of mandatory and auxiliary vehicle lighting, amber hazard warning lighting and rear view mirrors to both vehicle Original Equipment Manufacturers (OEMs) and the commercial vehicle aftermarket. Britax's extensive range of beacons, lightbars, lamps, reflectors, switches, mirrors and wiper systems can be found in all types of vehicles. Checkpoint original® was the FIRST ever product in the global market to provide an indication of wheel nut movement on vehicles and this safety system concept has gradually spread from its UK origin throughout the world.
"We represent over 40 different OE and AM manufacturers," says Chris.
DRL is one of the largest stockists in the country of vehicle safety systems. The company is an appointed agent for Brigade Electronics, Ecco Group, Vision Alert and Britax. These are market leaders in vehicle safety systems with a comprehensive range of products to reduce the risk of collision and maximise efficiency, including camera monitor systems, reversing alarms, ultrasonic proximity sensors, digital recorders, a thermal image camera and warning Lighting.
"Front, Side and rear-scan sensor systems, side-scan camera systems, and now 360-degree coverage systems, recording systems incorporating GPS systems and reverse camera, reversing alarms, white sound reversing alarms and scripted message alarms are among the safety products which are becoming increasingly popular with our customers. There are exciting developments in this area on an ongoing basis".
DRL have an extensive range in LED products, suppling: Work Lights in multi voltage and battery, Flashing beacons, multi voltage and battery, Interior lighting, Marker lights, strobes, Tailights, Scene Lights, Spot lights, LED bulbs 12 and 24v.
"We have seen a huge growth in LED. These offer big power savings and reliability, some LED we supply come with 10-year warranty, few can match that," added Chris.
"Unlike many of our competitors, we can also supply exhausts parts from two and six inches ex-stock. We are agents for Tenneco Walker and Dinex exhaust systems."
DRL's 14-strong staff are employed in counter sales, delivery and product support. Chris points out: "We are geared towards tailoring the requirements of our customers and delivering on quality products at competitive prices."
The company's knowledge and expertise in the industry is second to none. A huge range of parts are in stock at all times and this is complemented by a rapid delivery service to any part of Ireland. Products are being continually added and available to view on www.drleweb.com
While also stocking cheaper and less well-known spare part brands, DRL always makes a strong case to its customers to invest in quality parts only.
"Our preference is to recommend original parts because they will last longer and will be less expensive in the long run," Chris says.
"In the current climate, you have to be able to offer a cheaper alternative, but we would still strongly advise our customers to buy the good quality brands. We stock a comprehensive range of original and aftermarket parts for trucks, trailers and buses. Our customers range from large fleet owners to owner drivers and garages. We have something for everyone."
David Rees Ltd (DRL)
103 Ashbourne Industrial Estate,
Ashbourne, Co. Meath.
Telephone: 01 8351944
Fax: 01 8351754
Email: [email protected]
Web: www.drleweb.com
Taken from Irish Trucker & Light Commercials magazine, Vol 18 No 10, December 2015/January 2016