Travelling in style
23/09/2016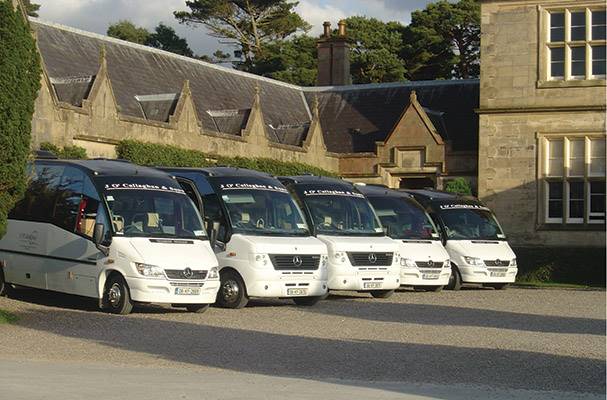 Coach tours are a massive part of the tourism trade in Ireland as holiday makers from all
over the world decide to come to this country for a number of reasons.
We possess some of the finest scenery in the world, our friendly nature is part of our identity and for the more sporting type, our golf course and in particular our links courses have been recognised by the highest authorities in every other country.
A holiday in Ireland is more than just a vacation it is an experience that will leave fond memories for a lifetime, but to thoroughly enjoy a break on this island, there is no better way than to hope on a luxury coach, travel in style and have every need and desire catered for by the operator.
There are numerous companies around the country who supply this type of service but few have the experience of Killarney based J O'Callaghan & Sons who have been supplying a top quality service to a large customer base since 1969.
This family run business was set up by James and Lena O'Callaghan and they became one of the first private operators to obtain a contract with the CIE transporting children to and from school.
Another first for the family and indeed in the country was that Lena was the first woman in Ireland to obtain a bus licence, although this fact has to be confirmed, it is highly unlikely that she was preceded in this respect.
The O'Callaghan's worked hard to make the business what it is today and at the same time raise a family. Three of their children Eamonn, Philip and Catriona are now directors of the business and Philip spoke to us about the services that they provide and what sets them apart from their competitors.
"We provide a wide range of services including luxury coach tours, golf and leisure tour transport, wedding car hire, local taxi and airport transfers, day tours from Killarney, school tours, schools and clubs transport services and event travel," said Philip.
"We have a large professional team of highly trained, experienced and extremely friendly drivers. Some of our drivers are also fully qualified and Bord Fáilte approved Tour Guides and can add a wealth of knowledge and information to any trip."
Another massive part of the business is their coach holidays which has been growing all the time since first being introduced about ten years ago.
At O'Callaghan Coach Holidays they provide an all-inclusive coach holiday packages, which offer "not to be beaten" value for money. They offer a wide range of exciting scheduled coach holidays to suit all requirements and budgets. The coach holidays include day trips, family trips and short getaways.
"We have a professional team of highly trained, experienced and extremely friendly drivers who will pay the utmost attention to your every need. They know where the best restaurants are and the best places for the all-important photo opportunities. We have a full brochure of trips which take in Northern Ireland, and the mainland U.K as well as other places. This is an area of the business that is growing all the time. Around this time of the year, we do a lot of Christmas shopping trips which are hugely popular."
O'Callaghan's have a full luxury range of touring vehicles available for hire at great value prices to suit all budgets. All their vehicles, from exclusive chauffeur and touring to their private hire fleets are of the very highest specifications.
"We have a fleet of 32 vehicles and they range from chauffeur driven cars to large buses. We are in the process of upgrading a lot of the fleet and we have 15 new touring buses coming in the New Year, all of which are to the highest spec. Customers want comfort and the likes of Wi-Fi has to be standard these days.
"We would sell on our own buses ourselves as we can guarantee that they have been looked after as we do all our own maintenance. Appearance is key in this industry and all our vehicles are kept in pristine condition."
The company's success has been recognised by the number of awards that they have been awarded in recent years and these include the prestigious Fleet Bus & Coach "Coach Tour Operator of the Year" in 2008, 2009, 2010, 2011 and 2012.
However, it is the feedback that the company receives from their customers that gives them the most pride as a few of these testimonials will testify too.
"I'm writing to extend my sincere thanks for your company's services of transport during our recent trip to Ireland. Our driver for the week, Michael Moynihan did a tremendous job for us. Michael was always there for us; extremely helpful with our luggage (which was considerable) and efficiently dispensed words of interest and direction. We had a great visit to Dublin and surrounds and it was made all the more memorable thanks to Michael". Barry Moss - Canada
"To whom concerned, I returned yesterday from a 17 day Ireland golf tour. I felt compelled to put a very positive word in for our driver who so skilfully and uneventfully navigated his way to 16 of Ireland's finest golf courses and 5 different hotels. He is a person of character, integrity and very professional in every respect. If we have friends that are considering a similar golf tour, I would highly recommend them contacting JO Callaghan and specifically asking for Kevin to take care of the driving. thank you again, respectfully". Jeff Thompson - UK
"My wife and I toured Ireland on our honeymoon in September. We *really* enjoyed our driver Mike, He was punctual, courteous, and flexible. He went out of his way to take us on scenic routes through the countryside, and volunteered a lot of information about every place we went. He truly had enthusiasm for Ireland, and it showed - particularly when he talked about his homeland in Killarney. Our tour of Ireland was, without a doubt, the best trip we have ever taken and this was in large part because of our fantastic driver!". Alan Kaminski – USA

J. O'Callaghan & Sons,
Rockfield, Tralee Rd, Killarney, Co. Kerry, Ireland
Phone: +353 (0)64 663 1095
Fax: +353 (0)64 663 6397
Email: [email protected]
Taken from Irish Trucker & Light Commercials magazine, Vol 18 No 10, December 2015/January 2016