Travel smarter with Buslink
22/09/2016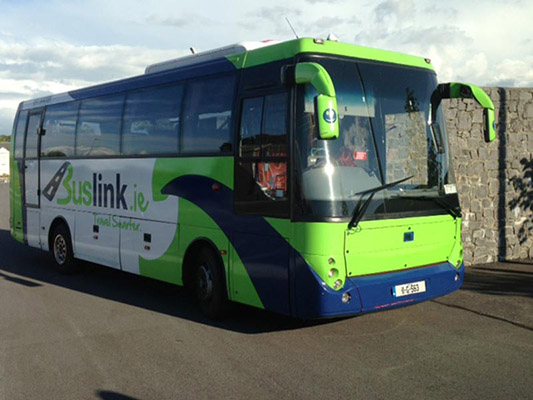 An obsessive approach to providing a high-quality service is taking Galway-based coach hire firm, Buslink, to new heights.

Buslink was established as a new corporate brand by Fergus Farrell to provide a quality service to the coach hire industry in Ireland. The objective of the company since inception has been to offer a premium coach hire service using quality coaches, exceptional personnel and an unrivalled back-up service.
Every day, this quality coach hire service is provided to a full range of clients, from daily commuters and tour agencies to private hires, students and much more, with passengers ranging from toddlers to senior citizens, all of whom travel in the same luxurious comfort. Buslink can cater for groups of any size and a friendly, personal touch is provided at all times.
Back in 2003, when Fergus and his father Philip started Farrell Travel, the focus was on school runs, clubs and private hire. It was work on the 'low end' of the coach hire business and the company used older vehicles, keeping costs down.
However, Fergus saw an opportunity to expand into contract service work and in 2013 launched Buslink, with a detailed five-year business plan in place. Now, Buslink does, for example, the Limerick-Dublin Airport run for Eireagle and has focussed a lot of attention on the touring business, working with firms like Tracoin (Trafalgar-Insight) and NST.
"Our game now is contract service work, our own developed service routes and tour agencies. Ultimately, we will be concentrating on the high-quality private hire," explains Fergus. "We have strived to provide the customer with exactly what they want by standardising our vehicles right across the range – our oldest vehicle is 2011.
"Every time we send out a vehicle and a driver, we know the passenger will get the exact same service; whether it be a student or a tourist from America, they will get the same quality"
At Buslink, the ethos is 'Quality, Quality, Quality', as Fergus confirms: "My approach to life, and to work, has always been to do things as best as I can and I wanted to have high-quality vehicles, drivers and office staff - also to have those vehicles working more frequently and to get better rates. I had absolutely no interest in operating older vehicles and in my customers not being happy. I want all my passengers to be happy with the vehicle and happy with the service they receive."
Fergus runs an immaculate 18-vehicle fleet, from 28 / 35 seat coaches up to 49 / 53 seaters. Seven new vehicles were added in 2015 alone! As of 2016, the oldest model in the fleet will be 2012-reg and every single vehicle will boast Wi-Fi, toilets, plugs and USB ports as standard spec – for tourism, contract and service work. "I'm standardising the fleet to a very high spec so that everybody gets the same comfort," says Fergus. "It represents a massive investment but that's what our business plan is all about and we are following that plan precisely. We are currently one year ahead of schedule on our initial five-year business plan and every aspect of our vision so far has proven to be correct.
"We have transformed Buslink into a highly-geared business that's synonymous with quality and we have been able to secure prestigious work through various key contracts.
Fergus plans to introduce more new vehicles to the fleet in 2016, following a deal with Martin Daly at Lir Bus & Coach. "I must thank David Conway from Irish CityLink, who put his faith and trust in us to deliver a new route service [Limerick - Dublin Airport] in February, 2015," he says. "That was major. That was a big one for us to have a company like Irish CityLink putting their trust in a small operator to carry out the job for them. That has a knock-on effect for us when we approach other customers because the proof is in the pudding for these companies."
Fergus takes a very personal interest in sourcing the best possible drivers to fit in with Buslink's core principles: "We never have to advertise," he explains. "We just put word of mouth out that we are looking for drivers and, as it's known within the industry that we look after our staff, we get quality people coming here. I always hire them based on their character first as I'm a firm believer that if a person has8. All passengers travel in the same luxurious comfort, on board highly-speced vehicles.no point having top-quality vehicles if you don't have the best people driving them. I interview the drivers myself and sit down and talk to them and – as their driving skills will generally be of a similar level - will ultimately make my decision based on their character. They can brush up on their skills but people of exceptional character are harder to find. Those are the individuals I want to have working here."
The fleet image is also of huge importance and anybody who has spotted a Buslink vehicle on the road – or who has travelled on one – will agree that their looks are on a par with their fantastic performance levels. "The image and branding are a massive part of the business," says Fergus. "There are two colour schemes – green and dark navy. The green represents our fresh, environmentally-friendly fleet and the navy is symbolic of the road we travel on. As well as being of significance, the colours are also very appealing to look at."
Indeed, Buslink was selected as Best Livery & Corporate Identity award winner at the 2014 Coach & Bus Awards and was shortlisted again in '15. "I believe our branding is very distinctive and appealing," Fergus continues. "The success we have achieved in the past three years has been carefully planned and I'd put a lot of that down to our branding, as well as the fact that we do our job correctly, 100%, every time.
"I go to bed content every night knowing we have good quality staff and vehicles and a very good back-up service."
Speaking of service, Buslink – which also has sub-depots in Limerick and Dublin – operates its own workshop in Athenry, where all the vehicles are subjected to regular, rigorous testing and fine-tuning at the hands of experienced, qualified technicians to ensure optimal performance. "A lot of our vehicles come with four-year, bumper-to-bumper warranties and that has obviously reduced our maintenance costs as the age profile of the fleet has improved," the founder adds.
"We implement pre-emptive maintenance procedures. Maintenance starts with the drivers and they are all trained in the full working of their vehicles and conduct daily walkabout checks, which is how we find out about most problems that might arise. We get proper, informative feedback from the driving staff and that is relayed back into the garage."
In the yard, there is parking space for 20 vehicles, washing facilities and the company HQ – the nerve centre of a business that now employs over 50 staff. "I'm based here alongside our transport manager, David Carter, who is absolutely fantastic, and Vincent Brennan, who looks after the finance side of things. These two men are invaluable to Buslink. I act as an overseer, filling in gaps and making sure that we keep our quality levels high."
Clearly, Buslink is a highly professional enterprise, with quality permeating every facet of the business. "I believe in having high-quality procedures in place and each driver must be fully competent in everything that falls within his remit. I'm a massive fan of policies and procedures and my drivers have duties, roles and responsibilities that they have to take care of. Everybody has to follow these procedures fully; otherwise the business won't function in the fully-coordinated and highly-professional manner that I insist upon."
Moving forward progressively, Buslink has recently secured a new tour agency contract based in the UK, a contract which will put eight coaches to work between Ireland and the UK. Fergus notes: "The last couple of years have been fantastic on the touring side of things, with the strong sterling and US dollar. When you are touring, you can nearly always identify what the costs will be from day to day and you also know the revenue you will generate.
Managing costs is one of the reasons why Buslink is using Applegreen's Lowfuelcard. "The cost of fuel in the UK is a huge issue. We make sure, through Applegreen, that our vehicles are full to the brim going to the UK. They are the cheapest I have come across for diesel and they have good depots to refuel as well as the right customer service attitude."
Looking to the future, Fergus Farrell has ruled out expansion for expansion's sake: "There has to be a saturation point," he concludes. "Buslink wants to become a coach operator that's looked upon in a favourable light and recognised for doing a good job. We want to be a business that people strive to replicate.
"I don't want to be the biggest operator in the country because I don't want to sacrifice control. I will be happy to remain medium-sized but high-quality, doing quality work using quality vehicles and personnel.
"My initial five-year plan will end successfully one year early, in January 2017. Inside the next three years, I hope to add a few more routes; to increase our touring output; and to obtain some more service contracts. We'll apply for route licences that we can operate from our Galway and Limerick depots and will continue to insist on the very highest quality on every vehicle and every journey."

Buslink,
Rockfield Cross, Athenry, County Galway.
Tel: 091 844189
Email [email protected]
www.buslink.ie
www.facebook.com/buslinkireland
Taken from Irish Trucker & Light Commercials magazine, Vol 18 No 10, December 2015/January 2016