Wallace Travel is going places
20/09/2016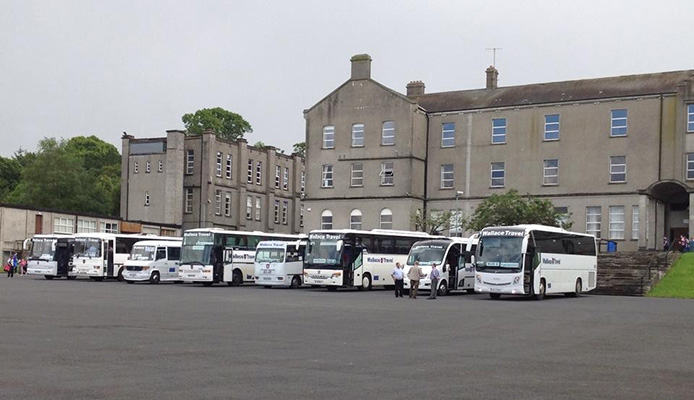 Trading in Rosegreen, Cashel, Co. Tipperary since 1969, Wallace Travel & Transport Services Ltd has grown into one of the leading private coach hire companies in the Munster region.
The business, which is better known as Wallace Travel, was established in Rosegreen in 1969 by Gus Wallace Snr and his wife Maureen and they were ably assisted by their son Seamus. Gus Snr sadly passed away in 1997 but Maureen, who has now turned 85, still takes a keen interest while Seamus also remains highly involved.
In 1990,having completed his certificate of professional competence and various courses in business and transport management, Gus Jnr took over the running of the company and has overseen its growth to a fleet of 30 vehicles, which vary from hackneys to large luxury coaches.
"We have grown our fleet from six vehicles in 1990 to 30 now and most of that growth has taken place in the last 10 years," Gus explains.
"We run a varied fleet, consisting of mainly Transit minibuses, Mercedes midi-coaches , DAF and Setra coaches. We receive tremendous backup service from Barlo Motors for Ford, Surehaul for Mercedes, DAF Baldonnell for the DAF vehicles and top class service, parts and maintenance for Setra coaches from JJ Kavanagh & Sons, Urlingford."
On the vehicle side of the business Gus can't praise the Setra Coaches enough, the service received, parts availability and points to this as a major reason to purchase Setra Coaches along with enjoying a good working relationship with Paul and JJ. Transit and Varios need no introduction where reliability and parts availability are concerned.
Availability and access to parts is most important to keep the fleet moving with safety. Bernard and the staff at CVC in Cork along with radiator and air-con services from Michael at Kilcock Radiators help to keep everything running smoothly. Their expert knowledge along with their vast stock means there is minimal downtime.
"We are a family run business which has received tremendous support from our customers since 1969," added Gus.
The company has a wide and varied customer base .Its main business is school transport under contract to Bus Eireann and the safe transport of hundreds of kids to school daily is a priority. Several private school runs are also catered for to Rockwell College and nearby Cashel CS.
Needless to say this cannot all happen without the help of tremendously dedicated staff that Gus can't praise highly enough and would like to thank in this article as many are with the company for several years.
The company also works with Whites Tours, Abbey Tours, JJ Kavanaghs, Language Xchange, Rockwell College and the nearby world famous Ballydoyle Racing Stables to name but a few.
Employing 28 staff between full and part-time, Wallace Travel has become a household name in Tipperary where its immaculately turned out fleet – which bears the distinctive family crest and blue and white livery, have long been a familiar sight on Irish roads. The livery was designed and applied by Kevin Leahy Sign-Writing which Gus would highly recommend to anyone needing such work.
Wallace Travel has in recent years invested heavily in their own service facilities and this is to continue with expansion in 2016. They currently have several mechanics to ensure the continued upkeep of the fleet and work closely with the RSA to ensure all compliance is adhered to. Record keeping is essential in transport today and all tachograph records are maintained and monitored by Michael O'Dwyer with great effect.
Office Administration is overseen by Gus' wife Ina who has been involved and has worked tirelessly over the last 10 years and Gus clearly states the company wouldn't be where it is today without the full support and work ethic of Ina. She also ferries kids to school on a daily basis and is involved in all aspects of the business.
Wallace Travels executive coaches offer all you would expect from a leading operator,i ncluding air-conditioning, reclining seats with ample leg room, toilets, DVDs etc. The coaches are staffed by friendly and knowledgeable drivers who will ensure your journey will be as relaxing as possible. The coaches are familiar on Irish roads with Seamus, Mick, Richard, Mark, Donal and Matt well known on the tourist circuit.
Looking to the future, Gus is confident as tourist numbers are increasing and diesel prices have stabilised but he says rates across all sectors need to increase for operators to maintain the high standards customers have become accustomed to. Insurance is also a big expense and is due to increase also but Gus is confident with a good safety record, Campion Insurances through their professional executive Sharon Ryan Flanagan who handles their business with an expert approach, will continue to be as competitive as possible. Campions also handle windscreen claims and these are fitted by Aidan and his team from Bourkes Auto-Glass in Templemore.
Wallace Travel are available for hire throughout the year for all occasions. All work is undertaken including overseas trips and the company are always looking for opportunities to work with good customers.
"We are committed to providing the best service we can through a combination of good vehicles and staff to make each journey an enjoyable experience for passengers," concludes Gus.
To get a quote or to discuss any opportunities which may arise please contact the company through the contact details provided with this feature.

Wallace Travel
Rosegreen,
Cashel,
Co.Tipperary
t 062 63343.
m (086) 8389002.
email: [email protected]
web: www.wallacetravel.ie
Taken from Irish Trucker & Light Commercials magazine, Vol 18 No 10, December 2015/January 2016