The trailer and van specialist
16/09/2016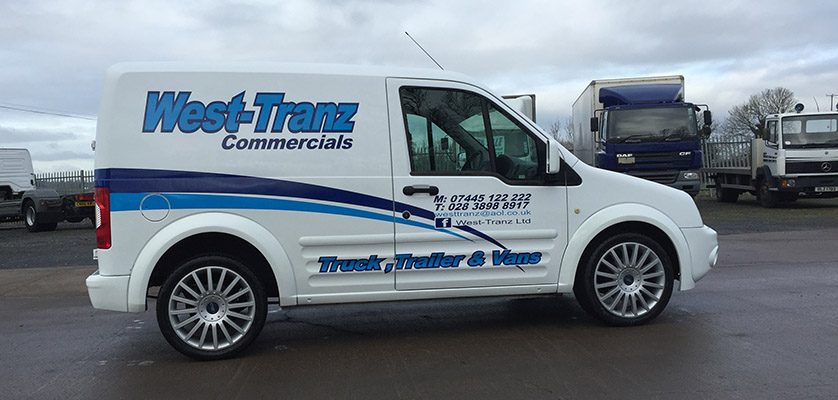 Established in 2012, West-Tranz LTD specialises in the sale of used trailers and light commercials as well as trailer refurbishing, shot-blasting and painting. Lee McKinney explains more about what his Portadown-based company has to offer.
Over the past three years, West-Tranz LTD has earned a reputation for supplying top quality used trailers, light commercials, heavy plant and machines to the Irish market. Sourcing most of his trailers and vehicles from the UK where he now has an outlet in Warrington, Lee carries an extensive range of stock at his yard in Portadown and has a growing customer-base both north and south of the border.
Lee can locate the trailer or van that you require in the unlikely event of it not being already in stock. When you buy from West-Tranz LTD, you can rest assure the trailer / vehicle comes fully serviced, is in perfect working order and is in pristine condition. Lee stands over everything he sells!
"We sell mostly trailers, small vans and the occasional truck," he explains.
"I had worked in the transport business for many years before seeing a gap in the market for second hand trailer and light commercial sales. Through word of mouth, advertising on the DoneDeal website and our own Facebook page, we have attracted a lot of customers and made many sales in Ireland and the UK. My background in the road haulage business and the contacts I made through it, has also earned me a fair bit of business."
West-Tranz LTD supplies quality used trailers and vans, which are sourced only from reliable and reputable dealers in the UK, at the most competitive prices. Lee takes great pride in being able to offer his customers a professional, prompt, reliable and friendly service.
The company can supply any type of trailer from the top manufacturers, including Fruehauf, SDC, Krone, Grey & Adams, Chereau, Schmitz and Humbaur. So whether it's a curtain sider, tipper, Euroliner or refrigerated unit you're after, Lee has the trailer for you.
"By sourcing our trailers in the UK, we are able to offer our customers terrific value for money. There are 20 times more trailers over there than there is in Ireland, so the choice and variety is far greater. As with the vans, the trailers we bring in from the UK tend to be in better condition than those in Ireland, and with the back-up we provide, the customer can't really go wrong by buying for us," he says.
West-Tranz LTD has also made its mark in the light commercial sales sector, offering customers a huge selection of used vans which cater for the needs of every driver. Vans from all the well-known brands are available for you to drive away from Lee's yard, including iconic models from the likes of Volkswagen, Peugeot, Ford and Renault.
"We are only too happy for our customers to call into us, sit in the van they have their eye on and test it out. We want to make sure the van meets their needs and is to their exact specification before they commit to buying," Lee continues.
All vans Lee sells are serviced and checked by John Corry Motors in Portadown. Lee has struck up an excellent working relationship with the garage which offers MOT and PSV preparation services in addition to vehicle servicing, repair services, full diagnostic services, electrical work, headlight alignment and steam cleaning.
There is more to West-Tranz LTD than just sales. Lee and his team of dedicated staff can also refurbish trailers and supply new curtain and doors for trailers. The modern workshop also offers shot-blasting and painting services for trailers and alloys. Shot-blasting is a method used to strengthen and polish metal.
In his spare time, Lee likes nothing better than taking his 13-year-old son Jake to truck shows such as Mondello in Co. Kildare and Full of the Pipe in Cavan. He says: "Jake reminds me a bit of myself when I was that age. He loves the trucks. My uncle had a truck and my interest in them grew from there."
The affable managing concludes by saying: "I would like to take this opportunity to thank my customers for their support. The first three years have gone really well; we are making sales every week and are attracting new customers. We strive at all times to offer customers a service and product that is second to none."

West-Tranz LTD
180 Markethill Road,
Portadown,
Co, Armagh BT 623SL
Telephone: +44 7445 122222
Taken from Irish Trucker & Light Commercials magazine, Vol 18 No 10, December 2015/January 2016