Best in the West
14/09/2016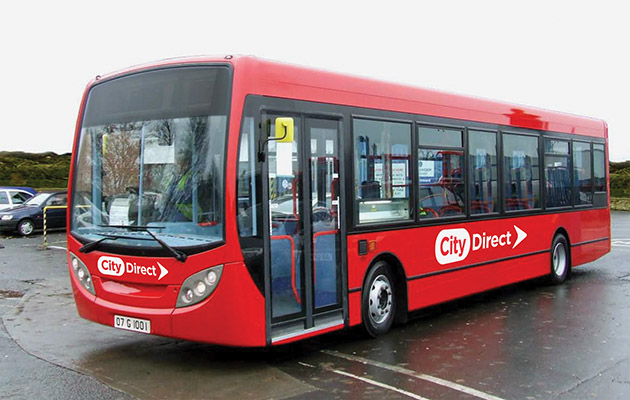 City Direct is a private public transport company that's clearly going places. Established in 1999, the company carried 1.3 million passengers on its Galway city public transport network in 2015, making it the largest omnibus operator outside public service provider Bus Eireann.
City Direct provides scheduled bus services on the west side of Galway city, servicing Knocknacarra, Rahoon, Shantalla, Cappagh, Ballymoneen, Westside and the city centre. It currently operates three routes within Galway city and an additional route between Salthill and Barna under licence from the National Transport Authority (NTA).
The company has two dedicated bus shelters in Eyre Square and has 15-minute frequency departing from there. In addition, it operates park and ride and shuttle bus services on behalf of NUIG and the HSE. Since 2009, City Direct has been providing shuttle buses to and from NUIG for more than 17,500 students and 2,000 staff members.
Last May, City Direct was awarded the contract to operate a staff shuttle bus between the University College Hospital Galway (UCHG) and the Merlin Park University Hospital (MPUH), which was issued by the Office of Government Procurement (OGP) on behalf of the HSE.
This shuttle route involves transporting staff between both hospitals Monday to Friday, with the exclusion of Bank Holidays. The service also involves transporting mail between both hospitals.
"We were delighted our tender bid was successful as a huge amount of work and research had gone into putting together the application document. The opportunity to provide new services will allow us to grow and enable us to provide a top-quality experience to our passengers," says City Direct transport / general manager Gerard Bartley.
"Our company has come a long way since Donal Joyce started out in 1999 operating just the one route between Eyre Square and Knocknacarra, which is the biggest suburb of the city with a population of about 20,000. City Direct changed ownership in 2006 and now operates four scheduled bus services as well as those for NUIG and the HSE.
"Our passenger numbers are on an upward curve, increasing year-on-year, and our success in securing the NUIG and HSE tenders demonstrates how well we are doing. We envisage bringing similar services to the greater Dublin area, and that is something we are actively looking into at the moment."
City Direct currently runs a fleet of 20 low-floor, wheelchair accessible buses which can accommodate 60 passengers (37 seated and 23 standing). The company is based on the Rahoon Road where it has an office, depot and garage for its vehicles. Twenty-six people are employed, including 20 drivers and two mechanics.
Among the reasons why City Direct's bus network is expanding include dedicated bus lanes, service reliability, increased accessibility and bus shelters, a reduction in the carbon footprint of the fleet, newly-installed CCTV cameras, a multimedia approach to travel information and a strong emphasis on health and safety.
City Direct was proud to be the first bus operator in Ireland and the UK to install on-board defibrillators on its vehicles to ensure a safer environment for passengers and provide them with an even better service. City Direct was also the first bus operator to have its drivers trained to respond to victims of cardiac arrest, stroke, choking and heart attack.
The drivers, who are uniformed, polite, helpful and friendly, have undergone GLUAIS module 2 and 3 training which enables them to professionally address the transport needs of elderly and disabled passengers (module 2) and work with wheelchairs, ramps, lifts and clamping equipment (module 3). The training courses were given by Swilly Group.
The topics covered under module 2 include disability awareness, disability statistics, professional etiquette, safe and appropriate physical contact, assisting passengers with walking difficulties, assisting wheelchair users and basic manual handling awareness.
Module 3 training introduces the various lifts and ramps available, with particular attention to the specific equipment in use within the host company. The practical elements include loading, positioning, safe clamping, unclamping and unloading of a wheelchair passenger.
City Direct was also the first private bus operator in Connacht to introduce the Leap Card ticketing system to its operations in June 2014. A Leap Card is a pay-as-you-go smart card that is used to pay for public transport services, and is the answer to convenient travel across Galway city.
The company's reputation was further enhanced when it was shortlisted for the Passenger Transport Company of the Year and the Safety Award at the Irish Logistics & Transports Awards 2015. The Passenger Transport Company of the Year Award identifies an operator that has made real progress over the previous 12 months, while the Safety Award recognises an outstanding achievement in any area of safety improvement.
"Unfortunately, we didn't take home either award, but given that it was our first time to enter, we were both surprised and delighted to be nominated. The two fundamentals of our company are customer service and health and safety. We strive at all times to be the best in both," Gerard adds.
City Direct, whose charity of choice is Cancer Care West, has grown and prospered, despite the fact that it does not receive state funding or subsidies on any of its routes.
"It speaks volumes for the quality of our service and staff that we make a profit without receiving any state funding. We receive great support from the people of Galway. We welcome any feedback we get from them and take it on board. If they want bus routes amended, we will do that for them.
"They appreciate the fact that we have a manned office five days a week and that they can buy weekly and monthly tickets on our buses. We are able to offer them a personal service. Also, when it comes to property lost on our buses, we will go to great lengths to return it to the owner," Gerard concludes.
City Direct
Rahoon Road,
Galway.
Telephone: 091 860 814
Email: [email protected]
Web: www.citydirect.ie
Taken from Irish Trucker & Light Commercials magazine, Vol 18 No 10, December 2015/January 2016