Much more than a Test Centre
13/09/2016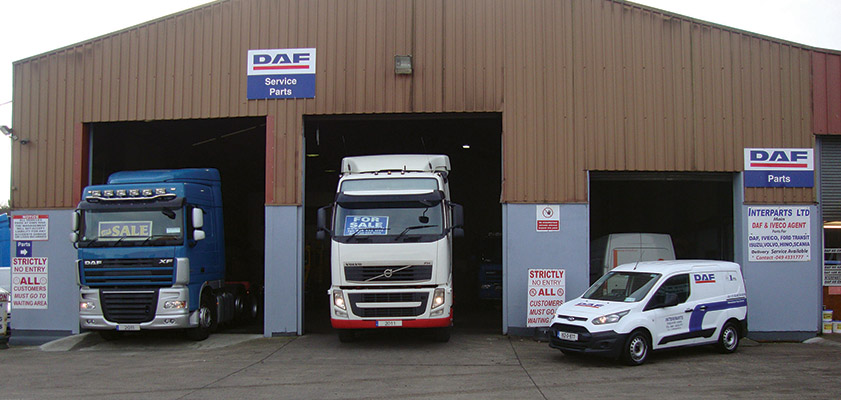 Interparts Drumalee Ltd is a one-stop shop for all your vehicle testing, servicing and repairs, tachograph calibration, vehicle plating, truck and trailer parts, new and used truck sales, while truck hire is also available.
Located one mile outside Cavan town on main N3 Dublin road, the company is also a main DAF Commercial Dealership for the North-East region.
Established by Joe Gormley in 1984, Interparts Drumalee Ltd has come a long way over the past three decades. Joe – a native of Ballinamore, Co. Leitrim is a former Leitrim county footballer having won 6 senior championships with his native Sean O'Heslins GFC in Ballinamore. When he moved to Cavan he also went on to play with both Drumalee GFC and Cavan Rugby club for a number of years. He relocated the business to its current site on the Dublin Road, Cavan in 1987 and he began testing light goods vehicles in 1993, followed by heavy goods vehicles a short time later.
The business has developed and expanded as the commercial Vehicle Testing sector itself has evolved through the establishment of a rigorous compliance infrastructure by the Road Safety Authority (RSA) and the investment and commitment of the members of the SIMI Vehicle Testers Network.
Interparts Drumalee are NSAI certified I.S. EN ISO 9001:2008 CITA 9B. The CVRT inspection includes checking brakes, lights, markings, wheels and tyres, steering and suspension, chassis and underbody, tachograph, speed limiter, exhaust emissions, electrical systems, glass and mirrors etc.
As one of the busiest Test Centres in the country with four full-time testers their opening hours are 9am to 6pm and late opening to 9pm on Tuesday, Wednesday, Thursday evenings and 10am to 5pm on Saturdays.
Many of their customers still prefer to phone in their booking to Annamarie Costello, Test Centre Manager, on 049 4331777 but they also have upgraded their technology to facilitate on-line bookings which can be made on www.interparts.ie.
Interparts Drumalee is a NSAI approved test centre with a wide scope such a Heavy Goods Trailer Licencing verification and they can carry out IVA Certification for new Trucks and Commercial vehicles.
This exceptional, multifaceted operation provides a diverse range of services to hauliers and also to owners and operators of other vehicles and equipment. Simply put, there aren't many who can match the efficiency and dependability of Interparts Drumalee when it comes to vehicle repairs, servicing, commercial vehicle testing, Spare Parts, Truck Sales and Truck Hire.
Interparts Drumalee offers a full range of repairs and servicing for all makes and models of light and heavy goods vehicles. General and Service Manager Robbie Malone, with years of experience in the business, runs an efficient customer focussed Service Department. With the latest diagnostic equipment on hand to cover all makes of trucks and trailer systems, no job is too big or too small for the highly skilled team at this Cavan place of excellence. Servicing, maintenance and repairs are carried out in a state-of-the-art workshop which is fully equipped to also carry out Tachograph and Speed limiter installation and calibration, chassis plating, 6, 9, and 12 week inspections and all general repairs. The company also offers an out of hour's breakdown assistance service.
Since its inception, the family-run business has been providing a personal touch which customers have come to appreciate. It has the equipment and the manpower to carry out any kind of repair work. The ESB, Leaseplan, eir and Cavan Co Council are just some of the companies that put their trust in Interparts to look after their fleets.
The company also runs a large Parts business covering 16 counties with three vans and Sales Reps on the road explains Parts Manager Gabriel Fitzsimons: "We are proud to be able to offer our customers the widest range of both genuine and alternative truck, trailer and light Commercial Parts. We stock everything from engine and serviceable parts, transmission parts, electrical and lighting products, air suspension, brakes and cabin parts. We also stock a wide range of spares for the leading trailer axle manufacturers such as ROR, BPW, SAF and Mercedes. We have every part you can think of."
Committed to supplying quality parts at competitive prices, Interparts warehouse is stocked with a huge range of parts which will ensure your downtime is kept to a minimum. Parts for all the leading brands can be delivered nationwide within 24 hours of being ordered.
The company carries a quality range of Used Commercials at all times including makes such as DAF, Volvo and Scania and they can also source any make of truck to suit any potential customer requirements and budget. They also supply new DAF commercials direct to the customer and provide Tractor Units for hire at competitive prices.
"We are extremely busy at the moment and have established a loyal customer base. Our CVRT Centre and parts division both bring in a lot of extra business to our garage," Robbie adds.
Interparts currently employs 30 staff. The well-established business offers a fast, efficient, professional, friendly and cost-effective service to all customers.
Opening hours are from 9am to 6pm Monday and Friday, 9am to 9pm Tuesday, Wednesday and Thursday, and from 10am to 5pm on Saturdays.
"Interparts keeping your wheels in motion"
Interparts Drumalee Ltd,
Dublin Road,
Cavan.
Telephone: 049 4331777
After Hours Service: Gabriel or Robbie 086 8523620, 086 6865075
Email: [email protected] Website: www.interparts.ie
Taken from Irish Trucker & Light Commercials magazine, Vol 18 No 10, December 2015/January 2016