A team effort
31/08/2016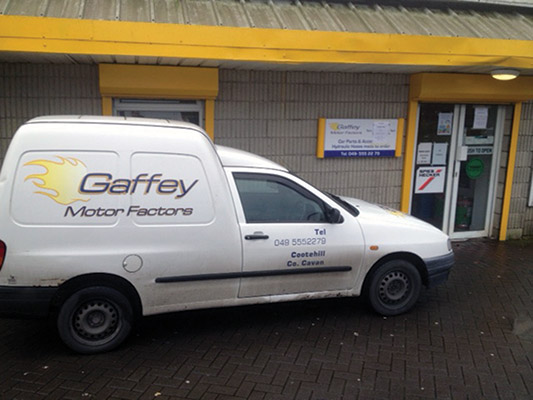 Gaffey Motor Factors is a long established supplier of quality parts, tools and accessories for the automotive industry with locations in both Cavan and Monaghan. Irish Trucker caught up with Managing Director Brian Dwan to talk about the business which has been thriving as of late.
Thriving in tough economic times is no easy feat and Brian Dwan at Gaffey Motor Factors knows that as well as any business owner.
Since buying the company in 2002, Brian has watched it come through both the good times and the bad to where it currently stands. He is happy to report that Gaffey Motor Factors are currently experiencing the former at this moment in time.
It's no surprise either when you consider Brian's background in the business, having learned from some of the best in the industry.
"I started in Moffett Engineering in Clontibret and got approached by an automotive company," he explained.
"Albert Berry Motors is where I got my education and when this company came up for sale I was encouraged to buy it. I had to cross a lot of hurdles to make it a success and a blend of youth and experience is hard to beat - I think that's the secret with this kind of business.
"The blend of youth and experience, along with a good atmosphere amongst your workers. People like to come in and have the craic with the lads too and feel welcome."
To put it simply, Gaffey Motor Factors supply the following at their stores: Car Mats, Alloy Wheels, Clutches, C.D Players, Full range of tools, Truck Parts, Trailer Parts, Lamps & Lens, Wind Deflectors, Batteries, Oils & Filters, Car Paint, Sat-Navs, Wipers, Body Panels, Spark Plugs, Exhausts, Clutches, Seat Covers and Number Plates.
The company's main branch is based in Lough Egish, Castleblayney in Co Monaghan, where the doors were re-opened from 2003, but since then Brian has opened two more branches in Bailieborough and Cootehill (both in Co Cavan).
"We're going 14 years, I bought it in 2002 and we've 17 working here full-time now," explained Brian.
"We started with light commercial vehicles and worked towards supplying the agricultural industry. We were getting asked more and more to provide simple things. We were being asked by truck drivers to stock parts for them and that's how I developed into stocking materials for them."
The 17 staff throughout the company's three locations are all employed locally and are knowledgeable, efficient and competent when it comes to motor parts, coming from a range of sectors within the motor industry.
One member of staff whom has been salient in putting Gaffey Motor Factors on its current path is Cavan native PJ Donohoe.
Before PJ's arrival, the business was primarily focused on the supplying car parts, tools and accessories but it has since moved in another direction, as Brian explained.
"Two years ago, PJ Donohoe joined the staff here, he has been working in the commercial parts industry for 30 years – he started off working in the automotive trade.
"He proposed for us to go into the truck end of things and PJ`s running the truck end of the business now.
"The area which we are situated in is funny, because we are actually only five minutes away from many towns. The Lakeland Dairy Plant, the Lakeland Mill, Swift's Fine Foods and Glanbia would all be within a 10-mile radius or so, you have a lot of food-orientated businesses around which means they've truck fleets.
"So it was being asked upon us to get into it and we did. PJ knew exactly what we needed to do, so we got into it and business is very good at the moment, thankfully."
The positive reports for Gaffey Motor Factors are great to hear again, with the company having gone through a transition in 2002, and its Managing Director outlined that there are a few factors behind the busy times which they are currently experiencing.
Interestingly, the economic downturn has played its part in helping the business maintain older vehicles and keep them on the road for longer.
"The testing is keeping us busy," said Brian, "believe it or not penalty points have helped us a lot because people have to maintain their cars a lot more than they used to. The average age of a car in 2007 was six years, now it's 8.5 years."
He added: "The recession did hit us in that so many garages closed down, which left us with many unpaid accounts, so we got hit like any other business."
As for the company's own fleet, they currently have three fully stocked delivery vans completing daily deliveries and sales to customers. If they don't have what you are looking for in stock, they can order and have it for you the very next day, and sometimes even the same day – depending on the item.
"We've three vans on the road from Castleblayney," explained the MD. "We've a Ford Transit, a Volkswagen Crafter and a Caddy van. We have deliveries being made at all different times and we cover all over Cavan, Monaghan and neighbouring counties so we're definitely kept busy with that."
The reviews from customers aren't bad either, and it explains why Gaffey Motor Factors are gaining repeat business from them.
Word of mouth has played as vital a part as any on the advertising end and Brian and his staff have put forth their best endeavours to make sure that the word about the company stays splendid to maintain its glowing reputation.
"We are finding the growth with the service we're providing," he said. "We find that our customers give us repeat business because of the competitive prices and warranty that we provide.
"We stay competitive through working with our suppliers and I think we're very competitive with what's out there. You can't afford to have downtime and we pull out all the stops, whether it be with overnight deliveries or whatever. We have a courier that will collect parts in Dublin and bring it to PJ's house for the quickest possible delivery."
Gaffey Motor Factors are open Monday to Saturday from 9am to 6pm at all three of their locations and the boss says that his staff deserve major credit for keeping the customers coming through its doors.
"We close at 6pm and not one member of staff goes home before that," he said.
"In fairness, we have very dedicated staff here that are always willing to learn. You have to try and make your own bond and keep the customers satisfied – that's what you have to do. It's a team effort."
Taken from Irish Trucker & Light Commercials magazine, Vol 18 No 9, November 2015