Bates is best for oil
25/08/2016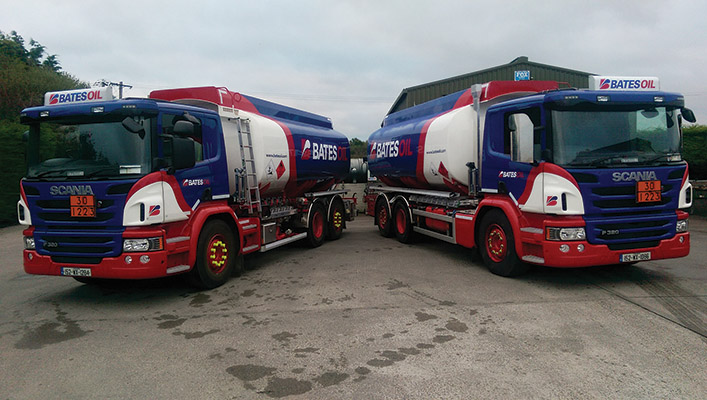 In business since 1988, Bates Oil prides itself on being Wexford's oil company. Managing director Rodney Bates explains more about the South-East's leading independent oil distributor.
Bates Oil is a family-run business which was established by husband-and-wife Bill and June Bates and has been trading successfully from Ardcavan, on the outskirts of Wexford town, for nearly 30 years. Bill, who is now semi-retired, set up the company after spending the previous two decades working in, and developing his knowledge, of the oil business.
Nowadays, Bates Oil is headed up by Bill and June's son Rodney and is known in Wexford for its top quality service and personal touch, as well as for its very competitive pricing. All these factors have allowed it to become a leader in its field, whilst still retaining its unique personal touch. Also specialising in lubricants and greases, Bates Oil is a one-stop shop for all your oil requirements.
The company offers an efficient, friendly and reliable service throughout the Model County, delivering to hundreds of satisfied customers on a daily basis, and within a short time of receiving your order. Bates Oil supplies the domestic, agricultural, commercial, retail and marine sectors with a range of fuel products, including home heating oil, DERV (white diesel), agricultural diesel and petrol as well as lubricants, greases, additives and oil tanks. Customers have a choice of payment methods which include cash, cheque, laser or credit card, while the option of ordering online is also available.
Bates Oil offers a very competitive discounted rate for larger amounts of diesel, kerosene and petrol deliveries, having the capacity to deliver up to 36,000 litres at once. A dedicated sales team is employed to work with you, making sure that you benefit from price updates, latest product information and that deliveries are arranged to suit your particular needs. They can also offer advice on any issues that may affect your tanks, pumps or health and safety regulations.
At the Bates Oil depot in Ardcavan, you'll find fuel pumps, an office and storage area. Customers can call in six days a week and pump their own road diesel, agri diesel, kerosene or AdBlue. The depot has a full range of Castrol and Gem lubricants in stock, with 23 litre drums and 208 litre barrels available. Lubricants and greases can also be delivered.
In addition, Bates Oil has been supplying Titan oil storage tanks since its inception. The Titan range of tanks include single skin (for domestic users) and bunded (eco-friendly tanks which have a second skin designed to keep in any spillages that may occur). Dispensing kits and pumps for fuelling vehicles from your tank are also stocked.
In the event of an emergency and you run out of home heating oil, it's reassuring to know that Bates Oil is just a phone call or a mouse click away and will endeavour to get to you as soon as possible. The company offers a daily delivery service (8am to 5.30pm) as well as emergency and top-up services.
Rodney Bates welcomes the dramatic fall in oil prices, admitting that it has given distributors a major shot in the arm.
"The current low prices have greatly helped our business and are a big boost to the economy in general. Diesel and kerosene prices are at their lowest in seven years. Our running costs are also well down on what they were a few years ago thanks to the cheaper oil prices," he says.
Bates Oil employs nine staff and has five Scania delivery trucks on the road. The company recently took delivery of two new Scania P320s from local dealers KD (Garage) Service Ltd, who also service and maintain the Bates fleet. The tankers were built by the Toomebridge, Co. Antrim-based Central Tanker Services Ltd, who are recognised as Ireland's leading, dedicated manufacturer of road tankers for the fuel distribution industry.
To coincide with the arrival of the new trucks, Rodney has decided to give the entire fleet a makeover.
"We rebranded recently by adding white to our traditional blue and red colours. With the new trucks coming, we felt it was as good a time as any to freshen up," explains Rodney, who is full of praise for his team of professional, friendly and reliable drivers.
The affable managing director concludes by saying: "I would like to take this opportunity to thank all of our loyal customers for their continued support and would invite others to come and experience the quality and prompt service we provide. We have built up a strong reputation for delivering high-quality products at the cheapest prices."
The Bates Oil depot is easy to find, being located on the old Gorey Road between Wexford town and Castlebridge. Why not pop in the next time you are in the area?
Bates Oil
Ardcavan, Wexford.
Telephone: 053 9143978
Fax: 053 9170591
Web: www.batesoil.com
Taken from Irish Trucker & Light Commercials magazine, Vol 18 No 9, November 2015