Anne-Marie Gaughran Memorial Truck Run
24/08/2016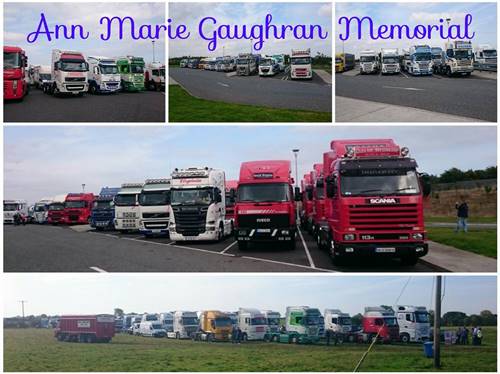 Sunday 25th September will see a Memorial Truck Run In Aid Of The Kevin Bell Repatriation Trust and in honour of the lovely Anne-Marie Gaughran from Crossakiel, Meath.

But before the main event, The Halfway House, Ballinlough will host a live music to get the event 'on the road' on Saturday night 24th September.

Registration is on Saturday evening and Sunday morning in Ballinlough and there will be overnight truck and trailer parking facilities provided ... with live music in the pub on Sundayevening when the trucks arrive back.

All trucks are welcome (fee is Eu50) ... any queries, contact Denis on 087-2796842 or email [email protected] and take part in a fun day and being part of a very worthy fundraiser knowing that every penny that is raised goes directly to charity.

While KBRT is the main beneficiary and set up last year in honour of Anne-Marie by an amazing group of people ... this year the group are contributing towards other local fundraisers also ... namely Chloe's Standing Tall and Tom's Walking Wish.

Check out KBRT Anne-Marie Gaughran memorial page on Facebook

About The Kevin Bell Repatriation Trust
The Kevin Bell Repatriation Trust aims to alleviate the financial hardship of bereaved families repatriating the body (bodies) of loved one(s) who have died abroad in sudden or tragic circumstances back to Ireland. None of us could ever have imagined having to use such a foundation, but upon the devastating news that Anne-Marie passed away suddenly in Sydney Australia, The KBRT stepped in and took care of everything, including financial and legal paperwork involved to get Ann-Marie home as soon as possible.

Unfortunately with the amount of young people living and travelling abroad, the situation is getting more and more common. Now we want to continue to raise money for this fantastic organisation, so they can to do their work and support other families who need the same support they gave us.