Complete recovery
24/08/2016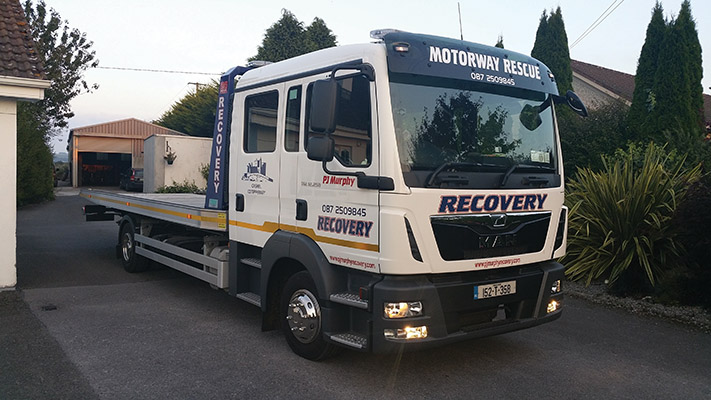 PJ Murphy has been delivering unrivalled recovery and breakdown solutions across County Tipperary and beyond – predominantly along the M8 motorway - for three decades. We dropped into his base at Thurlesbeg, Cashel to find out more about the history of his exceptional operation, the range of services provided and the superb fleet of recovery vehicles he operates.
As the name suggests, PJ Murphy Recovery, Roadside Rescue & Breakdown Services provides a complete range of recovery solutions. The eponymous PJ has been specialising in recovery since the mid-'80s and he offers a thoroughly-professional, punctual and dependable service, 24 hours of the day, seven days per week.
From his Cashel base, he is particularly synonymous with the stretch of the M8 motorway that runs from Junction 4 Urlingford to Junction 8 Mitchelstown, although his excellent services are extended to all routes in the Premier County (especially within a 25km radius of Cashel town), if and when required.
PJ works with all the major roadside rescue companies - including AA Roadside Rescue, RAC Rescue, Motor Insurance Services (MIS), Crash Services NI, Aria and Mapfre – and also provides breakdown / recovery services for all of Ireland's main insurance companies.
Ideally located just five minutes off the M8 on the outskirts of Cashel, PJ owns and operates the latest specialist equipment for the safe and efficient recovery of all types of motorcycles, passenger cars and light commercial vehicles, including those equipped with automatic transmissions and vehicles with low suspensions.
Twenty-fifteen has been a big year for PJ as he freshened up his recovery fleet significantly by investing in an eye-catching brand-new 152-reg MAN 12250 with tilt-and-slide body to complement his '05-reg Mercedes-Benz 1227 (with tilt-and-slide). A comprehensive service is offered. "At the moment, I have the two trucks plus a jeep and trailer as well as a motorcycle unit. I can recovery anything from a motorbike up to a Mercedes Sprinter."
PJ has certainly come a long way in the past 29 years. From modest beginnings, he has established a stellar reputation as the premier breakdown / recovery specialist along the M8 around the Portlaoise, Abbeyleix, Durrow, Urlingford, Cashel, Cahir, Tipperary Town, Thurles or Clonmel areas.
Reflecting on the genesis of his self-made enterprise, the Tipp man notes: "I started the business up in 1986. I'm a trained motor mechanic by trade and I served my time working in a local garage before opting to get involved in the recovery side of things. The first recovery vehicle I bought was a Dodge lorry and I've just built the business up from there."
PJ has never looked back. Mind you, this was no overnight success story. In this line of work, you'll only get back what you're prepared to put in. To this end, a lot of long hours have been invested in developing and growing the business. It takes years to develop the sort of reputation for excellence that PJ Murphy Recovery, Roadside Rescue & Breakdown Services now carries.
The nature of recovery is that you have to keep the mobile phone fully charged and switched on day and night; be prepared for any eventuality; invest in the best equipment and be able to safely and professionally operate it. At the end of the day, recovery is essentially an emergency service and operators have to have their heads screwed on at all times.
"I'm on call 24/7, 365 days a year," PJ confirms. "You have to be ready to work at any time, day or night, because when people call you they are really depending on you to get them out of trouble. You have to be prompt and you have to make sure you have everything that's needed to safely remove the vehicle – and, if required, its occupants – from the road or roadside.
"The new MAN truck – which I bought from MAN Importers Ireland Ltd. on the M50 in July and is my pride and joy - has a six-seater crew cab so I can safely bring away all the occupants of a car as well as the actual vehicle itself."
The success of PJ Murphy Recovery, Roadside Rescue & Breakdown Services has been achieved by providing a great service and using the best possible equipment. There's no trade secret or rocket science at work here. A combination of hard work and customer care have seen PJ carve out a niche for himself in this vital sector.
"We're kept busy," he says. "About 80% of our work is on the motorway and all of that would come through the insurance companies. Once you recover the vehicle safely and without damaging it in any way, that's the main thing."
PJ now has a wealth of experience of recovery and can handle every job with a minimum of fuss and complete professionalism. "I'm at it nearly 30 years and it has served me well," he concludes. "I keep all the equipment in great condition and the new MAN is going really well. It was a big investment but it's a major asset to the business and it'll play a big role in ensuring that we continue to provide the best possible service."
With a magnificent track record of providing excellent breakdown/recovery services over the past 29 years, PJ Murphy Recovery, Roadside Rescue & Breakdown Services is in a strong position going forward. One gets the distinct impression that there are a few chapters yet to be written in this particular success story!

PJ Murphy Recovery, Roadside Rescue & Breakdown Services
Thurlesbeg, Cashel, County Tipperary
Tel: 0504 41107
Mobile: 087 2509845
Email: [email protected]
Taken from Irish Trucker & Light Commercials magazine, Vol 18 No 9, November 2015