Fuelling Cork since 1987
18/08/2016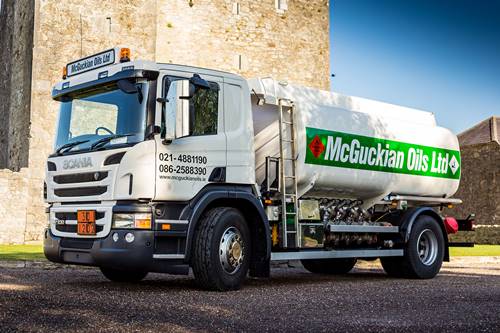 McGuckian Oils Ltd is one of the largest independent oil distributors in Co. Cork. Operating out of Carrigtwohill, the family-run business is a one-stop shop for all your oil and lubricating requirements.
Founded by Killeagh man Tom McGuckian in 1987, the company originally traded as McGuckian Lubricating Oils. Having initially specialised in lubricating oils and grease, Tom branched into oil distribution in 1999. Due to continued expansion, he relocated the business to a purpose-built premises in Carrigtwohill Industrial Estate, which is strategically located between the urban centres of Cork city, Midleton and Fermoy.
Over the past three decades, McGuckian Oils has attained a detailed knowledge of its customer's requirements in terms of products and services. The company offers an efficient, friendly and reliable service throughout Cork on a daily basis. It will deliver within 50 miles of Carrigtwohill six days a week, and within 24 hours of receiving your order.
McGuckian Oils provides a range of fuel products to the domestic and commercial market, supplying home heating oil, DERV (white diesel), agricultural diesel as well as lubricants, greases, additives and oil tanks. Only quality products are sold at the most competitive prices. A variety of payment methods are available, while customers also have the option of placing their order online.
In addition, there is a forecourt onsite where customers can fill up. The forecourt and pumps can be accessed 24/7 by McGuckian Oils fuel card holders. The company is an agent for Castrol, Estuary Lubricants and Platinum Oil Tanks to name but three, and is a supplier of AdBlue. A full range of Castrol and other leading lubricants from five-litre cans to 208-litre drums are in stock.
A dedicated sales team is employed to work with you, making sure that you benefit from price updates, latest product information and that deliveries are arranged to suit your particular needs. They can also offer advice on any issues that may affect your tanks, pumps or health and safety regulations.
In the event of an emergency and you run out of home heating oil, it's reassuring to know that McGuckian Oils is just a phone call away and will endeavour to get to you as soon as possible. The company offers a daily delivery service (8am to 6pm Monday to Friday and 9am to 5pm on Saturdays) as well as emergency and top-up services.
The dramatic fall in oil prices means that home heating oil is more affordable than ever. And as Tom points out, it's not just the customer who's benefiting.
"It's a great help to the economy in general," the affable managing director says.
"It's a long time since diesel was in the early 90c range a litre plus VAT and kerosene was 60c litre including VAT. These prices have led to a greater demand, so we've obviously been very busy of late. When prices are as low as they are now, it makes life that bit easier for everyone. It's cheaper for us to deliver to our customers and also cheaper for the hauliers to deliver to us."
The McGuckian fleet is a familiar sight on Cork roads. Tom runs six trucks, including a 152-registered Scania P320 26 tonne GVW lift axle/rear steer which he recently took delivery of from AOC Commercials in Carrigtwohill. The new truck is fitted with a 20,000-litre oil tank, which was assembled by Fitzgerald Commercials in Midleton. The investment comes on the back of Tom purchasing a Scania P230 single axle with a 13,000-litre tank, also from AOC Commercials, a year ago.
The rest of the fleet comprises three DAF and one Volvo. The trucks, with their striking white and green livery, are always immaculately turned out. Servicing and maintenance is also carried out by AOC Commercials.
"It makes sense for us to deal with them because they are located on our doorstep and offer a great service. I'm pleased to say that we enjoy a very good working relationship with them," explains Tom, who employs four highly-skilled, courteous and professional drivers.
As a distributor to the domestic, commercial, farming and retail sectors, McGuckian Oils fully understands the oil distribution business and how best to reach customers. Tom concludes by saying: "We will continue to offer a low-cost fuel, lubricant and grease service to our customers in the greater Cork area, whose business we greatly appreciate."

McGuckian Oils Ltd
Carrigtwohill Industrial Estate,
Carrigtwowhill, Co. Cork.
Telephone: 021 4881190
Web: www.mcguckianoils.com
Taken from Irish Trucker & Light Commercials magazine, Vol 18 No 9, November 2015