Equipco for garage equipment supply
16/08/2016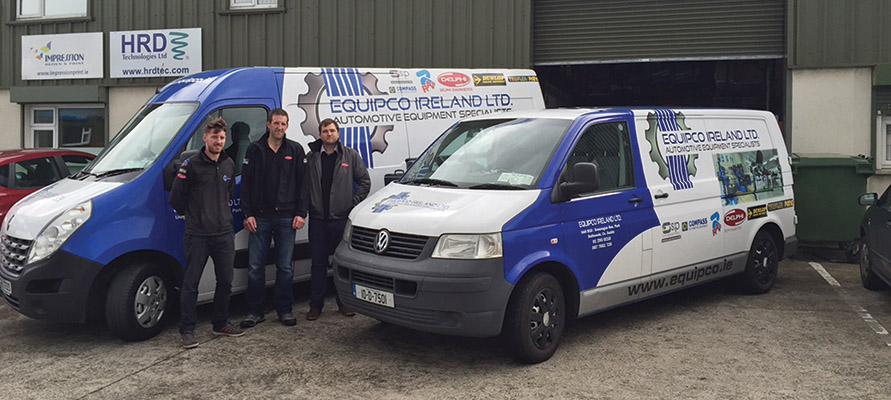 Ever wonder where to source top quality garage equipment at competitive rates? Well look no further than this article as we profile one of Ireland's leading automotive equipment specialists.
Equipco Ireland Ltd may have just recently celebrated its first anniversary, but already they are one of the leading garage equipment suppliers in the country.
How, may you ask could such a fledgling business reach such heights in a short space of time, well attention to detail, top quality products and an excellent service have seen Equipco Ireland Ltd's stature rise dramatically in this industry.
The business which is based in the Greenogue Business Park, Rathcoole, Co Dublin has actually been in existence for two years, but last year a merger of Equipco Automotive Ltd and Wheelcare Ireland Ltd saw the company being rebranded.
Equipco Ireland Ltd is the new name in automotive equipment sales and service. Company Director Eamon Rigney told us that they have been working hard to get their name out there and the feedback they have received has been excellent.
"The business has really taken off and we are pleased with the progress that we have made over the last couple of years," said Eamon.
"Last year, the merger came about after both our businesses had been working closely together for the previous 18 months or so. We had been doing much of the servicing and installation work for Wheelcare and with both companies seeing a lot of growth in equipment sales, we felt it was a natural thing to do and it's a decision we are delighted to have made."
Garages and hauliers alike invest a lot of money into garage equipment, but sourcing the right piece of equipment to suit their needs can sometimes be an arduous task.
However, that is certainly not the case when dealing with Equipco Ireland Ltd as they are main dealers for all the leading brands in garage equipment.
"We are main dealers for a number of leading brands including Ravaglioli, Delphi, Sykes Pickavant, Samoa, Tecno Vector, Michelin Compressors, Spin srl, Tecnomotor, Sip, Bradbury Equipment, Dunlop and more. We would consider ourselves a one-stop shop for garage equipment.
"If a customer was setting up a business for the first time, we would have everything they need and our friendly and efficient staff would take them through the various options and help them in any way they could."
Products supplied by the company include Vehicle lifts, Tyre equipment and Wheel Alignment, Compressors and Air tools, Diagnostics and Test Equipment, Emission Testers, A/C Stations, Oil Equipment, Specialist tooling, and Tyre Bay supplies.
No matter what size or type of garage, Equipco can provide a full range of services from installing a single vehicle lift to providing complete 3D workshop designs.
Diagnostics and test equipment is now a massive area of the repair, service and maintenance industry and Eamon revealed that they provide the full range of equipment in this sector.
"We provide a full turnkey service with regards to diagnostics and test equipment. Not only do we supply the full range, but we also offer full installation, training and commissioning, so the people using this equipment will know what they are doing right from the start."
Equipco Ireland Ltd don't just sell products, their back up service is what puts them ahead of a lot of their competitors as they offer a range of service and maintenance options.
"Fixed price servicing is available to all our customers as well as maintenance contracts. It gives the customer a peace of mind in knowing that if any problems do occur, we will have our technicians out solving the problem straight away. Equipment reliability is an important issue for us and we don't sell products without a full back up service being available."
From their premises in Greenogue Business Park, Equipco Ireland Ltd offer their customers the chance to see and get their hands on the equipment that they are interested in purchasing, giving them a better knowledge and understanding of the product. The company has also expanded their product choice, giving the customer a greater choice to choose from.
Another service provided by the company is tyre bay supplies, tools and equipment at excellent prices. "We have a fantastic range of wheel balancers, tyre changers, car lifts, balance weights, tyre repair materials and tools, valves and valve tools, tyre levers, workshop tools and more."
Equipco Ireland Ltd's customer base has spread wide and far as they are truly a nationwide business supplying independent garages, tyre centres and hauliers.
Two service vans are continuously on the road, while the stock is sourced from all over the world and there are a wide range of parts kept at their premises at any given time.
Eamon concluded that their plans over the next year were to expand and improve on the already excellent service that they provide their customers.
"The aim is to take on more service engineers and sales representatives and improve our relationships with our customers through quality, training and support."


Equipco
Unit B10,
The Square, Greenogue Business Park, Rathcoole, Co. Dublin
Phone +353(0)1 295 0218
Equipment Sales - Contact Killian +353(0)87 776 1726 [email protected]
Diagnostics & Servicing - Contact Eamon
+353(0)87 328 8034 [email protected]
Email [email protected]
Taken from Irish Trucker & Light Commercials magazine, Vol 18 No 9, November 2015