MCC brakes into Irish market
12/08/2016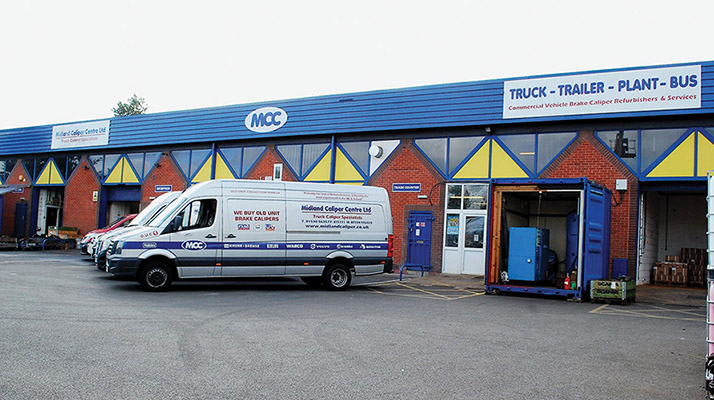 Truck caliper specialist Midland Caliper Centre Ltd (MCC) has won a host of new customers in Ireland since opening a distribution centre in Dublin last year. Managing Director Mick Bunney explains more.
Headquartered in Leicestershire, Midland Caliper Centre is a leading supplier of reconditioned truck, bus, trailer and plant brake calipers for all the major manufacturers. The company also supplies parts, kits and individual components from stock. It has certainly come a long way since Mick Bunney started the business from a shed in his back garden in 2002.
Initially employing one engineer, the company grew quickly. Within a few years, staff numbers had risen to 28 and a move to a much larger premises was necessitated. In February 2014, MCC relocated to a 13,500 sq. ft. purpose-built premises on a prime industrial estate. As if 2014 couldn't get more exciting, the company also opened its Irish distribution depot in Greenogue Business Park, Rathcoole, Co. Dublin. The depot is managed by Wayne Estill.
In addition, MCC has a small rubber parts manufacturing plant in Poland, which is where Mick's wife and business partner Aneta hails from. The company currently has 35 staff on its books.
Mick is delighted with the success of his Irish venture: "We've a lot of good customers in the Irish motor factor sector, both north and south of the border. It's a very competitive market in Ireland, but we're holding our own."
He continued: "Our Dublin depot carries excellent stock and facilitates the supply and regular core collection to all parts of the country. This has proven to be a massive success with our customers, cutting down distribution costs and offering full hands-on service that can only truly be achieved by having a personal presence.
"If things keep going the way they are, we may have to take on extra staff in Dublin. We're extremely busy on both sides of the Irish Sea and are in the process of extending our Leicestershire factory by 3,000 sq. ft. to create extra storage space."
MCC prides itself on its high quality products, excellent technical back-up, experience and knowledge of commercial calipers, huge stockholding, free carriage, 12 months no quibble warranty and regular free old core collection. Supplying to motor factors only, it is ISO 9001 approved and arguably the largest brake caliper remanufacturer and most experienced in the UK and Ireland.
The company has recently been appointed an approved supplier to the UAN (United Aftermarket Group) and the IFA (Independent Factors Association), further bolstering its major role in the supply of remanufactured calipers. The UAN, which is part of the Alliance Automotive Group UK, is a buying group for the automotive aftermarket, with the aim of providing its distributors with the best possible purchasing terms for OE-quality suppliers through its collective buying power.
The IFA is one of the largest and most successful motor factor buying groups in the UK. Members are experts in the supply of vehicle parts to garages, workshops, car and van dealers, road haulage operators and to the general public. Owned and run by its members, the IFA is driven to succeed in every aspect of the automotive aftermarket and to forge strong partnerships with customers and suppliers alike.
In the remanufacturing process, the principal components are reused. Dismantling is carried out so that it is possible to ascertain component condition, wear or deterioration. Each part is thoroughly cleaned and examined. Any broken, missing or damaged items are replaced by new parts or reconditioned so that they are as new. Any necessary rectification by, for example, machining or refinishing, will be carried out to restore working condition. A refurbished product will operate to the same standard as a new one. The whole process is environmentally friendly.
MCC's remanufacture process is tried and trusted. Taking an old caliper, they strip it and separate the parts from the carcass; the main body is inspected for cracks, breakages and distortions. Should any of these faults be found, the body is deemed to be scrap. Those casings that pass the initial inspections are then degreased and cleaned in a hot pressure detergent bath. Shot blasting is the next part of the process where a high quality finish is achieved. The unit is then chemically plated "in house", which achieves a far superior finish to painting and similar methods, leaving the unit ready to rebuild.
The internals of the old caliper are thoroughly inspected, the overly worn parts are discarded, the main criteria in the remanufacture process is to use parts that are seen to be in a useable condition, bearings, rubber parts, and the majority of smaller working parts are obviously replaced.
Once the unit has been re-assembled by the company's dedicated and experienced engineers, the finished product is bench-tested to ensure it is functioning correctly, the necessary parts are aligned, adjusting mechanisms are functioning, rubber parts are not split etc. The unit is then date-stamped and the assembler code is added to ensure complete traceability.
From testing, the unit is then passed to the despatch department where a further inspection takes place and all the necessary caps, covers, bungs and labels are added. Finally, the unit is boxed and either shelved or sent out.
In conclusion, the affable managing director says: "We now feel that we are among the market leaders in the trade and with our dedication to customer service and our ability to invest when necessary, we will be at the forefront for many years to come."

Midland Caliper Centre Ltd (Ireland)
Unit P28, Greenogue Business Park,
Rathcoole, Co. Dublin.
Telephone: 00353 (0) 14580010
Fax: 00353 (0) 14580018
Web: www.midlandcaliper.co.uk
Taken from Irish Trucker & Light Commercials magazine, Vol 18 No 9, November 2015