Two decades of coaching excellence
30/06/2016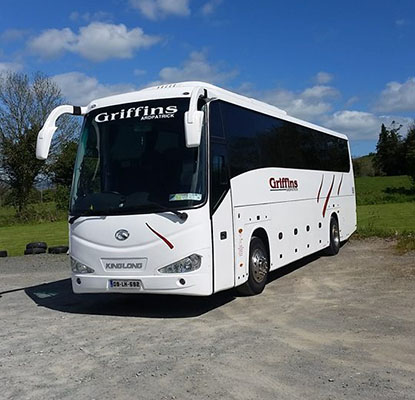 Since its establishment in 1995, Griffins Coaches has developed a stellar reputation as the premier coach and minibus hire company in County Limerick. We popped into their Ardpatrick HQ to discuss the proud history and current well-being of this exceptional family-run operation with transport manager Áine Griffin.

Griffins Coaches is a third-generation family-business, which was set up in 1995 by the father-and-son team James and Kevin Griffin, both of whom had previously worked for Bus Éireann as drivers. Jim's wife Anne was involved in the business for a number of years. Kevin's wife Áine and son Derek have since joined the business, alongside several other members of the family.
Since inception, Griffins Coaches has provided a professional and flexible service to cater for a wide range of transportation needs across the Ballyhoura region of South Limerick and North Cork, including (but by no means limited to) school transport, tours, sporting events, social clubs, weddings, stag and hen party weekends, school trips and festivals as well as transfers to Dublin, Shannon, Cork and Kerry Airports.
Particularly renowned for their work with numerous sports clubs and teams, Griffins Coaches is the official transport provider to Limerick GAA and also boasts strong ties with Blackrock GAA, Charleville Rugby Club and Charleville CBS among others. They support many local clubs, schools and events through sponsorship and donations, a case in point being their sponsorship of the 2015/2016 Limerick Intermediate Football Championship.

Reflecting on the genesis of this outstanding family operation, Aine who has been running the business alongside her husband for the past decade notes: "James and Kevin started out with one minibus doing some casual work and they secured a school route fairly quickly and built it up from there. They bought a second, medium-sized bus within two years and today we have a fleet of twelve in total, from 12-seaters up to 53, doing a variety of work."

Operating a range of coaches / minibuses of varying sizes allows Griffins Coaches to cater for literally any event or occasion. For luxury travel, their executive 50 seaters come with an array of extra specs including air conditioning, television and DVD, reclining seats, CCTV, toilet facilities, fridge etc.
Regarding the multifaceted and flexible nature of the work carried out, Aine confirms: "We do a bit of everything really. The bread-and-butter work would include school runs for Bus Eireann and work for the HSE as well as local GAA clubs and Limerick County Board. We've had a very good working relationship with Limerick GAA for over 5 years and have transported many of their county teams – the senior, intermediate, minor, U21 and underage teams in both football and hurling as well as the Limerick ladies footballers."

At the time of writing, Griffins had just collected a new 2009-reg bus from Callinan Coaches to increase their fleet to meet with rising demand for their high-quality and reasonably-priced services. "We're also expanding more into the tour market, offering all-Ireland tours as well as into the North for various tour companies. We have been doing tours on a small scale since 2012 but this year we've decided to expand into it in a much bigger way. We bought a brand new touring coach in 2009 but have made the decision this year to buy another 2009 as we are hoping to purchase a new touring coach in the New Year.
"Our son, Derek, came on board four years ago when he turned 23. Within a year he had started as a tour coach driver and will be providing that service going forward." At present, Griffins Coaches provide employment to a total of fifteen people, between full-time and part-time employees.
The Limerick company operates a strong, dependable fleet of vehicles, all of which are maintained in superb condition at all times. "It's a fresh and modern fleet," confirms Aine. "The 50-seaters, for example, would range from '07 to '10.

Griffins have their own garage / workshop and the vast majority of preventative maintenance and servicing work is handled in-house. "Kevin, who is a qualified mechanic, and Derek look after that. Jim [James] is also a qualified mechanic and he ran his own garage at one stage. He has retired now but he is still very much part of the business and he still plays a role behind the scenes."

Of course, the recession knocked the wind out of every transport company's sails but the Griffins have come out the other side with their business very much intact. "It was tough and we had to find other efficiencies, but things are picking up again in the last couple of years. We had to adapt and change the way we were thinking or we would have gone under. We focussed on looking after the business we already had and upped the level of service even higher to make sure that we didn't lose any more business than we had to."

Griffins Coaches has been a great success story over the past 20 years and remains on very solid footing going forward. To what does Aine attribute this success? "Building the business up slowly and gradually and not overextending ourselves has certainly benefited us an awful lot. We are also very particular about our business and our service. Everything has to be spot-on – from the vehicles to the drivers to our communications and customer relationships – and we are always punctual.

Aine concludes. "We are delighted that Limerick GAA have once again chosen us as their main transport provider. Service is obviously a very big part of it and our level of customer service is top class, which is why we get so much repeat business and keep getting more new work,"
"But we won't be getting complacent. We know that we will have to keep that high level of service up and also to provide the same high standards to tour companies and other customers."


Griffins Coaches,
Ardpatrick, Kilmallock
County Limerick.
Tel: 063 91144
Mobile: 087 9625689
Email: [email protected]
Taken from Irish Trucker & Light Commercials magazine, Vol 18 No 7, September 2015