All parts of the service
27/06/2016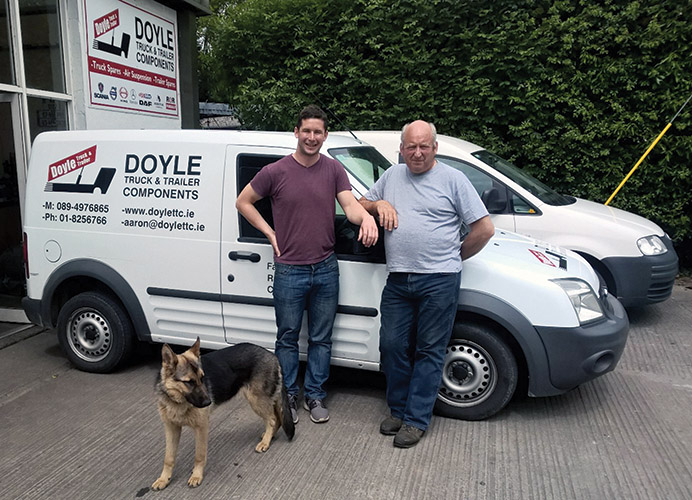 Doyle Truck & Trailer Components provides a wide range of quality spare parts and accessories for trucks, trailers and light commercials. The Ratoath-based company has enjoyed a successful first year in business as director Aaron Doyle explains.

Previously trading as McManus Truck & Trailer Spares, Doyle Truck & Trailer Components has only been in business since April 2014, but already has forged a reputation for providing a top-class service to the transport industry.
The company was set up by Aaron Doyle who is joined by John Doyle and Sasha. A fitter by trade, Aaron says the opportunity to run his own business was too difficult to turn down and has no regrets about doing so.
"We've had a good first year. We've grown with every passing month. As well as dealing with existing customers, we're attracting new ones," the Castledermot, Co. Kildare native enthuses.
"We have a huge range of spare parts in stock at all times. If we don't have the part you are looking for, we can get it within 24 hours. We have a service van on the road to ensure the quickest possible delivery. No truck or van owner can afford any downtime and we are here to keep them moving."
Doyle Truck & Trailer Components carry a wide range of parts for Scania, Volvo, DAF, Hino, Mercedes, MAN, Renault and Iveco trucks, and for SAF, Fruehauf, York, RoR, Granning and Meritor trailers. Parts stocked include filters, steering, brakes, suspension, driveline, axle and hub seals, mirrors, bodyparts, cab shocks, clutches, fuel parts, exhaust boxes, clutch boosters and cooling systems.
The Doyles are appointed agents for some of Europe's leading manufacturers, including Winnard brake pads and discs, MANN filters and Total oil and lubricants. They cater for all brake components, from brake chambers, disc, drums, linings, pads, hoses, brake shoe kits, ABS and EBS, camshaft and repair kits to diaphragms, anchor pin kits, dust covers and slack adjusters.
Doyle Truck & Trailer Components is one of the few spare parts centre's that realigns its own brake shoes on site. They can also assemble hydraulic hoses while you wait.
Valves stocked include Governor valves, load sensing valves, levelling valves, lift axle valves and quick release valves. Springs, shock absorbers, U bolts, air bags and bushes are among the suspension parts on sale. Other parts and accessories in stock are axle and wheel brackets, bearing kits, kingpins, leaf springs, seal kits, hub caps, mud guards, wheel studs, fifth wheels, landing legs and repair kits.
Universal Components, 3G Truck & Trailer Parts, Granning, Winnard, and Dinex supply the family-run business with a lot of their stock items.
It is A though market out there and trying to stay competitive on price while maintaining a top quality product is a day to day battle, explains Aaron
A big selling point for Doyle Truck & Trailer Components is its location beside the M3 and N2 routes. Ratoath is one of Ireland's fastest growing towns and is within easy reach of Dublin. The company's customers are drawn from the haulage, courier, construction, quarry and farming sectors in counties Meath, Dublin, Louth and Kildare.
Doyle Truck & Trailer Components is open from 9am to 5.30pm each weekday and from 9am to 5pm on Saturdays. According to Aaron, the extended opening hours on Saturdays give them an advantage over competitors. "You'd be surprised by the amount of people who look for parts on a Saturday afternoon. Whereas most of our competitors close for a half day, we stay open until 5."
"Now that we have the first year over us, we're going to focus more on ways and means of attracting fresh business and increasing our footfall.
"Further down the road, we may think about moving to a bigger premises or opening another outlet. But we're still taking baby steps and aren't getting too far ahead of ourselves."
For all your spare parts needs, and for a friendly, professional and efficient service, look no further than Doyle Truck & Trailer Components.

Doyle Truck & Trailer Components
Fairyhouse Road,
Ratoath, Co. Meath.
Telephone: 01 8256766
Mobile: 089 4976865
Email: [email protected]
Website: www.doylettc.ie
Taken from Irish Trucker & Light Commercials magazine, Vol 18 No 7, September 2015