MTing the waste
22/06/2016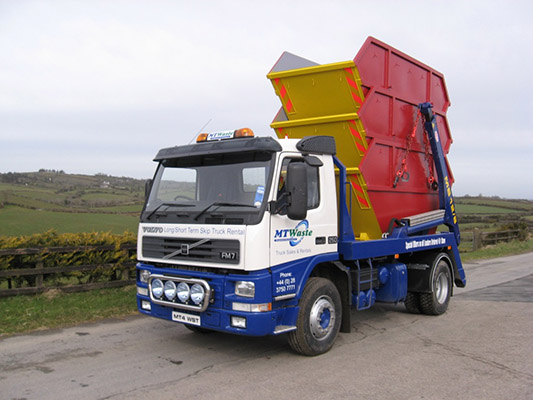 We caught up with Sean McArdle, managing director of MT Waste Management & Manufacturing Ltd., to find out more about this exceptional Armagh-based waste management solution provider, which manufactures a wide range of skips, containers and vehicles for the waste industry as well as the pioneering Limpet 6 welfare cabin.

MT Waste Management & Manufacturing Ltd. is one of the longest-established skip hire companies in Armagh, providing professional waste removal solutions, from small domestic skips to large-scale commercial waste recycling.
They also manufacture a large range of skips, containers, secure site storage solutions, bespoke skips and containers, as well as a range of complete waste management vehicles including skip lorries, balers and RoRo carriers. A team of professional fabricators and designers works hand in hand to produce excellent-quality waste management products, which are delivered to local authorities, building contractors and waste management professionals across Ireland and the UK.
As licensed waste hauliers with their own recycling centre, MT Waste's fleet of waste management vehicles can provide tailored waste management services to customers all over Northern Ireland, offering regular collections of a wide variety of waste materials.
Meanwhile, MT Logistics is the transport and logistics / general haulage division of the overall company, which offers a cost-effective Ireland-UK refrigerated transport solution as well as handling delivery of the waste products manufactured in-house and providing waste haulage solutions.
In total, the Armagh company operates a fleet of ten trucks, including two new additions this year – a second-hand Scania T-Cab purchased from NR Trucks in Moy, County Tyrone and a brand-new Volvo FH500 Globetrotter from Dennison Commercials in Ballyclare, County Antrim. "The majority of our lorries are Scania, so the Volvo is a bit of a departure for us," says founder / MD Sean McArdle. "We decided to look around for something different and we were attracted to the new Volvo, which is our 30th-anniversary truck. Both of those trucks actually made their maiden voyages for us at this year's Orchard Truck Show on May 23rd."
Going back three decades to the genesis of the family business, Sean continues: "Myself and my brother Jim formed Mac-Trans, which was a haulage company. We operated that from 1985 up until 2001, at which point we branched into the waste side of things and started manufacturing waste containers as well as providing a local skip hire service. We abbreviated Mac-Trans to MT.
"We came from a traditional farming background and there would also have been an element of haulage to that. We focused on the haulage for 16 years but waste was becoming more and more important, so we decided to get involved in manufacturing. Since we set up our own manufacturing division, it has gone well for us."
That's an understatement if ever there was one! Starting from a customer base of literally zero, MT Waste Management & Manufacturing Ltd. has grown into one of the leading waste container manufacturers on the island, providing local authorities north and south as well as private waste companies with a wide range of skips, containers, tipping bins, site storage equipment, balers and compactors. Bespoke fabrication is a speciality and everything from skips and containers to complete waste management vehicles can be designed and fabricated to exact client specifications.
Co-founder / director Jim McArdle remains very much involved in overseeing truck servicing in addition to all plant & machinery the company operates. He also represents MT Waste at trade fairs in the UK and Europe, sourcing new suppliers and looking at new manufacturing opportunities. With 30 years' experience, Jim is perfectly positioned to pass on his experience to the younger generation.
"In the last year, we have also added a service to supply customers with vehicles which have skip loaders built onto them," says Sean." We can source the truck for them or fit the skip loader to an existing truck in their fleet - whatever they prefer."
"We have also introduced another division, manufacturing mobile welfare cabins - a new product introduced in the past six-eight months catering for utility contractors who must provide mobile welfare accommodation." Boasting rugged design and enhanced mobility features, the Limpet 6 Eco compact, self-contained unit offers canteen facilities for up to six people, with separate toilet and drying room.
Across all divisions of the business, gainful employment is currently employed to a team of 22. Looking to the future, Sean McArdle concludes: "There's a third generation coming along now. I have three sons – Thomas, Martin and Ryan – and they are all involved in the business. We'll look to consolidate and hopefully to grow the business a little bit more."
The following endorsement from Crucial Environmental Ltd., taken from MT Waste's Facebook page, speaks volumes for the high esteem in which the company is held by its customers: "I would personally like to thank Sean and Martin for supplying us with a great skip lorry. I contacted Martin at the beginning of May enquiring about skip loading equipment. After a quick discussion he managed to source a lovely ex blue chip rolling chassis (much higher spec'd than I thought we would get!) and gave me a choice of loading equipment. I flew over from Gatwick a few days later to meet up and was made to feel very welcome and given a site tour of their very impressive manufacturing site. Three Weeks later our skip lorry was complete. They even worked at the weekend to ensure the lorry was to bound a 10.30pm ferry to Liverpool on the Saturday night and discussed the controls etc on the Sunday. They also supplied 8 x builders skips which are fabricated to a very high quality. Another nice touch was the additional fabrication of a ladder and rear light guards which I did not expect. I cannot wait to place an order for sealed asbestos containers and will have no hesitation in recommending MT Waste. A thoroughly enjoyable experience from start to finish!"

On May 23rd, the Skip Car Tour's 2015 Orchard Truck Run attempted to break the world record for the most trucks assembled on the same road at the same time. More importantly, the annual event raised vital funds for Marie Curie Cancer Care and Southern Area Hospice Services.
"The Skip Car Tour is a group of family and friends who have come together to do something charitable," notes Sean McArdle. "We organise an annual truck run in Armagh and in May of this year we attempted to break the world record for the most trucks in one place on the one day. We needed 416 and we got 402, which was a fantastic achievement. Even though we came up a little bit short of the record, we raised thousands of pounds for the two designated charities, which was the main thing."
The event was hosted at Basil Sheils Bar in Tassagh, County Armagh and generated tremendous interest nationwide. Global exposure was also gained as Irish TV covered the Orchard Truck Run, broadcasting a 15-minute clip to viewers around the world.
MT Waste have designed and built their own flagship Skip Car, which is used as the mascot at the truck run – something which shows how seriously they take this annual fundraising event! The MT Waste Skip Car is a rather spectacular promotional vehicle used to get the message out about the services provided by the company, to raise awareness of the importance of recycling and - most importantly - to raise money for some very deserving charities.
'Project Skip Car' began life as a used BMW, which was carefully and lovingly crafted and reshaped into a sleek, totally unique classic.
Another Orchard Truck Run will take place next year and anyone interested in getting involved should keep an eye on the Skip Car Tour Orchard Truck Run Facebook page.

MT Waste Management & Manufacturing Ltd.,
18 Rockstown Road, Cladybeg,
Armagh,
County Armagh.
Telephone: 028 37 507234
www.mt-waste.com
www.mt-limpet.com
Taken from Irish Trucker & Light Commercials magazine, Vol 18 No 7, September 2015