First Choice has the right vehicle for you
16/06/2016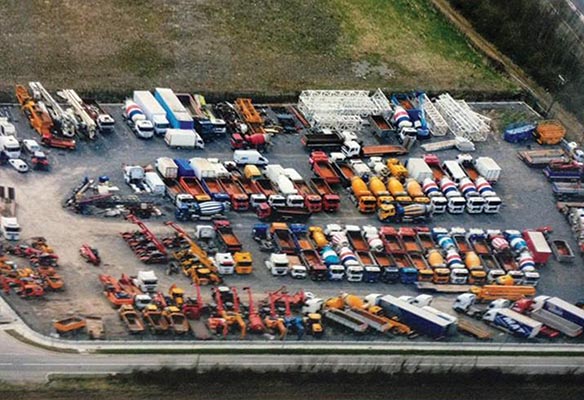 First Choice Commercials Ltd is Ireland's premier supplier of used trucks, plant and machinery. The Naas-based company has over 150 trucks, trailers and machines in stock at any one time and can design and build vehicles and trailers to suit your requirements.

Mark O'Neill established First Choice Commercials in 1999 after identifying a gap in the market for quality used trucks. As time went by, he broadened his product range and now stocks everything from tractor units, tippers, rigid trucks, mixers, trailers and hookloaders to light commercials, 4x4s, plant and machinery and parts and spares.
As well as boasting a large Irish customer-base, First Choice Commercials exports many vehicles each year. The company exports to far-flung destinations such as Australia, New Zealand, Africa, The Caribbean and The Far East.
Approximately 70 per cent of all stock is sourced in the UK, which is as much to do with the dearth of quality used vehicles in Ireland as much as anything else.
"The majority of the vehicles we sell are between three and five-years-old," Mark explains.
"Unfortunately, they can't be sourced on the Irish market because anything in that age bracket was exported during the recession. We only stock good quality used vehicles at the most competitive prices.
"We have a wide range of stock available to view in our yard in Naas all-year round. If the vehicle or machine that you require is not already in stock, our sales team will gladly source it for you. We can also supply new trucks and equipment at competitive prices. We have agreements with several reputable finance companies, including Close Bros Finance in Dublin, and we will try to find the best deal for you. We stand over every vehicle we sell.
"We are always on the lookout for trucks, plant and machinery, so if you're thinking of selling, why not give us a call and we'll guarantee you get the best price."
A weak euro, coupled with a rise in leasing and contract hire, has made for a more challenging market and has led Mark into more specialised sales.
"While we still carry a selection of standard trucks from three-and-a-half tonne up to tractor units – we have always prided ourselves on having the broadest range of trucks in Ireland – we have recently started to specialise in tippers, crane trucks, hook lifts, skip loaders, refuse trucks, road sweepers and beaver-tail recovery trucks.
"We are moving more and more into this niche market. To complement this side of the business, we are able to custom-build trucks and trailers to suit an individual's requirements. We have the knowledge and experience to build crane trucks," he says.
Mark sees the export of used vehicles as a growing sector for his company. First Choice Commercials has many years of experience in shipping vehicles and machinery throughout the world. Whatever your requirements, the company will be happy to provide you with a shipping quotation to your port of choice. All documentation can be arranged, while a packing service for containers is also offered. In addition, First Choice can assist with inspections by both Jevic and Veritas.
First Choice Commercials enjoys an excellent relationship with its Liverpool-based sister company, Williams Truck Centre, who it works closely with on sourcing and shipping issues.
"Very often a vehicle we source in the UK ends up back there or in Northern Ireland. This has a lot to do with the currency exchange rate, which is poor from our point of view, and the fact that leasing and contract hire has become increasingly popular in Ireland."
The affable managing director also welcomes the recovery in plant and machinery sales.
"For the first time in six years, we are importing plant and machinery for resale in the Irish market. This is being driven by the pick-up in construction activity. We are offering five and six-year-old excavators that won't break the customer."
First Choice Commercials' location on the M7 makes it easily accessible to all. Mark purposely chose Naas as the location for his new business 16 years ago for this reason and for its reputation as a hub for commercial vehicle sales and activity.
Last year, the First Choice Commercials website – www.firstchoicecommercials.ie – received a complete overhaul and is now easier than ever to navigate. All stock is available to view, complete with make, model, year, mileage and price.
"There is no doubt that our redesigned website has brought in a number of new customers," continues Mark, who employs five staff.
"We are also on Facebook and Twitter which gives followers a direct feed to what new stock is arriving. Our presence on social media has also strengthened our links with our existing overseas customers and created new ones."
So for all your used truck, commercial vehicle and plant sales, be sure to give the team at First Choice Commercials a call.

First Choice Commercials
Newhall, Naas, Co. Kildare.
Telephone: 045 988533
Mobile: 087 2842830
Fax: 045 988532
Email: [email protected]
Website: www.firstchoicecommercials.ie
Taken from Irish Trucker & Light Commercials magazine, Vol 18 No 7, September 2015