Up there with the best in Ireland for motor salvage
14/06/2016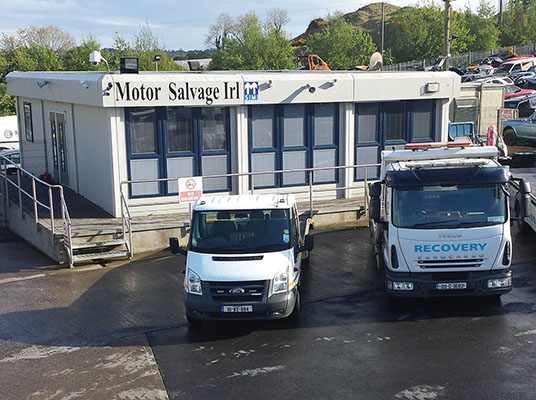 Over the last 25 years, County Wexford based Motor Salvage Irl. has earned a stellar reputation as one of the island's premier salvage solution providers as well as selling parts and damaged repairables and offering keen recovery and End of Life services. We paid a visit to their well-appointed Enniscorthy base to learn more about this outstanding operation.
Motor Salvage Irl. provides nationwide salvage services for all vehicles (cars, vans, HGVs, etc.) and machinery, including salvage recovery, storage and disposal. Each vehicle is collected promptly and professionally and stored in secure compounds nationwide. If necessary, drivers will pay all negotiated charges.
Motor Salvage Irl. is a licensed dealer and one of the leading contract salvage management companies operating in Ireland. As well as nationwide salvage and recovery (they are the main recovery agent for one of Ireland's leading insurance companies), they also offer keen parts and motor sales services.
A huge selection of second-hand parts is stocked on-site, with recycled parts available at a discounted rate to the motor trade. An extensive range of used car parts - from engines and gearboxes to clutches and starters - for most makes and models can be viewed online (motorsalvageirl.com) or ordered by simply calling the contact number listed at the end of this feature. Parts are removed to order and can either be collected by the customer or delivered by courier to any address island-wide.
All parts are removed by trained car dismantlers, boasting unrivalled knowledge and experience of auto salvage, who ensure the parts are of the highest quality and in working order. Motor Salvage Irl. also offers a huge selection of damaged repairable vehicles.
Their Authorised Treatment Facility, parts distribution centre and primary storage compound are all located at the company's Drumgoold, Enniscorthy HQ.
Motor Salvage Irl.'s Authorised Treatment Facility is operated in accordance with The Waste Management Act 1996 & Waste Management (Amendment) 2001 and The Waste Management (Permit) Regulations 1998. All End of Life Vehicles are processed and disposed of in accordance with Waste Management (End-Of-Life) Regulations 2006 through a network of licensed facilities. Each vehicle is de-polluted, removing all hazardous materials, before being compacted and the shell sent for further processing and recycling. Certificates of Destruction are subsequently issued in line with existing legislation.
Motor Salvage Irl. was established 1990, recognising a niche in the market for motor salvage. They soon secured the towing contract for An Garda Siochana in Wexford as well as work for various insurance companies. After many years of building the enterprise, it has now gained a secure position in the industry as one of Ireland's largest motor salvage companies.
A member of the Irish Motor Vehicle Recyclers Association (IMVRA), Motor Salvage Irl. prides itself on professionalism and environmental awareness and ensures that all employees share this ethos. On the back of providing a reliable, courteous and conscientious service, Motor Salvage Irl. has obtained a high level of goodwill amongst the local community and businesses alike.
The strict guidelines governing the salvage sector are followed rigorously and Motor Salvage Irl. works in conjunction with Wexford County Council to ensure that a high level of awareness is consistently achieved. All vehicles are de-polluted within ten days of arrival at the compound and every vehicle which is deemed to be End of Life is disposed of in the most environmentally-friendly manner possible.
Motor Salvage Irl. strives to provide high levels of service and cost-efficient products, which are conveniently accessible and available to both the trade and the general public. High-quality products and services are provided at the most competitive prices and the knowledgeable team is on hand around the clock to provide advice and to assist customers and potential customers in any manner possible.
With a stunning, versatile and well-maintained fleet of nine breakdown / recovery / salvage vehicles – mainly DAF and Mercedes-Benz, all of which are kept in superb condition at all times – Motor Salvage Irl. collects insurance write-offs or crashed, stolen, damaged cars nationwide for AXA. Using state-of-the-art recovery gear and techniques, they have the capacity to handle literally any vehicle or piece of machinery, including cars, vans, camper vans, HGVs, tractors, motorbikes, ride-on lawnmowers etc.
Over the past quarter of a century, this operation has experienced phenomenal, demand-driven growth, which has been a direct consequence of providing customers with quality products and services at the right price. Motor Salvage Irl were recently awarded a new towing contract for An Garda Siochana for their Wexford division and had to take on additional staff as a result, bringing the total number employed to 24.
By generating local employment, the company is contributing enormously to the local community and, encouragingly, the signs indicate that growth is ongoing

Motor Salvage Irl,
Drumgoold,
Enniscorthy, County Wexford.
Tel: 053 9243399
Fax: 053 9243427
Parts: 086 8214968
Email: [email protected]
Taken from Irish Trucker & Light Commercials magazine, Vol 18 No 7, September 2015