The custom king from Finland with the Madonna
10/06/2016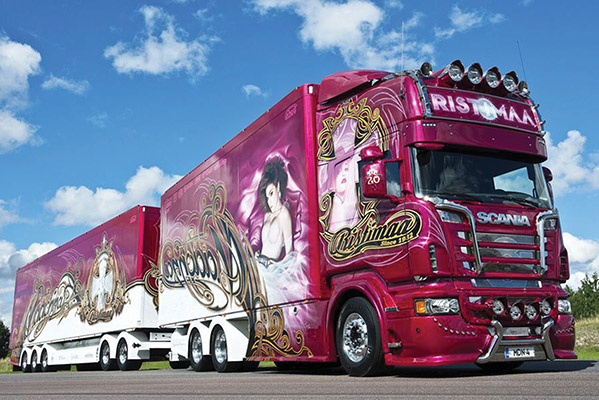 Juha Ristimaa, the King of customised trucks in Finland and all over Europe is coming to Ireland with his magnificent truck "Madonna" a Scania R560, 2013.
He brings the whole truck combination of 25, 25 meters, 6x2 plus trailer 5 axle, all the way from Finland to the Full of the Pipe Truck Show Ireland in Cavan.

The trucking people in Europe know him from his success at many truck fests but especially his achievement in taking home five Nordic Trophies in Sweden.
He joined his father´s trucking company Kuljetus Ristimaa Oy in Lapua, Finland in 1998 designing and painting their trucks. Already at the age of 15 years he won Best Painting truck in Trucking Festival in Finland 1993. This victory was the start for Juha to produce several winning concepts for many years to come, you name them: "Pepsi" Scania R124 2000, "Cider Shark" Volvo FH12 2002, "Discovery" Volvo FH12 2004, "Dragon" Scania R500 2005, "Zorro" Scania R500 2006, "Legend" Scania R500 2008, "Tiger" Scania R500 2010, "Octopus" Scania R560 2011 and of course this most winning star of them all the "Madonna" R560 2013.
Kuljetus Ristimaa Oy, now owned by Juha himself, has 10 full size painted truck combinations, driving goods and brewery products mostly in Finland. One of these trucks runs between Finland and Sweden and one truck with semitrailer drives all over many European countries. Besides his trucking company Juha also built since 2013 trucks for other customers in his company Ristimaa Customs. You can say that the custom king Juha Ristimaa is a very busy man nowadays, being married to Elina and taking care of his family with their 6 month old son.
To celebrate his 20th year anniversary he finally built this amazing "Madonna". To build such a truck Juha needed a professional team to actualize his ideas he already had in his mind since building the "Dragon" in 2005. From autumn 2012 to summer 2013 Juha and his team worked night and day before they were pleased with the result. They had to repaint the whole cabin with a special mixed colour by the "super painter" Perttu Papunen. They had to strip everything in and outside the cabin to get a whole different look for the Scania cabin. The magnificent team who made the "Madonna", as you are able to see and enjoy in Cavan, includes Juha and Elina Ristimaa, Perttu Papunen special painter, Teemu Sarvela painter, Mika Peltola painter, Niko Petteri Kinnari electrician and a lot of help from his parents Erkki and Raija Ristimaa.
During the first year of exhibitions and festivals all over Europe this beautiful full sizes truck "Madonna" won no less than 28 Trophies and being best in show almost everywhere. The successful journey of "Madonna" went on in the year 2014, 2015 and continues during this year 2016.
Please notice that the "Madonna" has been in daily traffic since 2014. The odometer shows over 300,000 km of hard work on the Finnish roads with ice, snow and salt. The truck has survived the hard conditions as a Champion truck should.
Juha Ristimaa with "Team Madonna" are looking forward to visit Ireland and the Full of the Pipe Truck Show in June 2016.